'You cannot judge a government within a month. Give us five years' time.'
'At times, strict economic decisions have to be made for the good of the poor in the long run.'
Dharmendra Pradhan, one of the Modi government's stars, speaks exclusively to Sheela Bhatt/Rediff.com about why the government is forced to roll out 'bitter medicine.'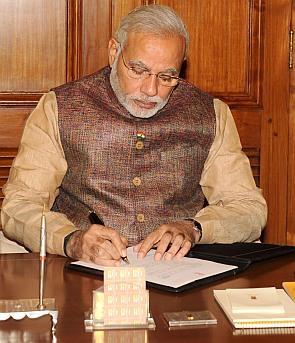 Dharmendra Pradhan, the Minister of State for Petroleum and Natural Gas with independent charge, is one of the Bharatiya Janata Party's young faces.
Credited for improving the BJP's fortunes in Bihar in a somewhat similar manner as Amit Shah did in Uttar Pradesh, Pradhan was rewarded by Prime Minister Narendra Modi for his sheer hard work and organisational capabilities.
Pradhan was elected as a Member of Parliament from Deogarh, one of the largest constituencies in Odisha spread over five districts. The region is dominated by tribals, farmers and people displaced due to mining, industrialisation and irrigation projects.
A post-graduate in anthropology from Utkal University, Bhubaneswar, Pradhan is a product of the youth movement of backward Odisha.
In an exclusive interview with Sheela Bhatt/Rediff.com (he speaks English well, but prefers to grant the interview in Hindi), Pradhan provides a clearer idea of the direction in which the Modi sarkar is headed and the prime minister's enthusiasm to do big things in terms of governance and economy.
As we witness a break from the UPA, can you tell us about the new political culture, the new face of the NDA and Modi's leadership?
Modiji has been trying to bring about a new work culture since the past one month; he has especially started from the Prime Minister's Office. The way he conducted meetings for the Council of Ministers, the Cabinet and secretaries is known. He (the prime minister) has been taking segment-wise presentations.
As a leader, he is a visionary.
This is the national development movement. It is not going to be limited to the previous models of governance. He has laid the foundation for this through his work culture and has started doing some homework on this.
Tell us about your work...
I joined this ministry on May 27. I had an overview of the ministry's working; In these 26 days, I have done a detailed analysis. I spoke to the heads of departments, to people who are experts in this field; I have shared ideas with senior leaders of the political parties. I have been learning.
I have understood that in this country self sufficiency is required in the field of hydrocarbons. We are importing 75 per cent of our sector requirement. This is one of the basic challenges for our country.
To strengthen and stabilise our economy, it is necessary to reduce the foreign account imbalance and our dependency on foreign exchange. And this challenge is related to the economy.
This department has the highest expenditure, money is going out. It has a huge comprehensive canvas, but in the domestic sector, we must increase the exploration of oil and gas, its scientific analysis and resource mapping through use of technology.
Hence, conducting mapping, emphasising on exploration and production, finding alternate energy sources and conducting all of this with a scientific temper and technological synergy is not a difficult task. It is possible.
India's scientists and companies have worked towards this synergy. We have the brains -- many of whom are working abroad -- to bring about this scientific temper. And it is necessary to increase the participation of even those who are working within the country, outside the boundaries of the government.
The educational institutions; this department works from exploration, production to marketing; this country's best institutes like IITs, NITs, management institutes -- all IIMs -- we must get their best brains, in terms of research, analysis, road mapping, and all the experts in the oil and gas field.
We should make a data bank, increase it in exploration -- cost effective exploration -- and increase production. All this requires transparent and clear policy.
Since the mid-1990s, this sector has been FDI-enabled. But today, why is FDI not present within it?
The mapping of resources that you are talking about -- the UPA must have done all this. This is really basic.
If they would have done it, the Oil and Natural Gas Corporation's production would not have reduced in the last three years. Why did ONGC's domestic oil measure production reduce?
Indecision, non-performance and confusion in policy are the causes.
You don't have the background to understand the highly technical subject of oil exploration, the geopolitics and the strategies of oil producing nations. Don't you feel so? You are quite young!
The prime minister trusted me, my leadership. He must have done so after a lot of thought.
I agree that this is an important department in terms of economic diplomacy. This department's priority is connected to economic diplomacy.
Besides, I think the prime minister's philosophies -- i. that our foreign policy should be constructed keeping the economy of the country in mind; and ii. that keeping our interest in front, we will neither be afraid of anyone, nor will we harm anyone -- are enough to move ahead in this field.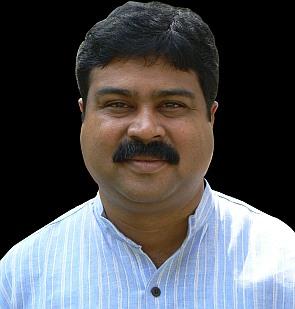 Can you tell us some of your priorities?
To bring in technology, even in the marketing sector.
If Chhattisgarh can make its Public Distribution System technologically-enabled, why can't that be the case in the rest of the country?
This country has around 16 crore (160 million) LPG customers. We want to make a customer-friendly, hassle-free delivery system.
Also, we want augmentation of domestic exploration and production capacity.
Besides, through aggressive economic diplomacy we want to spread India's energy security resources.
If China can take over the energy wealth of Myanmar and Russia, then why can't we?
Just a few days ago Russia and China inked a historic $400 billion gas deal. What do you think of it?
It is a challenge for India's political and economic diplomacy. India's advantage needs to be branded. It is a huge consumer country. India's market has its own power. Business can be done not just by the people who give, obviously, also by those who buy.
If India is a big consumer in the world, then the consumer's interest can also create profitable business. This can be a big psychological and strategic move. Hence, it is important to have clear policies.
We are meeting today when the headlines talk about 'bitter medicine'. The railway fare hike is the huge issue. The government has told us that it is the UPA government's decision that is being implemented. We are scared that your ministry as well, making the UPA government's decision as the excuse, will implement the price hike on Krishna-Godavari gas.
It seems that you may allow gas to be sold at $8+ to Reliance and to others. We are scared about the gas price hike.
We need to bring the economy back on track. Mine is a policy-centric, investment-centric and fund-driven ministry. So we would try not to do such things that would destabilise investments or create confusion.
But the consciousness of the government in this case is very clear. When Modiji became the prime minister, in his first speech he mentioned that his government is dedicated to the poor. It is a welfare State. And who is the centre-point in a welfare State? The common man, the poor man. The government has this consciousness.
And at times, strict economic decisions have to be made for the good of the poor in the long run. It is not a popular issue.
How will we pay such a high price?
The whole issue is under analysis and the government will make the right decision when the time comes. The government is clear about bringing the economy back on track. Modiji's government should keep the concept of the welfare State in mind, always.
Our first priority is the poor.
What you are saying doesn't seem convincing. Today, you have raised railway fares...
You cannot judge a government within a month. Give us five years' time. The voters have given us a 60 month mandate. Even a month has not been completed and you are asking for the report card, saying, 'Why you have not done this or that!'
So will you raise gas prices as well?
Keeping the country and the people in mind, we will make a good decision.
Do you think that the prices should be raised?
We are studying the whole issue and will make the right decision at the right time.
Have you analysed the UPA's pending Cabinet decision on the gas price hike?
We have been looking at all the issues; from production exploration to policy. All issues related to my department are in front of me and I have been analysing them and understanding the challenges of my ministry.
Can you tell us about your Russia experience? You attended the World Petroleum Congress.
I felt that the importance of India is increasing. The way in which India is positioned in the World Petroleum Congress, India was given the chance to head the first plenary session.
Also, it is necessary to understand India's advantage. Till now we understood that we are a buyer country and will purchase whatever is given. But the consumer can also place its terms if we have clarity in policy. A consuming State also can prioritise its interest.
We are buyers, but one whose purchases are big. The world sees us as a huge market. In a market, a seller has priority and a buyer can have priorities.
India can also have priorities and India through its geopolitical network, by making a group, we can lead the buying countries and from consuming patterns to prices we can make a strategy, which can explore all the possibilities.
Will the situation in Iraq, Syria and other Middle-Eastern countries affect India?
Sourcing of resources -- crude oil -- is not an issue so far. Basra, where the refineries are situated, is largely unaffected.
Also, we have taken whatever we had to take from Iraq last year. Nobody can say what will happen tomorrow.
If there is a deficiency, then we will secure it through our existing supplier countries or through the spot market. We have spoken to alternative market sources.
Resource augmentation should not be an issue due to the Iraq crisis.
Part 2:
'We're not forcing Hindi on anyone. We have nothing against English'
Images: Above: Prime Minister Narendra Modi. Below: Dharmendra Pradhan. Photograph: Press Information Bureau