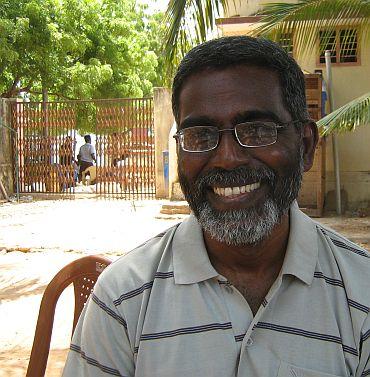 S P Udaykumar, who has been leading a year-long struggle to stop the Kudankulam nuclear power project, has been staying at the Idinthakarai church since the last 400 days and spearheading an agitation that has caught the attention of the global community.

For his pains, he has over 350 criminal cases filed against him that include charges of sedition and waging a war against the nation. At the moment, he has an unbailable warrant out in his name.

Koonthakulam, a famous sanctuary in Tamil Nadu's Tirunelveli district for Siberian cranes during winter, today provides shelter to Udaykumar.

He spoke to rediff.com's A Ganesh Nadar

Why is the Tamil Nadu police looking for you?

I really don't know why they are looking for me.

Fuel will be loaded at the Kudankulam nuclear plant any day now.

No, that is not true. It will take another 25 days as per instructions of the Atomic Energy Regulatory Board.

But once the plant starts functioning, it will be very difficult to stop it.

You cannot stop it temporarily, but you can de-commission it and stop it permanently.

Now that 99 per cent of the work is complete, to what end is your struggle continuing?

It is not too late. Even now they can change the plant to a gas-powered or a thermal plant. We are not saying demolish and throw it into the sea, we are saying we do not want nuclear power.

A thermal plant is much more polluting than a nuclear plant.

That is true, but the waste will not be around for 48,000 years, which is the case with Uranium. The thermal plant will be polluting, but we do need electricity. We have never told them to abandon the plant. All we ask is abandon nuclear power.

How many cases are pending against you?

There are almost 350 cases. I have seen the FIR in 271 cases, but after that they have not informed me.

What are the serious cases against you?

Three cases pertain to sedition while eight relate to waging a war against the nation. I have read some of the FIRs; they are shallow. All of them talk about gathering people and making them speak up against the government.

Did you ask them to destroy anything?

I hope not! (laughs)

You keep talking about laying siege to the plant. It is guarded by heavily-armed CISF

personnel. Would you risk fishermen's lives by actually trying to enter the plant?

No! The leaders of the agitation are meeting in Tuticorin. They will decide the next course of action. We will not try to enter the plant. By siege, we meant blocking the road to it.

How long are you going to keep running from the law?

I have full faith in the Judiciary. I am just questioning the police action. There are more than 30 people involved in this particular case. Why have summons been issued only to me and my wife? Why not the others?

My wife went to court and they gave her another date. I did not go, as I am at the centre of the struggle here. I am exploring all legal options before me. I am not avoiding the law.

So far two fishermen have died in this agitation. Does it not weigh upon your conscience?

We are very sorry for what happened. We have been agitating for over 400 days and we have not indulged in any violence. We have been very responsible and ensuring that our people and even the police officers do not get hurt.

On September 10 and 11, the police started the violence upon a peaceful crowd. There was no need for a cane charge or tear gas assault on us.

Even if they had to fire they are supposed to fire below the knee, they shot one of the two fishermen in the stomach and that too 45 km away from the site of the agitation in another district.

What are you doing to help the slain fishermen's families?

We have discussed it with the fishermen's community and we are formulating a long term plan to look after the families. Nothing has been finalised yet, as the agitation is occupying most of our time now.

What if the police come to arrest you now? How will these young men at the gate react?

The police can come at any time. I have told my people to remain calm. There are many leaders outside to carry on the struggle. Though I have told them to stay calm the young do get emotional and that is worrying me.

What does activist Arvind Kejriwal have to do with all this?

He came the day I had decided to surrender. We decided that if we did it in Kejriwal's presence, the news would be flashed nationally. He is a well-known figure.

The youth of Idinthakarai and this village carried me into a boat and brought me here.

Apart from Kejriwal, MDMK chief Vaiko, Naam Tamizhar Iyakkam founder Seeman and VCK leader Thol Thirumavalavan and other political leaders told me not to surrender.

They told me, "You are not a criminal, why should you go to jail?"