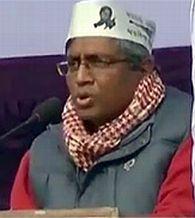 'I did not come here to contest elections and so I am not going to quit if I lose, television anchor and AAP member Ashutosh tells Rediff.com's Athimuthu Ganesh Nadar.
Ashutosh resigned as managing editor of the Hindi television news channel IBN7 last week and joined the Aam Aadmi Party. He joins other journalists-turned-AAP activists like Manish Sisodia, Shazia Ilmi and Rakhi Birla.
Ashutosh worked with the Aaj Tak channel for more than ten years. At IBN7, he led a team of more than 250 journalists. Ashutosh -- who refuses to use a surname apparently in protest against India's caste system -- wrote 13 Days that Awakened India on Kisan Baburao 'Anna' Hazare's August 2011 movement against corruption.
He told Rediff.com's Athimuthu Ganesh Nadar about his sudden plunge into politics and why he is in politics for the long haul.
Was this a sudden decision or have you been thinking about politics for a long time?
It was a sudden decision. I have been thinking about life and how a comfortable job makes you lose creativity, but this leap was sudden.
Does it bother you that you have left a cushy job for the unknown?
(Laughs.) Yes! You are right, I did have a cushy job and a good salary.
This is a difficult challenge and I want to take it up.
See, a cushy job makes you create a comfort zone. You have to get out of this zone if you want to go ahead in life.
That is why I did this.
You are fine with the loss of salary, but what about the family? Are they not worried about the lack of a pay cheque at the end of the month?
(Laughs again.) I am very lucky. My family has supported me in this decision.
They are a little anxious. We are all a little anxious, but they have supported me whole-heartedly.
If you win the election, good, but what if you lose? Is it back to journalism?
You are getting it wrong.
Contesting elections is not my priority. So winning or losing makes no difference to my decision to join politics and the Aam Aadmi Party.
I am going to be a full-time activist. I did not come out of journalism to go back. That is not the way to plan.
If you join politics to contest elections, then you may go back from where you came if you lose.
I did not come here to contest and so I am not going to quit if I lose.
The Aam Aadmi Party was lucky to get so many volunteers in Delhi because of Anna Hazare and the protests after the Delhi gang-rape that brought the youth onto the streets. This will not be the case in the whole country.
How do you plan to get volunteers?
The AAP is a different phenomenon. We have very few leaders and lots of volunteers.
We have to put a system in place to filter, select, find leaders and also decide where the volunteers will work and what work they will do.
We are getting volunteers from the whole country.
We have to find the right kind of volunteers, they must have the clarity to convince others. They must have a desire for a long-term relationship with the party.
You think this is going to be easy? Finding people to fight elections is easy, finding volunteers is very difficult on the national stage.
The AAP has brought a kind of energy that has not been seen in the last 20 years.
This is the energy that is attracting the youth and honest people.
We are getting thousands of calls from people wanting to join.
I have been here for hardly a week and every day people have been calling, saying I also want to join.
We will get volunteers throughout the country. Organising them into a unit and giving them direction will be the bigger task.
Attracting people is not a problem at all for us.
Ten years from now, where will we see Ashutosh?
Ten years from now, you will see me as an AAP leader. I will remain in politics. (Laughs).