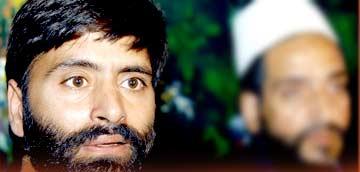 Jammu and Kashmir Liberation Front chairman Yasin Malik first shot into prominence when he masterminded the kidnapping of Dr Rubaiya Sayeed, daughter of Mufti Mohammad Sayeed, then home minister in the V P Singh government in December 1989. The kidnapping and subsequent release of three hardcore terrorists for Rubaiya's return is widely attributed to have triggered off the era of militancy in the Kashmir valley.
Malik, who was among the four Hurriyat leaders who recently returned from a fortnight- long visit to Pakistan occupied Kashmir and Pakistan, made the headlines again when he was quoted as saying that Pakistan Information Minister Sheikh Rashid was running terror camps in PoK in 1990.
In an exclusive interview with Associate Editor Onkar Singh at his Maisuma home in Srinagar, Malik claimed he had been "misquoted."
"I never said Sheikh Rashid gave militants training or gave us arms. What I said was that he gave us shelter when the Pakistani army threw us on the roads," he said.
How would you describe your latest visit to Pakistan occupied Kashmir and Pakistan?
When I went to Pakistan occupied Kashmir pro-independence sentiments are very high. Wherever we went it was a Jammu and Kashmir Liberation Front show in PoK.
As far as the Pakistani people are concerned I am convinced they have unconditional love for the Kashmiri people. They love us and want us to become part of Pakistan. We met intellectuals and people of different shades of political thought, both in the bureaucracy and in the government.
My agenda was transparent. It was a one point agenda. That we support the peace process and we support flexibility.
The Kashmiri people have a constitutional and legal right to be a part of the dialogue. The people of Kashmir hear about the confidence building measures being taken by India and Pakistan on radio and television. We as a nation feel humiliated. It is a zone of conflict.
If India and Pakistan want to convert this peace process into reality then they must involve the people of Kashmir in the dialogue process.
You said the people of Pakistan occupied Kashmir are also for independence. Is that right?
When I went to PoK the kind of euphoria I saw amongst them there was a definite wave for independence.
Would it be correct to say that Kashmiris on both sides of the Line of Control have chalked out a course of action leading to independence?
Yes, that is true. But this is not a new phenomenon. For the last 15 years a number of agencies including leading media organisations like the BBC, AFP, CNN, two prominent Indian magazines, Outlook and India Today conducted surveys and they came to the conclusion that more then 85 per cent people want independence.
When you spoke to the PoK leadership, including its prime minister Sardar Abdul Qayoom Khan, what impression did you get from them?
These leaders have their own ideas about solutions to the Kashmir problem. They want Kashmir to be part of Pakistan. This has been their idea right from the beginning. We had an interaction with them but that does not mean we share their point of view. Sardar Abdul Qayoom Khan's son Atique said whatever the people of united Kashmir decide they would go by that verdict.
Do you think Pakistan will let Kashmir go out of its hands so easily?
It is applicable to both India and Pakistan. Why are you naming just one country? This is neither here nor there.
What is important is that both India and Pakistan must stop playing favourites to a particular political party or an individual. They both have their own players. This is my suggestion to both countries -- if they want the peace process to go ahead they must stop patronising political parties or individuals. They must respect the leadership that came up from the grassroots.
President Musharraf says the Kashmir problem can be solved in a day.
India and Pakistan have their own stand on Kashmir. We Kashmiris have our stand. First, we want that the parties at the peace table should be complete. Let the options before us be discussed at the peace table. Until now we were not a party to it at all. Unless that happens we cannot discuss options before us or other things.
Hurriyat wants Kashmir unified with Pakistan
Are you hurt when India or Pakistan play favourites with Mirwaiz Umer Farooq?
I am not naming any individual. That would not be proper. But I am hurt when the two countries favour someone. I said so openly both in Islamabad and here in Srinagar. You must stop this game of playing favourites no matter who they are.
I would like to tell you that the people of Kashmir would never accept a leader who has been imposed upon us by a foreign country. The two countries have spent a huge amount of money to project their leaders in Kashmir since 1947 but it hasn't worked.
Was the leadership of Pakistan and PoK taken aback when you said they should stop romanticising terrorists or jihad, whatever name you would like to call it?
What I said was that the leadership of Azad Kashmir or PoK have a responsibility towards the Kashmiri people.
When we went there in 1988 we had not gone looking for jobs. We were not unemployed people (laughs). We had talent in our respective professions. We sacrificed our lives for a cause.
When you say they must respect the grassroot level leadership are you referring to the 1989 incident when you kidnapped Dr Rubaiya Sayeed to give militancy in Kashmir a shot in the arm?
That incident took place a long time ago. No matter what gave a spin to the freedom movement in Kashmir -- India calls it terrorism -- you must respect the grassroot level leadership.
India and Pakistan have doubts about who constitutes the real leader of the people of Kashmir. Let this be decided in a democratic manner. Let eminent people from both sides of the Line of Control conduct elections. Whoever wins the election should be given a place at the peace-table.
What about your statement about Sheikh Rashid running terror camps in PoK?
My speech was recorded by over a hundred journalists and television camerapersons. I never said Sheikh Rashid ran terror camps in PoK or that he gave us training or gave us arms. What I said was he gave me and my 3,500 boys shelter when we were on the roads in his farmhouse.
Former Pakistan army chief General Mirza Aslam Beg says Rashid was running terror camps?
He is saying this because it was Aslam Beg who threw us out on the roads. We had no place to go and it was Sheikh Rashid who gave us shelter.
Exclusive: J&K ceasefire likely
Former prime minister Atal Bihari Vajpayee has accused Pakistan of backtracking on understanding between India and Pakistan by allowing your delegation to go to Pakistan without passports.
He was the man who initiated peace process and we look upon him as a statesman. But I want to ask him one question: Why did his government say the All-Parties Hurriyat Conference was the sole representative of the people of Kashmir? Is that true?
What would happen if a non-representative is accomodated at the peace-table?
In that event the whole peace process could backfire. Only a democratically elected representative of the people of Kashmir should find a place at the peace-table. Otherwise, the whole thing could collapse.
Photograph: Tauseef Mustafa/AFP/Getty Images
Design: Rahil Shaikh