'At 7 am today, a pack of mad dogs rushed into a building and castrated a man.'
Running into the poet who penned that is easy, provided you know where to position yourself. If you feel the need to meet Sampurna Chattarji in stately south Mumbai, for instance, you might want to hang around the Theosophy Hall at Marine Lines. If you prefer vibrant north Mumbai, an evening sipping Irish coffee at Juhu's Prithvi Theatre is your best bet.
Meeting Sampurna at places like these is easy, simply because they are settings for all manner of literary events. While the Theosophy Hall may host readings by a legendary poet or two, Prithvi hosts discussions on everything from Absurdist theatre to gender politics. Look closely at those perched on the front benches, and your eyes will settle on the familiar salt-and-pepper hair that defines Sampurna.
Before she decided to plunge headlong into the unstable world shared by up-and-coming writers, Sampurna -- who was born in Ethiopia, studied in Delhi, and worked in Kolkata before moving to India's most fabulous city, Mumbai -- was a copywriter. Going by the appalling work that industry has churned out over the last few decades, she decided to quit it altogether. A wise move, considering what she has been doing since.
The plunge into literature has led to Chattarji winning the Commendation Prize in the All-India Poetry Competition 2000, making it as a finalist in the BBC World Service Short Story Competition that same year, translating the work of respected Bengali writers (Abol Tabol: The Nonsense World of Sukumar Ray), and having her poetry featured on Radio 4 Hong Kong -- apart from making her presence felt in a number of literary magazines. She is currently an executive committee member of the PEN All-India Centre, Mumbai, and on the editorial board of its journal, Penumbra.
Despite the fact that her debut collection of poetry, Sight May Strike You Blind (Sahitya Akademi, Rs 50) was published only earlier this year, Chattarji's work has already impressed a fair number of folk. Like much-respected poet Keki Daruwalla, who wrote the foreword to her collection.
Sampurna's work matters because she takes to heart that most basic of exercises in literature: De-familiarise -- to take the ordinary and make it new. Seen through her eyes, then, even an egg is no longer just an egg: 'I see conspiracies in your shape. I see enclosure, and escape.' (Object Lesson: Eight). Lindsay Pereira spoke to her this week:
I am intrigued by the way your collection has been structured. How would you describe the little compartments you have created within?
The structure arose out of the question of shape. How does one give shape to a series of poems written over a period of time (in this case 1999 to 2005) without, at the point of writing, having had any notion of a book in mind?
For me, what you call 'little compartments' are really tonal arrangements, each a variation on a larger theme, each with its own cluster of associative textures that resonate in themselves and, I hope, in consonance with the rest.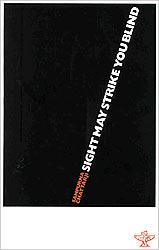 You are clearly obsessed with language. What, then, drew you to copywriting, possibly the least creative choice for anyone with a true love of language?
I wasn't drawn -- I fell into it by chance! Straight after exams in English literature at LSR (the Lady Shri Ram college), Delhi, I missed the chance of being a management student at the Xavier Labour Relations Institute. Deluded young thing that I was, management was where I thought I might find my metier. I didn't know what to do with my life, so I took a copy test at the advertising agency HTA (now JWT) Kolkata, and got a job as a trainee before graduation. I had no clue what copywriting meant, except it had something to do with writing. I soon learnt how little!
That said, my years in advertising taught me valuable lessons -- among them, an obsessive attention to detail. When a client is paying for every square inch of press-space, typographical errors are anathema (something copy editors at publishing firms could do well to learn from). I also learnt to respect the rigor of deadlines.
Why did you choose the Sahitya Akademi, considering it is possibly the most badly-managed publishing house in India -- in terms of its poor marketing, production and distribution skills?
Given the paucity of options available to the would-be-published-poet, I think 'choice' is a wonderfully tantalising and woefully encumbered word. Most mainstream publishers only publish poets with 20 or 30-odd years of published work behind them. Poetry, it is generally believed -- and not without reason -- does not sell. I was very clear I would not self-publish, even if that meant not having a book out. So, when I heard the Sahitya Akademi was publishing work by women poets under 40 who have not had a collection out, I thought it would be the perfect place to send my manuscript.
You are a key member of PEN in Mumbai. How would you evaluate the interest of non-members in some of your events, particularly those involving poetry?
I would say the interest varies, depending on a variety of factors (venue, day of the week, media-generated publicity, and so on). Increasingly, at PEN, we try and make the most of poets passing through Mumbai -- giving them a space to read their work, and these events have been fairly satisfactory. We had Smita Agarwal from Allahabad, Jam Ismail from Hong Kong, Shanta Acharya from the United Kingdom, to name a few guests. I think more than numbers, it is the quality of discussion that makes these events worthwhile.
A large amount of your work involves translation. Do you aim for exactitude of meaning (transliteration) or try and convey a sense of what the original text says? Also, how tricky is the move from Bengali to English?
I like to think of translation as a form of 'relaxed concentration'. The relaxation comes from the fact that the original already exists in finished form. The concentration comes from having to focus all my energies into transmuting that original into an 'object' resultant from, independent of the original. Freed from the tyranny of one's own writing, one embraces the strictures of another's. I never aim for transliteration. Nor am I simply content with conveying 'a sense of what the original text says'. Both extremes are inimical to good translation.
In translating Sukumar Ray's poetry, for example, I chose to be faithful to his intricate rhyme schemes; for his prose, I was faithful to the intent rather than the letter of his word-play. What's tricky is not the move from Bengali to English, but the balance the move might require.
As it has in the past, Mumbai continues to attract poets from across the country. Why do you think that is? Why do cities like Delhi, Bangalore or Kolkata fail to attract artists in such large numbers?
Most of the generation previous to mine were not 'attracted' to Mumbai -- they were already Mumbaiites! Today, some of the best young poets are based elsewhere -- Vivek Narayanan in Delhi, Anjum Hasan in Bangalore, Anitha Thampi (who writes in Malayalam) in Trivandrum.
Having said that, let me now gleefully contradict myself by saying that after studying in Delhi and working briefly in Kolkata, I cannot think of being a writer in any other city in India! I knew I couldn't be content living in Kolkata after being blown away by the energy of this place.
Mumbai has given me the kind of stimuli and community I could not possibly have found elsewhere.
Are there contemporary poets in Mumbai you are currently excited about?
The poet I am excited about -- and who hasn't had a book out yet -- lives in Mizoram. Her name is Mona Zote, she works in the Income Tax department in Aizawl, and has a unique voice that allows her to bring the politics of the region into her work without forgoing subtlety. I am looking forward to seeing her in print.
We have a poor tradition of literary criticism in India. Does it bother you, then, that anyone with access to a small publisher can churn out verse and label himself or herself as a poet? I can, for example, think of a few journalists who have done this in the recent past.
Small publishers or self-labelled poets don't bother me as much as the lack of sound literary criticism in India. I think more writers -- in this case, poets -- need to actively fill in that lacunae, by taking the time to write the kind of criticism for others we think we ourselves deserve. Unfortunately, there aren't many platforms that make this possible. But, wherever we can -- be it through magazines like Biblio, newspapers that still hold on to their books page, or through literary blogs -- it is up to us to change the situation.
ALSO READ
'Why does Indian journalism constrain itself?'

Dilip Chitre: Portrait of an artist
'Perhaps Gandhi was an inevitability'

Poetry, dance and Muralitharan

In conversation with Vikram Chandra

'William Shakespeare is our heritage too'

Abha Dawesar: 'Science gives me hope'