On the eve of Prime Minister Manmohan Singh's visit to Germany and Uzbekistan (April 22-26) the Charge d' Affaires at the embassy of Uzbekistan, New Delhi,  Professor Saydakmal S Saydaminov, explains why the trip is important for both nations.
'While discussing Indo-Uzbek relations it is rather difficult to separate the past from the present,' he told Deputy Managing Editor Ramananda Sengupta in an exclusive interview.
How do you see Indo-Uzbek ties today? How can they be improved?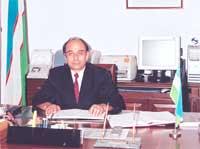 Uzbekistan highly assesses the current level of Uzbek-Indian relations. There is a regular political dialogue between our countries, which has been substantially expedited over the past years. Uzbekistan considers India as a country that -- due to its political, economic and enormous human potential -- plays an increasingly important role not only in the region, but also in addressing the global issues of the modern world.
The great achievements of your country in dynamic and sustainable development of economy, its growing profile in the international community evokes the feeling of great respect.
It is worth noting that during the 15 years of independence of the republic of Uzbekistan, there has been only one highest level official visit to Uzbekistan -- when Prime Minister P V Narasimha Rao visited Uzbekistan in May 1993 -- while Dr Islam A Karimov, President of the Republic of Uzbekistan visited India four times – in August 1991, January 1994, May 2000 and April 2005.
The state visit of Dr Karimov in April 4-6 last year was a continuation of the practice of regular exchange of high level visits between Uzbekistan and India, and symbolic of the longstanding historical ties and deep cultural affinity that exists between the two countries. The talks were held in an atmosphere of warmth, friendship, trust and mutual confidence that is characteristic of the relationship.
Both sides expressed satisfaction over the development of bilateral relations, and confirmed their intention to develop this further on the principles of the UN Charter, respect for each other's sovereignty, territorial integrity and non-interference in internal affairs. Besides cooperation in political, trade, economic and investment spheres, the leaders of both countries recognized the need to promote people-to-people contacts and enhance cooperation and linkage in tourism, culture and education spheres.
What are Uzbekistan's main concerns vis-a-vis India?
While discussing Indo-Uzbek relations it is rather difficult to separate the past from the present. The past feeds and enriches the present and provides the ambience for warm relations that exist between our two countries.
To illustrate Indo-Uzbek bonds since ancient times, I would like to cite a few examples. In the 11th century our great ancestor, a scientist and encyclopaedist Abu Raihon Al-Beruni traveled from Khiva to India. In his fundamental scientific work known under the title of India he has described the unique nature, history, philosophical-religious views and lifestyle of the Indian people. The Kitab-Tahkik Al-Hind is one of the most authoritative books on Indian society and culture.
The socio-cultural relations further expanded and strengthened during the Moghul Dynasty (1526-1857) in India. Zahiruddin Muhammad Babur in his famous work of  Baburname rediscovered for our ancestors the distant and mysterious India, and for Indian people – the beauties of our homeland.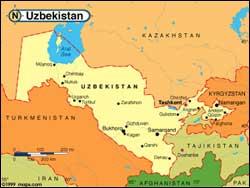 We are proud that among great classics of Indian poetry there were descendants of the natives of Maveraunnahr – Amir Husrau Dehlevi, Abdulkadir Bedil, Mirza Ghalib, and many others whose profound humanistic works in both soul and ideas found and are finding an equal response in the hearts of both the Indian and Uzbek people. According to an estimate, over 300 manuscripts on the history and literature of Central Asia are available in the Indian libraries, especially in the Khudabakhsh library in Patna, Bihar, and the Reza Library in Rampur, Uttar Pradesh.
In the middle of the 20th century, the works of Khaja Ahmad Abbas, Prem Chand, Rabindranath Tagore, Ali Sardar Jafri, Sajjad Zaheer, and Amrita Pritam were translated into Uzbek language and enjoyed popularity among readers in Uzbekistan. Uzbek readers have been addressing Indian themes again and again. The very fact that the names of such prominent Indian individuals as Mahatma Gandhi, Rabindranath Tagore and Jawaharlal Nehru are immortalized in the names of streets in our country is a vivid incarnation of the respect of Uzbek people towards India.
The jubilee events dedicated to the centennial birthday celebrations of Lal Bahadur Shastri was held in Uzbekistan with the participation of the broad public in 2004-05. One of the streets and a school where Hindi is taught in our capital are also named after him.
What commonalities are there between the two nations?
Uzbekistan and India have identical views on various regional and global issues. This helps both countries to chalk out a common strategy in their response. International terrorism and religious extremism are some of them. During the last visit of the President of Uzbekistan to India the leaders of our countries once again underlined their resolve to fight terrorism on a long term and sustained basis and affirm that international terrorism in all its forms and manifestations constitutes one of the most serious threats to international peace and security, and condemn in the strongest terms all acts of terrorism. The sides emphasize the need for an early conclusion of the Comprehensive Convention on Combating International Terrorism.
What are the main articles being traded between the two countries? What is the total value of bilateral trade today? How can it be improved?
Today we can say that trade and economic relations between Uzbekistan and India over the years have largely been very successful. For the past decade our mutual trade turnover has grown by more than 12 times and in 2004 reached $ 120.9 million. But during the last year bilateral trade dropped to $ 61.1 million.
Our export to India primarily consists of aircraft, products of metallurgy, services, agriculture, silk and cotton, and chemical industry products while import from India -- services, pharmaceuticals and medicines, machinery and equipment, organic and chemical products, optical equipment and devices, textiles and many more.
There are currently 31 large enterprises in Uzbekistan, which have been established with the direct participation of Indian companies and investment: 26 of them are joint ventures and 5 are enterprises with 100 per cent Indian capital.
At the same time, however, we believe that the current level of economic cooperation between our two countries does not meet its significant potential. We surely have enormous opportunities to expand this cooperation in many areas.
The Sixth Meeting of the Intergovernmental Commission on Trade, Economic, Scientific and Technological Cooperation between the Republic of Uzbekistan and the Republic of India was held on March 7 in New Delhi. During the course of the meeting the prospective directions of trade and economic cooperation between two countries were discussed and the commission took some crucial decisions on further development and expansion of cooperation between our two countries.
I do hope that such intensive interaction between the leadership and captains of the business and industry of our two countries will lead to sharp increase in bilateral trade and economic cooperation between our countries.
While inter-governmental ties are very good, people to people contact is limited. Why? What can be done to improve it?
The Uzbek people are very much aware of and love Indian culture, movies, music and dances. I myself grow up with famous Raj Kapoor movies. In almost every Uzbek family you may listen music from the most popular modern Indian movies. Unfortunately, not very many Indians know about modern Uzbekistan. I believe it is because of shortage of information and proper education at schools and other Indian educational and nongovernmental institutions.
From this point of view one of the remarkable cultural events in 2005 was the publishing of the books  Land of Timur, Land of Manas by BR Basu and Secularism at Bay: Uzbekistan at the Turn of the Century by Professor Barun De. The first book contains a brief account of the historical and cultural relations between India and Central Asia over the centuries and detailed information about the places to visit in Uzbekistan nowadays. The second one describes the situation in Uzbekistan during the last several years, the challenges and difficulties facing our society.
What are the other areas besides trade in which India and Uzbekistan are cooperating? Terrorism? Science? Culture?
Science and technology are other areas of cooperation between Uzbekistan and India. A Working Programme in Science and Technology for 2004-2006 was signed in New Delhi in March 2004. This envisages joint workshops and conferences in areas of bilateral interest; exchange visits of scientific and technological personnel; training of young Uzbek scientists in Indian Institutions; and implementation of joint research projects in areas considered significant for the development of economy on both sides.
Considerable scope for cooperation exists in the area of information technology in which Indian companies have made a mark for themselves on the global scale. Under the memorandum of understanding signed in October 2004 for establishing an Indo-Uzbek Centre for Information Technology in Tashkent, the government of India provided Uzbekistan with a grant of Rs 30 million, and also technical assistance. The building identified for the India-Uzbek IT Centre in The Tashkent University of Information Technology has been renovated and furnished. Eight faculty members from TUIT have undergone six months advanced training in IT at the C-DAC in Pune. Experts from C-DAC installed the equipment and conducted the training courses.
The visit of Prime Minister Manmohan Singh to Uzbekistan is going to be the continuation of the dialogue on the comprehensive cooperation between two countries Besides the official discussions and signing several bilateral agreements, Dr Singh will officially inaugurate this center, which is going to be named after Jawaharlal Nehru.
This visit is thus of great importance for us and I believe it will be a grand success. I believe the active implementation of the mutual agreements signed in April 2005, and those which are going to be signed during the forthcoming visit will drastically expand and strengthen bilateral relations. Taking this opportunity I wish to the Indian people permanent peace and prosperity.