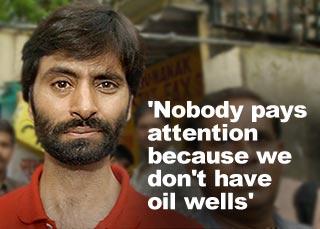 Yasin Malik is a well-known face of the separatist movement in Jammu and Kashmir. 

The leader of the Jammu and Kashmir Liberation Front made an unexpected appearance at the World Social Forum in Mumbai this week where he spoke to Chief Correspondent Syed Firdaus Ashraf.
What brings you to the World Social Forum?
People from across the globe are discussing international conflicts and disputed regions. I am here to discuss Kashmir.
What is the link between the WSF and Jammu & Kashmir?
There are people from Tibet, Palestine, (there are) Burmese democracy groups fighting military rule, and many more. All these groups are here to discuss the problems of their regions and find solutions. I am here to discuss Kashmir. The people at the WSF are open-minded and discuss issues freely. They have a wide reach and have no biases. I hope this group becomes a superpower in the future. If that happens, peace and stability will find a place in this world.
After this month's Musharraf-Vajpayee talks, are you hopeful peace will dawn on Jammu & Kashmir?
There is hope, but I want them to keep one thing in mind -- they have to take the wishes of the Kashmiri people before they come up with any solution to this problem.
Have the Kashmiris not been sidelined in the peace talks between India and Pakistan?
If the Kashmiris are not involved in any peace process, peace is incomplete. They have to be the principle party in the peace discussions.
Were you disappointed that no Kashmiri group was invited to the peace talks?
I am not yet disappointed. We have put forth our views for the peace process and we need to be called for that. Now, it is up to them.
Do you feel President Musharaf has entered into a secret deal with India?
The Kashmiri people will not accept any solution until they are involved. No Musharraf or Vajpayee can solve this problem till the people of Kashmir are involved. They cannot thrust any solution on us.
People have made many sacrifices for the Kashmiri cause and until their sacrifices are recognised we cannot find peace.
We have also started a signature campaign in Kashmir where we are highlighting the fact that the Kashmir solution is not possible without Kashmiris being involved.
Kashmiris are the worst sufferers all over the world but unfortunately nobody pays attention to us because we don't have oil wells.
Do you think the peace process is progressing well?
Let us hope it goes well in the future also. There is no firing at the border right now. I have therefore not made any reactionary statement here (at the WSF), but I want the Indian army's atrocities to end in Kashmir.
What is your personal opinion about peace in Jammu & Kashmir?
I want to raise this question: What is the identity of the Kashmiri people? Are they from Indian occupied Kashmir as it is said on the BBC or are they from Pakistan-occupied Kashmir as it is mentioned in the Indian media? For that matter what is Azad Kashmir? 
Please give one identity to the Kashmiri people.
The people of India and Pakistan are romantically involved and attached to Kashmir. They have their security interests but let the people of Kashmir decide what they want. Let them decide their future, and let the people of India and Pakistan accommodate them in deciding their future.
Has there been no change in Kashmir after the ceasefire between the two countries?
Not inside Kashmir.
Kashmiris are dying because of human right violations. There is only peace at the border. There is no firing between India and Pakistan but that is in no man's land.
When will Indian and Pakistani leaders talk to the Kashmiri leaders?
Whenever they call us. It is up to them. They have not called us. And until they call us for talks the peace process will be incomplete.
It should be a genuine peace process. We have to come with an open mind to the negotiating table so that we can understand each other.
Are you hopeful about a solution?
Let us hope for the best
Won't you agree that Jammu & Kashmir is Hindustan ka ek atut ang (an indispensable part of India)?
Atut ang ki baatien ab nahi chalengi (the indispensable part of India argument will not work) Baat agar karni hai to solution pahle dhunda padega (If you have to talk we will have to find a solution first.)
Deputy Prime Minister L K Advani is meeting Hurriyat leaders on January 22. Will you be part of that meeting?

I have not thought about that. I will decide later.
Do you think there is American intervention in the peace talks between India and Pakistan?
You better ask this question to Musharraf or Vajpayee, not me.
Why did you attack Indian intellectuals in your speech at the WSF?
They are not doing enough for the Kashmiri cause. I want a constructive role from them. They are concerned about Palestine and Baghdad, but not Kashmir. They follow a nationalist viewpoint when it comes to India and that is a problem. Every intellectual says s/he is ready to fight for people's rights. But when it comes to implement that in their country they ignore it.
No Indian intellectual is willing to talk about people's rights when it goes against their country's wishes. Their viewpoint is: 'Whatever our country does we will defend its actions.'
Photograph: PRAKASH SINGH/AFP/Getty Images
Design: Dominic Xavier