'She was the only prime minister who won a decisive military victory.'
'She won a real war; she didn't play video games on prime time TV over surgical strikes!'
'She understood power better than any other politician, saw it as her birthright and used it with inborn expertise.'
'Every politician today who tries to be a "supremo" through populism and absolute control over his or her party is referring to the Indira Gandhi playbook!'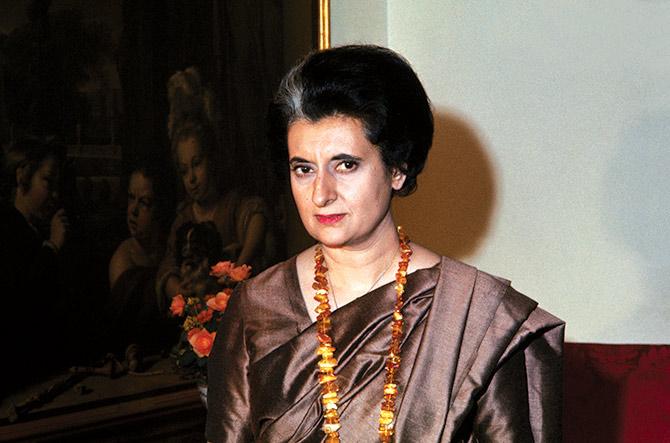 IMAGE: Indira Gandhi on a visit to the US in March 1966, a few weeks after becoming prime minister for the first time.
After this visit she would devalue the rupee in return for aid from America, a politically unpopular move that brought her into confrontation with a group of veteran Congress leaders.
Photograph: Bettmann/Getty Images/Kind courtesy Juggernaut
Nine prime ministers have ruled India since her assassination on that foggy October morning in 1984, but for Indians who grew up in the turbulent sixties and seventies, Indira Gandhi continues to dominate their political consciousness.
None of her successors have quite measured up to her grasp of the Indian mind, her political cunning, her disregard for the institutions of State even while parading herself as a paragon of democracy (even when she imposed those 19 months of neo-dictatorship on a country whose democratic traditions had so carefully been nurtured by her father and the other founding fathers of the Republic), her skill at turning adversity into advantage.
Narendra Modi could well be her political heir, but we will have to wait for his tenure to play out in full measure.
The prime minister has not encountered adversity or hindrance -- political or otherwise -- in any real measure during his three-year reign for us to assess his true worth as a leader.
This is the centenary of Indira Gandhi's birth and it is not surprising that the rather slim collection of books on her life and politics are being steadily augmented to mark this milestone.
Jairam Ramesh has written an unusual biography, documenting the late prime minister's relationship with the environment, Indira Gandhi, A Life in Nature (Simon & Schuster), about which he spoke to Rediff last month.
Sagarika Ghose's Indira: India's Most Powerful Prime Minister traverses familiar biographical territory -- from birth in Allahabad's Anand Bhavan to death at New Delhi's 1, Safdarjung Road.
And yet, it is a valuable book considering that we have not had a biography of Indira Gandhi in a long time.
Pupul Jayakar's intimate account of her friend's life appeared in 1992 while Kathleen Frank's controversial Indira: The Life of Indira Nehru Gandhi -- which Pritish Nandy denounced as 'one of the stupidest biographies' he had read on Rediff.com -- was published in 2001.
Indira: India's Most Powerful Prime Minister profits from Ghose's skills as an interviewer, and produces a series of relevations about Indira Gandhi which one has not encountered earlier.
Rediff.com's Nikhil Lakshman quizzed Sagarika Ghose -- a constant target of the rightwing troll army -- via email about her book and if she thinks Narendra Modi is the political son Indira Gandhi never had.
Part one of a two-part interview:
There are a fair number of books about Indira Gandhi -- minuscule, of course, compared to what is available on her father -- what makes your book different?
What new insights into her as a human being and leader can we expect from your biography?
Why did you choose to traverse familiar ground -- her childhood and marriage -- when investigating her prime ministership -- about which we still don't have the definitive biography -- would have been the livelier project?
My book, Indira: India's Most Powerful Prime Minister, is a journalistic interrogation of Indira Gandhi in her centenary year and an attempt to assess her life and legacy from the standpoint of the 21st century.
I assess not only her prime ministership and her politics, but also her personal relationships, feminism, East-West identity and even her aesthetics.
My interrogation of her and her legacy takes the form of the letters that I have written to her through the book.
These are a fanciful attempt at a dialogue with the ghost of Indira Gandhi, asking questions that I felt focused on the more controversial aspects of her rule and personality.
My book is an inter-weaving of the political and the personal, because Indira Gandhi's brand of personalised and highly centralised politics was indistinguishable from her personal foibles and paranoias.
I combined the personal, political and the governmental, because purely an administrative dossier on her prime ministership would hardly have been as interesting to the reader as a study of the personal, familial and emotional history that led in many ways to the political and policy decisions that she took.
In fact, her ideological stances, like her socialism, were born entirely from family influences and personal relationships.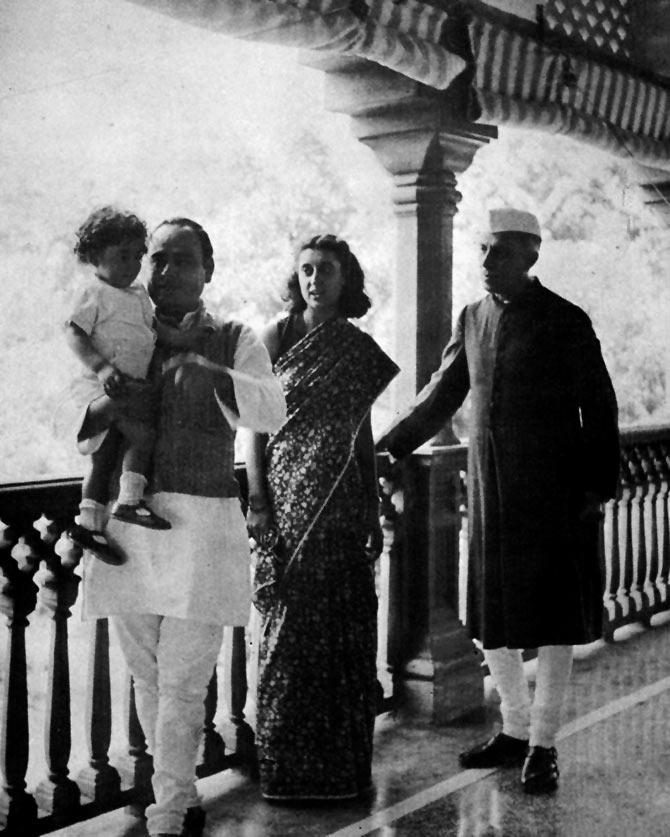 IMAGE: Baby Rajiv with his parents, Feroze and Indira, and grandfather Jawaharlal at Anand Bhavan in 1945.
Jawaharlal wanted Indira to add 'Nehru' to Rajiv's name. Photograph: Wikimedia Commons/Kind courtesy Juggernaut
Was the occasion of her centenary the peg for this biography?
Or is it important for us -- especially the millennials -- to know Indira Gandhi to understand Narendra Modi's prime ministership?
Would you say Mr Modi is the political heir Indira Gandhi would have liked? Why? Why not?
I was commissioned by Juggernaut Publishers to write this book for Indira's centenary year.
I wrote the book with a strong narrative and sharply etched characters to draw newer, millennial audiences into reading about Indira Gandhi by providing a complete picture of her personality and legacy.
For my generation -- those of us who were teenagers in 1984, the moment of her assassination and its bloody aftermath, was a baptism by fire into adulthood; it was our collective loss of innocence.
Those born after 1984 would hardly have the same memories. That's why I wanted to tell the Indira story in all its dimensions.
The similarities with Modi are, in fact, striking.
Indira Gandhi was India's original High Command leader, Indian politics' first baahubali and 'supremo'.
The 'supremo' cult in politics started with her.
She was completely dominant in her own party, dominated the government and bypassed Constitutional norms in stamping her personal authority on the government, thereby gutting administrative and Constitutional procedures.
She also bypassed her own party and reached out directly to voters in a populist embrace -- she was Indian politics' first true populist.
She awakened the masses on a gigantic scale but, of course, in the end fell victim to that same awakening.
The crucial difference with Modi is that she outwardly practiced secular politics and the BJP and RSS were her lifelong enemies.
She steered clear of majoritarian politics although she did dabble in a 'national' Hindu political lexicon and was accused of pandering to Hindu voters in Punjab and Kashmir.
Modi is her heir in terms of being an authoritarian, centralising and a high command leader, but she would have strongly disapproved of Modi's Hindu nationalist politics.
I don't think she would have liked him to be her heir at all.
In Mr Modi's shrewd use of power, his dexterous deployment of message -- even to turn a likely problem like demonetisation to his advantage -- in the manner Amit Shah and he have undermined Opposition governments (the way Indira Gandhi so liked to do), in the ambience of fear that dissent will invite governmental reaction, are we seeing signs and hearing resonances of the Indira era?
Indira openly declared an Emergency and used the law to declare to an Emergency.
I think, today, we have an undeclared Emergency!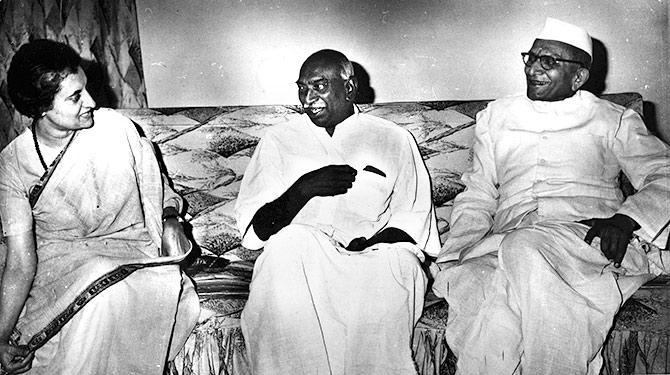 IMAGE: Prime Minister Indira Gandhi with senior Congress leaders K Kamaraj, centre, and Morarji Desai, March 1967.
Desai, then deputy prime minister and finance minister, would often slight Indira in public.
Indira split the Congress in 1969 and formed the Congress (R), of which she was the undisputed boss. Photograph: Keystone Pictures USA, Alamy/Kind courtesy Juggernaut
You say in your book that politicians like Amit Shah like to take cues from Indira Gandhi's playbook.
What makes her a more alluring leader for the Modi-Shah combo than a BJP prime minister like Mr Vajpayee?
Do you think Indira Gandhi remains the totem of strong, decisive, leadership for the Sangh Parivar?
Is that why their criticism of Indira Gandhi is somewhat muted -- just the familiar castigations of the Congress for the Emergency?
Clearly, they don't despise her like they do Mr Nehru.
What explains this dichotomy -- admiration for the daughter, animosity for the father?
As I say in my book, the BJP and the Sangh Parivar regularly attack Nehru, Sonia, Rahul et al, but rarely train their guns on Indira Gandhi.
Yes, she is the embodiment of strong leadership across the political board.
As I write in the preface to my book, every politician today who tries to be a 'supremo' through populism and absolute control over his or her party is referring to the Indira Gandhi playbook!
She was the only prime minister who won a decisive military victory and was hailed as a goddess even by Vajpayee (although he later denied this).
She won a real war; she didn't play video games on prime time TV over surgical strikes!
I don't think any other prime minister -- even Vajpayee or P V Narasimha Rao -- won the kind of mandates she did or practised power with such ruthlessness and killer instinct.
She was the James Bond of power politics and even left her father flat on the mat.
She understood power better than any other politician, saw it as her birthright and used it with inborn expertise.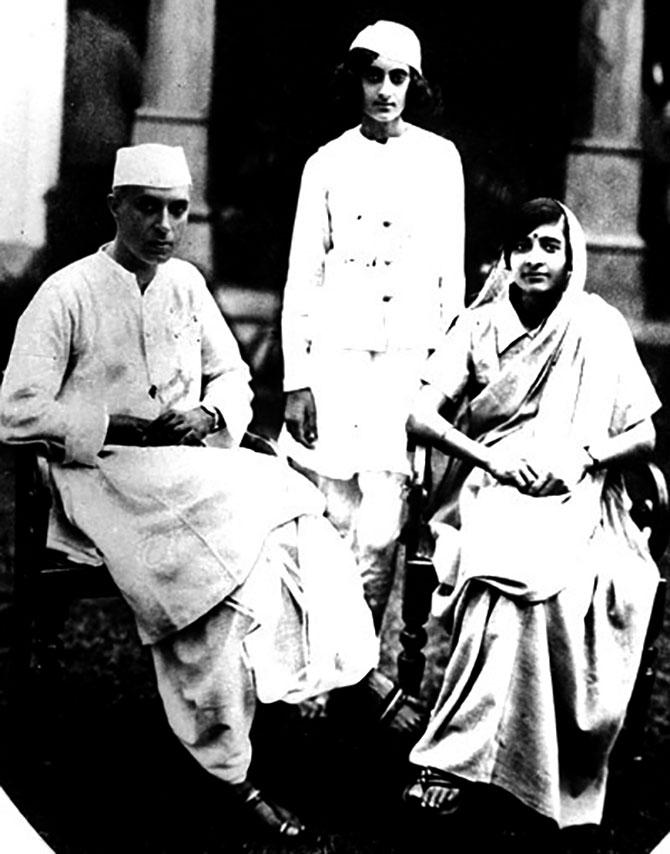 IMAGE: Jawaharlal and Kamala Nehru with their daughter Indira at Anand Bhavan, Allahabad, 1931.
Photograph: Wikimedia Commons/Kind courtesy Juggernaut
I was surprised to read in your book that Indira Gandhi resented her father's almost cavalier treatment of her mother when she was ill -- I don't recall having encountered that before.
How would you describe her relationship with her father?
Was it more complex than we are led to believe? Was he more dependent on her than she was on him?
You started this interview by saying Indira Gandhi's personal details were all well known and are now expressing surprise at this unknown personal detail!
So, you see, not all of her personal life is well known.
I discovered a great deal I didn't know; one of them was just what an unhappy humiliating marriage she endured.
In fact, (former external affairs minister K) Natwar Singh, who knew the Gandhis well and who I interviewed for the book, also called me to say there are things in the book even he didn't know.
I don't think Indira had a very warm relationship with Nehru -- it was fond, but somehow formal, not warm or overly affectionate.
I think she always blamed him for the way her mother was treated, and he judged her quite harshly when it came to her intellect political activism and political commitment.
My impression is he found her slightly inadequate; she fell a trifle short of Nehru's expectations.
The freedom fighters generally treated their children pretty badly!
They had very high expectations and wanted their kids to make the same sacrifices they had.
Look at the way Gandhi treated his elder son, or Patel his daughter or Nehru treated Indira.
They pushed them off stage and held them to high standards.
Indira adored her 'Papu' and sought his approval all her life, but also felt overly judged by him and rebelled against him in many ways.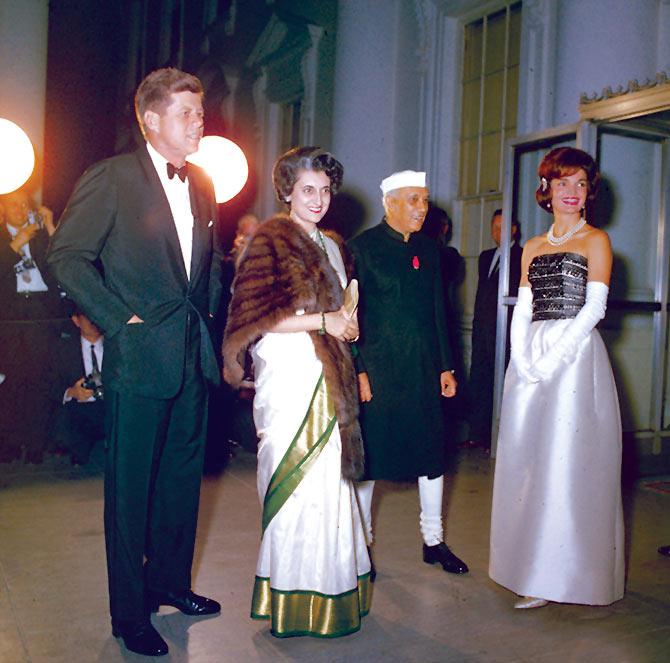 IMAGE: US President John F Kennedy and his wife Jacqueline with Jawaharlal Nehru and Indira Gandhi in Washington, DC, 1960.
Indira often accompanied her father on official trips abroad. The sari-fur combination became her signature look.
Photograph: Hulton Archives/Getty Images/Kind courtesy Juggernaut
Was it in any way like the Donald-Ivanka relationship?
Did Indira Gandhi try in any way to influence her father's politics and policies?
Or was Mr Nehru too self-assured as a thinker and politician to trust any other instincts but his own?
And yet Mr Nehru went with her advocating the dismissal of the E M S Namboodiripad government in Kerala even when it violated his democratic coda.
Did Indira Gandhi prevail on him by raising the spectre of Communist gains if EMS's government was permitted to stay and enact its social programmes?
I have no idea about the Donald-Ivanka relationship!
On Kerala -- the consensus among historians is that Nehru dismissed the E M S government on his own and must take the blame for that decision, although, for Indira, political calculations were upper most.
The CPI (Communist Party of India) had won an election for the first time and was a big threat to the Congress, particularly, as I wrote, with pictures of Marx and Stalin replacing Gandhi and Nehru in school classrooms.
On Kerala, she revealed that she was not above tying up with non-secular outfits like the Muslim League and Nair groups to bring down a political opponent.
This was vintage Indira Gandhi.
Politics above all else, politics for its own sake, power for its own sake.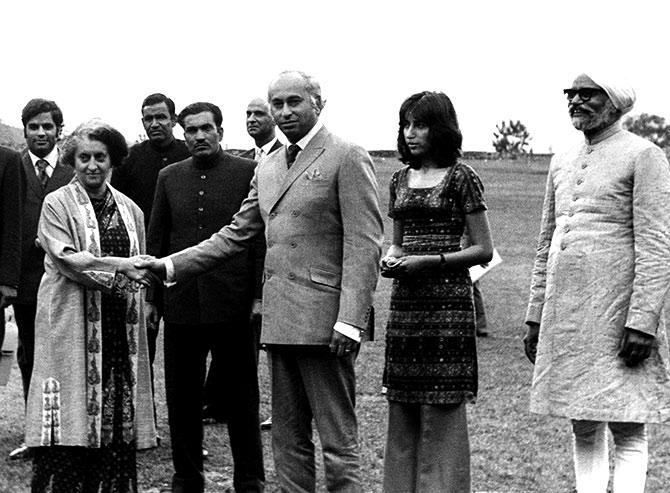 IMAGE: Prime Minister Indira Gandhi greets Pakistan Prime Minister Zulfikar Ali Bhutto as his daughter Benazir Bhutto looks on, Simla, June 1972.
Photograph: Agence France Presse/Getty Images/Kind courtesy Juggernaut
In the course of your research, did you uncover any material revealing her advice to him on how to deal with China, counsel that may have in any way averted the worst debacle of his prime ministership -- the 1962 war?
Or was she too comfortable with the personalities around her father -- the then defence minister, the then army chiefs -- whose leadership led to that catastrophe?
Surely, she was not wet behind the ears in international affairs, after being by her father's side through his foreign frays the earlier decade.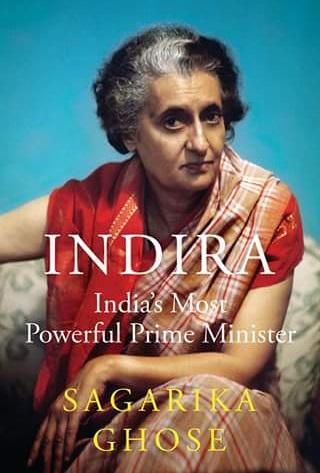 Nehru did not turn to her for counsel on anything, let alone China.
She quite resented this, and used to complain that when she asked him questions or volunteered information, he kept silent or brushed them off.
There are several recorded exchanges in letters (which I refer to) where he simply ignores her objections or advice about political matters.
I think the blame for 1962 should probably be laid at then defence minister (V K) Krishna Menon's door -- he was Nehru's great friend, the person Nehru turned to for counsel.
Menon completely failed to recognise the Chinese threat, remaining focused on Pakistan.
Then army chief (General K S 'Timmy') Thimayya even threatened to resign because of the way Menon was meddling in appointments in the army.
The China war revealed just how deluded Nehru and Menon were.
Nehru even brushed off early news of the Chinese attacks as 'minor skirmishes' because he was so confident of the 'Hindi-Chini bhai bhai' spirit and refused to believe that China would attack India.