'This is a watershed election in Indian politics.'
'For the first time, we are moving away from identity politics to aspirational politics.'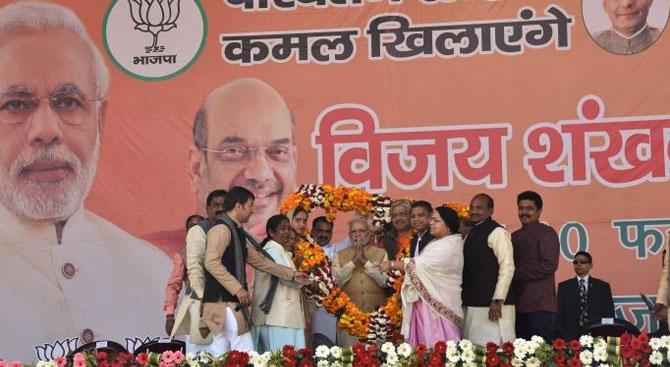 Bharatiya Janata Party National Spokesperson Sudesh Verma, a former journalist, discusses the scale of the BJP's victory in Uttar Pradesh and the consequent changes in the political landscape with Rediff.com's Shobha Warrier
Did the BJP expect to win more than 300 seats in UP?
We were sure of victory in UP, but we never thought that the 2014 victory would be repeated this way.
We knew the assembly election would be different and it would not be on the Lok Sabha pattern.
We expected to cross the two third mark, party President Amit Shahji said so also.
The BJP adopted a similar strategy in your home state Bihar. It didn't work there, but it worked in a big way in UP. What made the difference?
In Bihar, we were sure of victory, but we realised that we could not convince people of what we would do.
There too, we focused on development as we believed that is our USP.
How were you able to convince people this time?
This time, we could show the performance of the two-and-a-half years of the central government.
We could show results to the people.
In 1969, Indira Gandhi nationalised banks, but it took 45 years for banking benefits to reach the people.
It took Narendra Modiji to come to power for 35 crore people to have bank accounts with a zero balance under the Jan Dhan Yojana.
Similarly, under the Ujwala Yojana, we gave free gas connections to poor women.
People realised that here was a man who wanted to work for the people.
Though we lost in Bihar, we did not change our strategy. Our focus remained on development.
Narendra Modiji and many other BJP leaders were elected from UP and they could convince people.
That is what Akhilesh Yadav and his wife Dimple said about Modi, that he was an outsider and UP did not need an outsider to work for the state.
Did this negative campaign work?
This is a watershed election in Indian politics.
For the first time, we are moving away from identity politics to aspirational politics.
55% of the youth want a different country; they want to move up in life.
They don't want to confine themselves to any caste or religious block.
They see that the BJP is a party that does not talk the language of caste and religion.
Was it a conscious decision on the part of the party not to use the Hindutva card of the Ram temple issue?
The Ram temple issue along with social engineering helped the BJP win a the mandate earlier under Kalyan Singh.
Our agenda was and is development.
Narendra Modiji has sharpened this through his performance.
When we have vikas as our USP, why should we bring up other issues?
People did ask us whether we were going to build the Ram temple at Ayodhya. Our standard answer was: Let the court decide or if there is a consensus on building a temple, we said we were ready for it.
So that issue rests there.
Modiji said when he won that we should talk about issues that affect the common man as what he wants is a better life.
He said that Hindus and Muslims should decide whether they wanted to fight for this issue or fight against poverty.
We know that people want a better life, better roads, better sanitation, better systems, a better law and order situation.
Political analysts say the BJP did social engineering in a clever and subtle way.
If you go by conventional wisdom, every party claims to have the support of a particular group.
Like the SP has the support of the Yadavs and the BSP has the support of the Jatavs.
But do you think we played such caste politics?
We gave tickets to people who had winnability in a constituency.
Just because you belong to a community or caste, you will not win.
That's why we used the term 'sab ka saath, sab ka vikas.'
That's why people felt irrespective of the caste, if you wanted vikas (development), you had to vote for the BJP.
When do you think the party can get rid of the communal tag?
The UP results have negated the kind of politics played by the casteist parties.
As they do not have anything else to attack us, they use the communal card.
When we say 'sab ka saath, sab ka vikas,' where is the scope for communal politics?
When Modiji used the terms kabaristan and smashan, he wanted to tell people that these people also needed development.
But the pseudo seculars who cannot see the rise of the BJP interpreted this in a different way.
Whose victory is it? Amit Shah, the strategist? Or Narendra Modi, the executioner?
Honestly speaking, I will say, it is the victory of both.
Amit Shahji works so hard to galvanise the party cadres.
The way he works is mindboggling. So is the prime minister who hardly sleeps. He who is 60 plus gives us the energy to work like him.
Akhilesh Yadav said if the BJP won, it would be like President's rule in UP... Will the chief minister be controlled by the Centre?
Just look at our other chief ministers. Are they controlled by the Centre?
Yes, all of them have to follow the party line of development.
They have to see to it that change must come. That's why people voted for the party.
Today if you go to any state in the south, you see people from UP, Bihar, Jharkhand, etc coming in search of work...
This kind of migration will stop only when we create productive employment at the village level.
Infrastructure and private entrepreneurship are needed to curb this.
We are all for private entrepreneurship to create jobs
The criticism is that what India has is jobless GDP growth...
It is true. Unless the manufacturing and agriculture sectors grow, jobs will not be created.
We are coming out with so many schemes to help both sectors grow.
We know there are huge challenges ahead and we are determined to take the challenges head on.
MORE ELECTION FEATURES in the RELATED LINKS below...