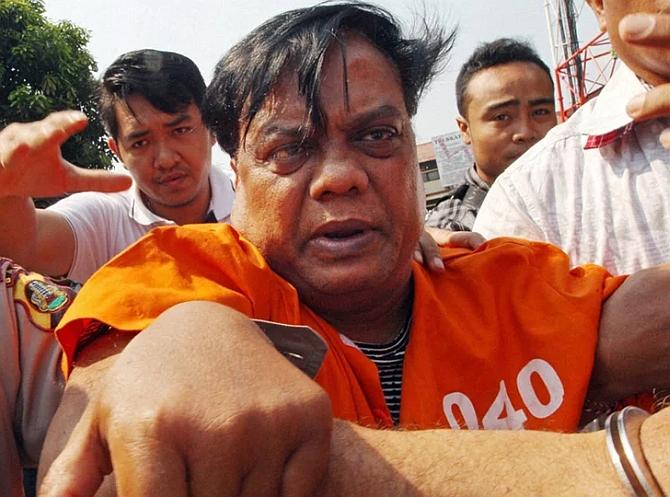 IMAGE: Gangster Chhota Rajan after his arrest in Bangkok.
'After Chotta Rajan's arrest, Dawood is feeling the heat.'
'Gangsters don't need journalists to carry their message. They call the police directly.'
Journalist Sheela Raval, author of Godfathers Of Crime: Face-to-Face with India's Most Wanted, which provides a glimpse into the lives of gangsters like Dawood Ibrahim, Chhota Shakeel, Abu Salem, Chhota Rajan and Arun Gawli, in a two-part interview with Prasanna D Zore/Rediff.com
What risks have you faced while reporting on the underworld?
Not yet in that sense. Not from gangsters, but from the system. There is a certain amount of arrogance in the system.
As an investigative journalist you should be aware of all legal implications.
You ask me why I wrote this book. This book is only to share my experiences with fellow journalists and the next generation that I learned many things along the way in two decades.
You could be hard working, intelligent, enthusiastic, go-getter, but any of your impulsive, rash, actions can invite trouble for you.
There are so many landmines along the way, you really won't know where to put your feet or what would take you down.
Are you saying this in the light of your deposition as a witness in the Chori Chori Chupke Chupke case where the then joint commissioner of police D Sivanandan named you as a witness and you had to identify Chhota Shakeel's voice?
He is a cop, an intelligent cop, and he had the desire on his mind and things happened. He must have observed that I could be a journalist who could stand and depose in a court of law and depose for the government.
Without falling flat on your face?
It is not about falling flat on one's face. It is about fearing for your life. Falling flat is a mild word. I didn't realise when he made me a witness in a MCOCA (Maharashtra Control of Organised Crime Act,) case against Chhota Shakeel and Dawood.
It was a very unnerving experience in the beginning, but I went along with the belief that I hadn't done anything wrong along the way and I will speak the truth, which I did.
Did your deposition in any way harm Dawood's and Shakeel's financial interests?
It is not about harming them. See, if Shakeel is brought to justice tomorrow in India, the same deposition would go against him. That is as good and as bad as that.
Is Chotta Rajan's arrest a setback for Dawood?
I wouldn't say setback. I would say a signal for Dawood.
What kind of signal? To come back to India and face the law?
Whatever kind of signal. It is a huge signal. It seems he is feeling the heat.
Two years down the line, will we see Dawood brought to justice in India?
We may never know. Why two years? It could be two months.
If Osama (bin Laden) could be nabbed and killed, then why not Dawood? He could be arrested, kidnapped or killed? (These are all) possibilities.
There is speculation that Rajan was not handed over to the Mumbai police because he could be killed by Dawood's moles in the Mumbai police and so the CBI took over. What is your insight about such speculation?
This is a very, very, sensitive subject at the moment. The Indian government would not want to take any risks for national security. That's it.
So, Rajan could not have been safe in the custody of Mumbai's police?
This is not about Rajan's safety. We are not discussing Rajan and his safety. We are discussing and referring to national security. Consider that. I cannot elaborate more. Those who want to understand will understand.
You want people to read between the lines?
There is nothing between the lines. The simple fact is that he is in jail and nowhere it has been said that... (pauses for a couple of seconds) you just wait and watch for a few months.
Tell us something about Chhota Shakeel the person and not the criminal...
He appears to be a clever person. He always knew there could be agencies listening in to our conversations. Whenever he spoke to me it was a litmus test for me because he knew what he was saying.
He also checked on me, whether what he said I got the message in the right spirit and then how I delivered the message, knowing fully well that the message had already reached across the system.
He knew what he was saying. He knew from day one when he talked to me that his calls were tracked.
Secondly, he has the habit of talking too much.
He would insist on his facts. I had several occasions where I had good fun to prove him wrong.
How would he react on such occasions?
He would never react after that.
Do you think gangsters use the media as a tool to communicate with the government?
Not always. There are many ways (for them to do that). They call the police directly. If they have any message, many of them call the cops directly.
(Former Delhi police commissioner) Neeraj Kumar in his book said Dawood called him on his phone. Why would they need any intermediaries to talk to the government? They could always reach out to the right people minus journalists.
How did you balance your role as a journalist with credibility and who never breached the trust of her subjects given that these gangsters knew whatever they spoke to you could go against them?
What advice would you give aspiring crime reporters?
Just stick to what you are set out to do. Stick to the subject. You have to be alert when you are talking to them (criminals/gangsters). Anything can put you in trouble, on either side.
Do not take sides, just stick to the subject. When you are talking to them you should also be alert as to how the other person is perceiving what you are saying. Your words would be perceived by him and the cops listening to it differently.
Do you regret not interviewing Dawood Ibrahim when you attended his daughter's walima in Dubai?
Yeah. I waited for three days, but it doesn't bother me much.
I have this philosophical approach about life that whatever has to happen will happen. So many miracles have happened in my life, such as meeting these people, talking to them without breaching any line on either side.
So, it is not regret in that sense, but yes I feel I missed an opportunity. Perhaps, that was destiny.
Do you think it is in your destiny to interview Dawood Ibrahim?
I feel that. You never know.
These guys are very, very, filmy like I wrote in my book. You see Salman Khan saying 'Maine ek baar commitment de di toh de di' so when Chhota Shakeel says 'Aapko commitment diya hai toh diya hai'... I have reasons to believe as a journalist that if at all he had to give any interview it could be me.
Just in case he speaks to somebody else and I see a big interview in a newspaper, then I would feel very bad about it because it's not me (the person who would interview Dawood). Otherwise, I would say, it is okay, it's his choice.
Do you think after reading this interview -- if at all Shakeel reads it -- he would call you and say, 'Sheela I had made a commitment to you,' and...
Since 1996 or 1997, I don't remember the year he has been telling me. During every talk I had with him, he would reiterate it would be me the day he (Dawood) speaks to the media.
Has the underworld read your book? Did you get any feedback from them?
No, not yet (laughs).
Every night, before he (Shakeel) goes to sleep he checks every Web site of Indian newspapers and other media before he goes to bed.
I don't think any of these people would have read the book and if they have read it they are open to criticise it, comment on it. The book is about my own experience. How can anyone deny me my own experience?
The book is my journey into their world. It's not about them. How I perceive them, how I saw them, evolve in the past two decades.
I began as a reporter and became an editor. Similarly, they began their journey into the world of crime as petty thieves and became global terrorists.
Their journey and my journey were somewhere parallel. I saw them growing, and growing so big, being on Fortune's global powerful list in which he (Dawood) ranked on a couple of occasions.
So Sheela is nobody to give certificates to anybody. They are already certified by global agencies.
Let me ask you one final time what you mean when you say in Dawood's context that 'you shall soon see'...
I have this premonition, that's what I can say.
A good journalist should read the signs...
And the signs are not good for Dawood Ibrahim?
Who am I to say that? I read signs, nationally and internationally, and he is facing tough times and he is going to face tougher times.
I can't say he would be killed or arrested.