Former Mumbai police commissioner M N Singh made startling revelations about Dawood Ibrahim's surrender plan, Shah Rukh Khan and the rivalry between Sharad Pawar and Shankarrao Chavan during the launch of Sheela Raval's book, Godfathers Of Crime: Face-to-Face With India's Most Wanted.
Prasanna D Zore/Rediff.com reports.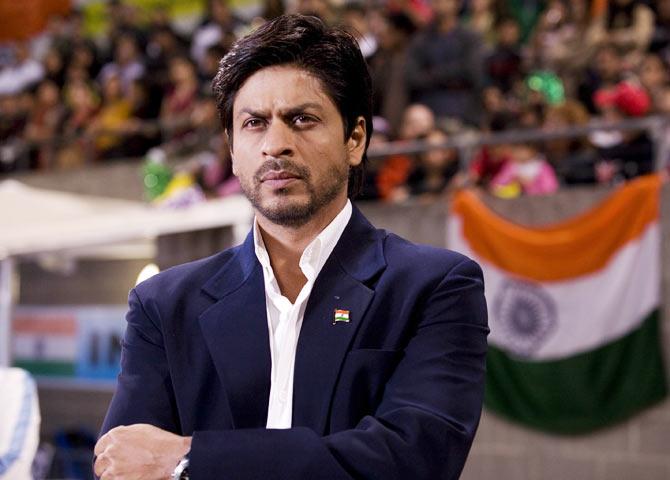 IMAGE: M N Singh claimed that Shah Rukh Khan backtracked after facing pressure from the underworld.
Speaking about Shah Rukh Khan in the context of the courage shown by journalist Sheela Raval -- who identified Chhota Shakeel's voice in conversation with producer Bharat Shah over the production of the film Chori, Chori, Chupke Chupke and Preity Zinta in deposing against the underworld in court -- former Mumbai police commissioner M N Singh said, "Shah Rukh had received some threats and he complained to the police about it. And when his turn came to go into the witness box, I started getting phone calls from so many important people from Delhi and Mumbai to give him police protection."
"I said, 'I will give him police protection, but I hope he will stand by his complaint.' I gave him police protection, (but) I am sorry to say that the gentleman when he went to the witness box, said, 'I didn't hear anything' (about the alleged underworld threats to him)," Singh added.
Shah Rukh Khan's stand affected the police case, Singh told Rediff.com
When asked if SRK was scared of the underworld, Singh said, "Naturally! Har aadmi darta hai, aap bhi dar jaoge, underworld ka dhamki aayega toh. Humne ummeed lagayi thi ki woh hamare case ko support karenge... (Everybody, including you, will be scared if you get a threat from the underworld. We had hoped he would support our case)."
"Poor chap is already under so much of stress. I made a mistake by taking his name. I should not have taken his name," Singh said. "He is already facing so much of flak because of his statements (the recent intolerance controversy); I don't want to create more problems for him."
"But that is the fact on record," Singh added. "He went back on his own statement. That's a fact."
>For the first time a former police commissioner who had investigated the Mumbai serial bomb blasts of March 12, 1993 and had discussed fugitive gangster Dawood Ibrahim's 'so-called' surrender with his political bosses in the then Congress government in Maharashtra and at the Centre, unequivocally said that the surrender plan was absolutely flawed and no Indian government would have ever accepted it.
"Dawood Ibrahim will never come back to India because he knows his goose is cooked," Singh said. "He had made a so-called offer when we were investigating the 1993 blast case. Advocate Mahesh Jethmalani came to me and said that Dawood Ibrahim wants to surrender. I was taken aback. I asked if he was in touch with him. He said, 'Ram (Jethmalani, Mahesh's father and the celebrated criminal lawyer) was in touch with him.'
"I asked him if Ram met him (Dawood) and asked him where he was. He said, 'Ram is in London and Dawood contacted him. Whether he met him or contacted otherwise, I don't know'."
"And he (Mahesh Jethmalani) said he (Dawood) was willing to surrender on three conditions," Singh revealed.
Singh said that out of three conditions that Dawood put forth for his surrender only the first one was acceptable because "only a foolish police officer would have killed a surrendered terrorist and made him a martyr."
"Condition number 1 was he will not be encountered."
"Condition number 2 was he should be tried only in the serial blasts case and in no other case."
"Condition number 3 was he will not be kept in ordinary jail, but under house arrest."
"I asked Mahesh, 'My dear, do you think he really wants to surrender?' Do you think any government will accept such conditions?'"
Singh said he guaranteed that Dawood would not be killed, but he would convey his message to the government.
"When they (the government) asked me about my opinion I told them he doesn't want to surrender. No sensible man will put such impossible connections. These were the reasons why it didn't work out," Singh said.
In yet another first, Singh rubbished the media speculation about the power struggles between then Maharashtra chief minister Sharad Pawar, and then Union home minister Shankarrao Chavan over Dawood's surrender plan.
"This is all nonsense. I was the chief investigating officer; I was heading the SIT (Special Investigation Team)."
"Chief minister (Sharad Pawar) never, never, never told me anything like this. The underworld wants publicity and he wanted to convey his surrender through you."
"He wanted to convey his own message, but to impute a motive (that Dawood's surrender plan failed because of the political rivalry between Pawar and Chavan) to Sharad Pawar and Shankarrao Chavan (is outlandish). I know political differences are there, but neither of them told me to do this or that."
Dawood was no patriot, Singh observed, but a terrorist who killed 257 people and maimed thousands in the 1993 Mumbai bomb blasts.
"It (the March 1993 bomb blasts) was an attack on the country," Singh said.
"Let us see what kind of a person Dawood Ibrahim is. He is the son of a police havaldar who lived in a dingy area and a school dropout... but he is a genius! Now, let me tell you, if this man had not messed up and got involved with the ISI of Pakistan in the 1993 blast case he would have come back to India, got some punishment and settled down in life as a businessman," Singh said.
He strongly refuted the charge that Dawood has moles in the Mumbai police.
"Mumbai police ne toh maar, maar kar bhaga diya yahan se (it was because of the actions of the Mumbai police that Dawood and his gang fled to Dubai and later to Pakistan). Mumbai police ko aap log itna galat kyun samajhte ho? (Why do you have such wrong impressions about the Mumbai police?)"