'Someone told me on Facebook that 2017 will be the last year of my life.'
'I am speaking up only because innocent students were physically abused and that is not correct.'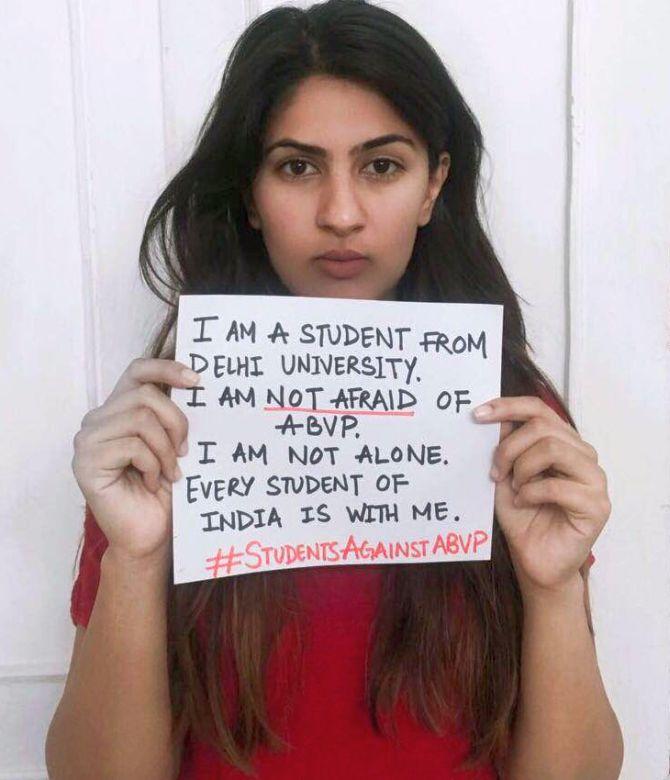 GurMehar Kaur was two years old when her father, Captain Mandeep Singh, was killed in the aftermath of the Kargil war, on August 6, 1999.
In 2016, she was in the news after she made a video appeal to the political leaders of India and Pakistan to talk peace.
GurMehar is again in the news after her photograph with a placard that said 'I am a student from Delhi University. I am not afraid of ABVP. I am not alone. Every student of India is with me. #STUDENTSAGAINSTABVP' went viral.
This was in the wake of last week's violence at Delhi's Ramjas College, and her act set off a storm of protests online as well as support for the young girl.
GurMehar spoke to Rediff.com's Syed Firdaus Ashraf about why she did what she did and the kind of threats she received after her photo went viral.
You are from Jalandhar. Why did you jump into the controversy over Ramjas College which is in Delhi?
I am from Jalandhar, but right now I am a student of Lady Shriram College at Delhi University.
I was not at the protest held at Ramjas College (against the Akhil Bharatiya Vidyarthi Parishad) but when I returned from college that day, I saw my friends being beaten up.
They were also given rape threats.
Therefore, I felt I needed to do something about this issue.
Are you a member of any leftist students union?
I am not part of any students' union. I am just a student of Delhi University.
Your friends who were beaten up and were handed rape threats, do they belong to a leftist students union?
My friends are my friends, that's it. They are the people I hang around with.
And if they are hurt, then I will stand up for them.
What kind of threats did you get after speaking out against the ABVP? Did the ABVP threaten you?
I don't know if this threat is straight from the ABVP or not.
However, I have got rape threats on Facebook and someone said to me on Facebook that 2017 will be the last year of my life.
Did you file a FIR (first information report) over this?
That process is going on.
Pratap Simha, the Bharatiya Janata Party MP from Mysore, tweeted that even Dawood Ibrahim's father was a police constable.
I don't have to dignify that statement by commenting on it.
Cricketer Virender Sehwag and actor Randeep Hooda too have come down heavily on you.
I want to thank Virender Sehwag for encouraging the hate that I have been receiving.
At the end of the day, I am a 20-year-old girl and it is fine if Virender Sehwag and Randeep Hooda want to use their position against me. Good for them.
The India-Pakistan peace video you made in 2016, why is it being highlighted now?
Apparently it makes good memes, but those memes are not even funny.
What would your father have advised Sehwag if he were alive?
I don't know. I wish I knew. That is the sad part for me.
Do you feel there is no freedom of speech in the country?
I do not know. I am speaking up only because innocent students were physically abused and women were given rape threats, and that is not correct.
Photograph: Kind courtesy GurMehar Kaur/Facebook