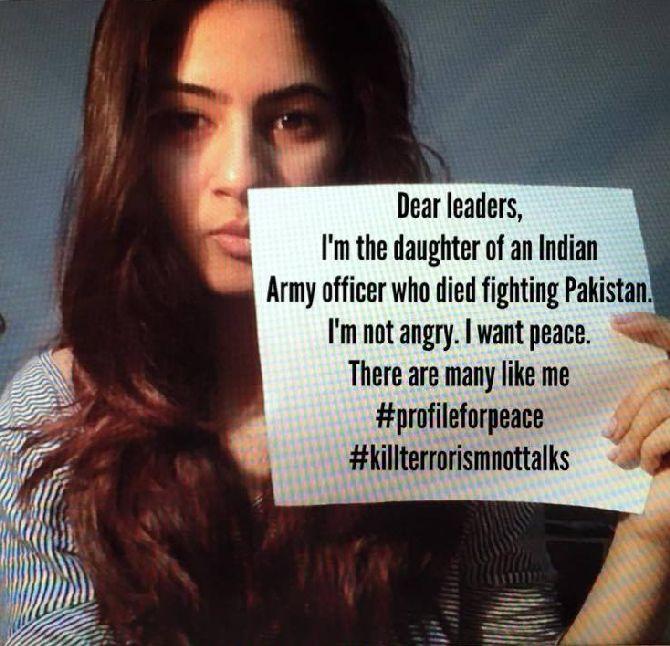 IMAGE: GurMehar Kaur in the video.
'When do you seek peace, if not now? Once both nations destruct?'
'Pakistanis are telling me how their perception changed about Indians after watching the video.'
GurMehar Kaur was two years old when her father Captain Mandeep Singh was killed days after the Kargil War ended, on August 6, 1999.
Captain Singh died aged 29 fighting Pakistani infiltrators, but her daughter GurMehar has no hatred for Pakistanis.
She has now created a video, which has gone viral, on why she does not hate Pakistanis.
GurMehar, 19, spoke to Syed Firdaus Ashraf/Rediff.com on why she created the video with her friend Ram Subramanian.
How did the idea of making the video come to you?
This is a collaborated idea with Ram Subramanian (the director of the video). There was a lieutenant colonel who died in the recent Pathankot attack. He left behind a three-year-old daughter and a very young wife. I was very disturbed when I heard about it.
I felt it was history repeating itself. I was two years old when my father passed away. I spoke to Ram about making a video. He called me to Mumbai and we then shot the video.
Watch the video (external link)
So when you watched Pathankot martyr Lieutenant Colonel E K Niranjan's funeral on television you were disturbed and thought about your own life.
I was very disturbed. I was not disturbed because terrorists were attacking us, but because we as a country are getting immune to such (terrorist) attacks.
When we see such attacks on television we say 'chalo, these things happen.' But when I saw the little child whose father was a martyr on television, I felt these things need to stop.
It is not the person (soldier) who is fighting the war against terrorists, but his family that is getting affected by it.
How did you get in touch with Ram?
I just finished my Class 12 exams. Ram has been a Facebook friend for more than a year now. We share the same interests and therefore I decided to share my idea of a video with him.
Can you tell us about your childhood and what you went through?
When you are two years old you do not understand the concept of death.
When somebody used to say your father passed away, I used to say okay, that is fine. He is dead, but when is he coming back?
There was a particular incident when I was watching a television serial, there was one guy who dies. In later episodes that man comes back. I was excited as a four year old to see him back that I thought my father too will come back one day. I did not understand the concept of death.
It was a very long time before I could grasp what dying means and it was hard.
And you hated Pakistanis?
I learnt to hate Pakistan after watching television. I used to watch India-Pakistan cricket matches and all the children used to yell against the Pakistan team. They used to say that Pakistan is bad and I too started having this idea.
I got this idea that Pakistan equals Muslims and Muslims equals Pakistan. And I felt all Pakistanis are bad. I started hating Muslims and Pakistanis because it was Pakistanis who killed my dad.
How did you overcome that hatred?
When I was six I saw a burkha-clad woman for the first time in my life, in Sahranpur (Uttar Pradesh). As soon as I saw her I took a stick from a shop and went to beat her up. At that age for me, all Muslims in burkha were Pakistanis.
I felt she is a Pakistani and she is responsible for my father's death.
So as a child you imagined the enemy as a Muslim Pakistani?
Yes, it was like that for me at that age. My mother realised at that time (what I was going through). She stopped me from hitting that woman. She explained things to me. She never spoke badly about Pakistanis at home.
And as I grew up I started reading and when you get aware you get liberated. Reading liberates you. It liberates you from a lot of things, besides hatred. Besides that my mother was a great influencer for me to overcome that hatred.
Was this your idea or Ram's idea because you don't say anything in the video?
It was Ram's idea of holding placards. He felt the message would go clearly to people if they read what is written. The reason being they will read the message in their own voice. That would be more personal.
What did your friends say when they saw the video?
I have got a wonderful response. Today I got a message from one of my friends from boarding school who said that her perception towards Pakistan has changed after watching the video.
A lot of people are commenting on my Facebook profile too. Pakistanis too are telling me on Facebook how their perception changed about Indians after watching the video. It is working well.
You created this video because you do not want any other child to go through what you went through.
It is the reason that made me do something. If you think about it, war is not a positive thing as you only lose in war.
India and Pakistan is a very personal issue to me. When you hear about terrorist attacks and Islamic State you are scared and you want to do something about it. You want to start at home.
We need to stop this before we blow up the entire planet.
Theoretically it sounds good, but practically don't you think it is not possible as India faces terrorist attacks launched from across the border. Like Pathankot, for instance.
When someone spoke about Indian Independence for the first time it must have sounded very stupid. It took 200 years to achieve it. I am not expecting instant results. I am not expecting that people will say okay because Mehar is saying, so let us talk about peace and do it.
I feel this will make people think. The people who watch this video will tell their kids that they are not supposed to hate Pakistan. This is how I am going about it.
Your message is also for politicians?
Politicians are our leaders and when leaders do something, we as a nation follow.
Do you plan to visit Pakistan?
I would love to visit Pakistan if any opportunity arises. I am a Punjabi and I have part of my history left behind in Pakistan's gurdwaras. I have my grandmother's home in Pakistan and I would love to go.
India-Pakistan relations are currently very bad. Don't you think you are an odd person out for speaking about peace with Pakistan at this time?
When the situation is bad, that is the time you speak about peace.
When do you seek peace, if not now? Once both nations destruct?
This is the time you speak about peace. It is prevention and not a cure.
Are you pursuing a career in writing?
Yes, I want to be an author. I have drafted a book of memories of my father. There are lot of books written about war from the technical and statistical point of view, but there is no reading material about what happens to families or kids in the aftermath of war. How do the kids grow up?
Have you become a kind of celebrity in Jalandhar?
Mehar has become world famous in Jalandhar. It is a small town and I have lot of relatives here. Celebrity was not the purpose, but the message has to be heard.
What did your father say about war? Did he ever discuss those things with your mother?
My mother told me about a letter my father wrote on war. One day he was having dinner with one of his jawans and the next day that jawan was dead. He was his friend and he knew his family too.
The next day someone else was dead. No human wants to see that. When soldiers are in the war zone, they too have feelings. Nobody wants a war.