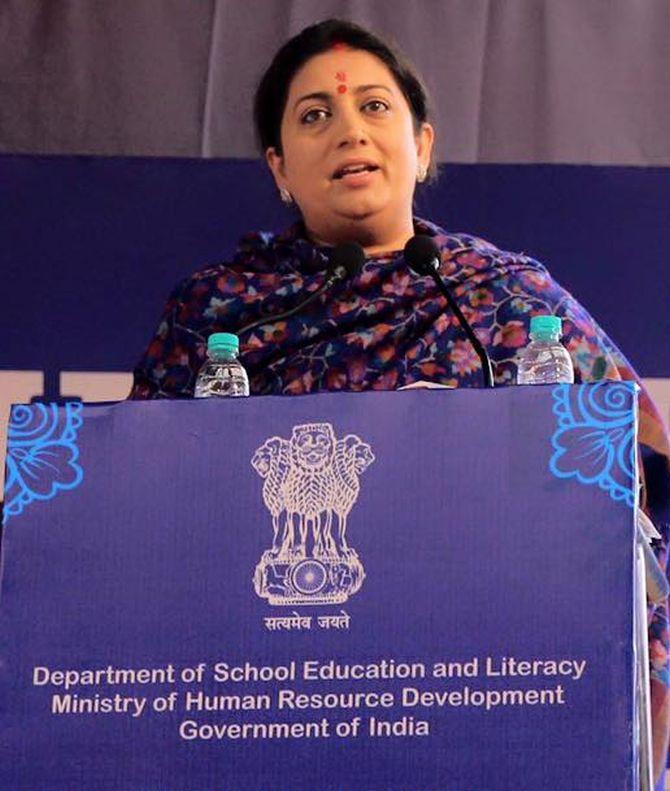 'I would rather have an HRD minister who concentrates on her job rather than bicker on Twitter.'
A war of words broke out on Twitter recently between Congress spokesperson Priyanka Chaturvedi and Union Human Resource Development Minister Smriti Irani after Priyanka received an open threat of 'rape and murder like Nirbhaya' on the micro-blogging site.
The two women took on each other over a range of issues, from personal security, women's safety, the Congress' loss in Assam and the HRD ministry's handling of dissent on campuses.
The spat went viral and an inevitable controversy.
In the concluding segment of her interview to Syed Firdaus Ashraf/Rediff.com, Priyanka Chaturvedi discusses online trolls and Smriti Irani.
How did you get into a Twitter spat with Smriti Irani?
I had spoken about the rape and death threats that I got online. I had written a blog on it which went viral.
One of the BJP (Bharatiya Janata Party) supporters started talking about abuse. Abuse is very different from threats. Abuse is someone coming and slandering on your (Twitter) timeline, saying pathetic words and insinuating about you which can be largely ignored.
When you talk about death threats or rape threats, it becomes a serious issue.
I would have expected that when a minister steps into a conversation, she talks more about the issue at hand rather than the person she is talking about.
It is a known fact, and it has been reported widely that after the JNU (Jawaharlal Nehru University) protests, that the home ministry was considering giving her (Irani) 'Z' category security.
I said after getting threats she got security while here, I am struggling to even file an FIR (First Information Report) against the person who made a death threat to me. That is what I was trying to differentiate.
The Union minister of education is someone who is supposed to show direction and give narrative to the future generation. My point was not about security, the point was about the threats which women face online.
It fell down to a level which I would have expected a Union minister would not fall down to. Considering she started it, I chose to end it.
Was there some previous enmity between you two?
I don't know what her problem is, but I would rather have an HRD minister who concentrates on her job rather than bicker on Twitter.
I am not one to back away or to feel that I am in any way lesser than any other lady who might have an opinion or strong point of view. Even I have an equally strong, if not stronger, point of view.
Did you get to register the case against the person who threatened you on Twitter?
Absolutely, there is an FIR against a person and the Mumbai police are looking into it. I am thankful to the Mumbai police and the Mumbai police commissioner who has taken this seriously and not disregarded it.
Whether it is Smriti Irani who is disregarding this entire issue, or whether it is (Arun) Jaitley who chooses to ignore this issue, the trolls are getting more emboldened every passing day. But we have a Mumbai police commissioner who is taking this case seriously.
Till date we have not seen any arrest for trolling on social media. Do you think we need a new law for such things?
We have laws in place but they are bailable offences. This is not the first time I have sought police help.
On an earlier occasion, when I was trolled heavily and it was like cyber-stalking, I complained about one particular handle.
Since these are bailable offences, a person might get arrested and get bail within 24 hours. Due process in courts takes place and that takes months and years to settle.
Probably it is time the communication minister or the I&B (information and broadcasting) minister engages in this platform and ensure there are stricter India specific guidelines.
Do you think you are being targeted because you are a Congress supporter? Or is it because you target Prime Minister Modi?
Recently, an IAS officer was transferred because he praised Jawaharlal Nehru and was critical of Modi. When an environment like this exists, a woman, who has a very strong point of view which is totally against this government and against the political party which is in the government, is bound to face more trolls and negativity.
Moreover, there is active encouragement coming from senior leaders of the political party (BJP) who totally dismiss it, disregard it or choose to ignore it.
Do you think they can't win a debate with you and therefore they abuse you?
I think there is the sense of feeling that we are the single largest party and what we say is correct while another's point of view is incorrect or uncalled for or is worth abusing.
This happens when you don't want to engage in dialogue or debate.
Democracy gives you space to engage, debate, discuss and dissent. We are seeing that is being throttled almost on an every day basis.
This is just one path of many things that we are seeing happening across the country.
What would you expect from Smriti Irani to do in this case (of trolling)?
I have zero expectations from this government. I have zero expectations from Smriti Irani. I have moved on from that chapter.
I had hoped as a fellow woman she would have stood up for an issue that I was talking about rather than reducing the debate to her security and making it more political.
Like I said, if you come on my timeline to fight with me, I will give it back to you, equally if not more.