'Who will vote for and against who will be clear once the election results are declared on December 18.'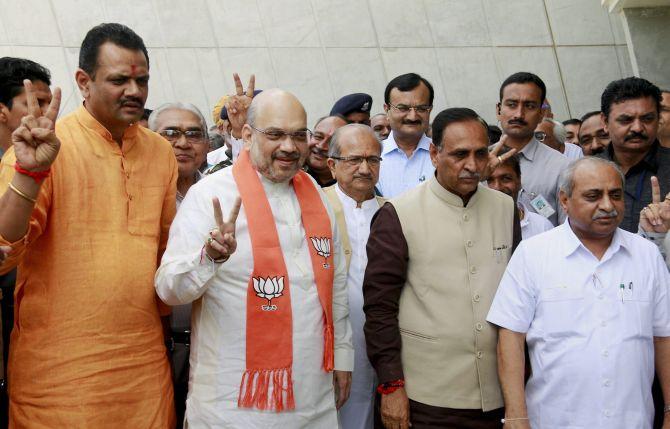 IMAGE: From left, BJP Gujarat President Jitu Vaghani, BJP national President Amit Shah, Gujarat Chief Minister Vijay Rupani and Deputy Chief Minister Nitin Patel, August 9, 2017. Photograph: PTI Photo
Jethabhai Solanki, the Bharatiya Janata Party's MLA from Junagadh's Kodinar assembly seat, is angry.
When the BJP declined to field him from Kodinar in December's assembly election, Solanki revolted against the party, resigned from all party posts. He will now contest the election as an Independent.
Jethabhai Solanki, below, spoke with Rediff.com's Prasanna D Zore.
Why did you quit the BJP?
There is no value or respect given to sitting BJP members (of the assembly), especially if one is a Dalit.
My word doesn't have any value anymore.
The party has surrendered to Dinu Bogha Solanki (the former MP from Junagadh is an accused in the 2010 murder of RTI activist Amit Jethwa).
There is no place for workers like me in the BJP anymore.
On many occasions I have brought the atrocities against the Dalits to the notice of our senior ministers, but they chose to ignore my concerns.
I want justice for the Dalits who were publicly flogged in Una.
The Dalit community in Gujarat is being humiliated and the party is not listening to my pleas for justice to them.
Instead, criminals are being entertained and given important responsibilities.
Have you suddenly discovered your community after the BJP decided not to re-nominate you from Kodinar?
This charge is baseless and I strongly refute it.
I have always fought for the rights of Dalits and worked hard for their betterment.
My community was respected during the tenure of Anandiben Patel (former chief minister), but ever since Vijay Rupani took over he is trying to silence Dalits.
I have been pleading desperately with those in power to take action against all those who are charged with attacks and atrocities against the Dalits, but nobody is listening to me.
Finally, I decided to quit the party after giving them enough time to listen to my pleas, which they consistently ignored.
People like me who openly express their resentment for such treatment are being ignored by not giving us a nomination to contest the election.
Anandiben did good work for the Dalits, but after her not a single leader has respect for us.
What about Narendra Modi when he was Gujarat's chief minister? How were Dalits treated during his rule in Gujarat?
Narendra Modi did lot of good for us.
I associated myself with the BJP because of Narendra Modi.
I respect him a lot just like I have respect for Dr Babasaheb Ambedkar.
Modiji did a lot for the upliftment of Dalits by following in the footsteps of Dr Ambedkar.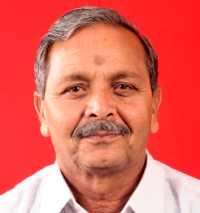 Will you take back your resignation if Modi asks you to do so?
I can bow before Narendra Modi; like Ambedkar, he is God to me.
But so long as the party continues to disrespect Dalit sentiments and continues to go along with Dinu Solanki I will not have anything to do with the BJP or take back my resignation.
I bow to Modi, but will fight the BJP.
I will not take back my resignation.
No leader of any standing from the BJP has spoken to me about this. They don't need Dalits anymore.
Will Dalits vote against the BJP in the assembly election?
Samay aane do aap ko pata chal jayega (Wait for some time and you will get the answer).
Who will vote for and against who will be clear once the election results are declared on December 18.
Now that Dalit leaders like you are opposing the BJP along with Patidar leader Hardik Patel, young Dalit leader Jignesh Mewani and OBC leader Alpesh Thakore do you think the BJP will get 150 seats in Gujarat?
You have yourself answered your question.
Go to any ten people in Gujarat and ask them, don't ask me.
The people of Gujarat will give their answer and December 18 will bring it out in front of the nation.
Whatever happens to the BJP, I am going to win the Kodinar seat.