'I was not really aware that this movement was slyly being propped up by the BJP and RSS.'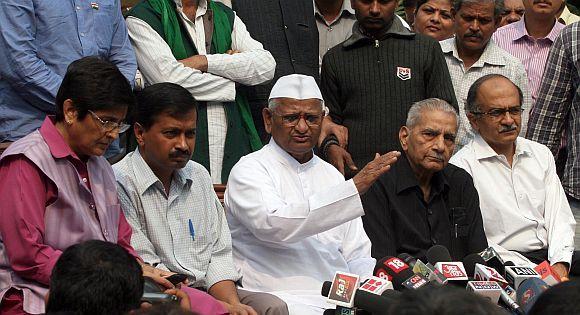 Supreme Court lawyer Prashant Bhushan told Rajdeep Sardesai, in an interview for the news television channel India Today last weekend, that the Bharatiya Janata Party and the Rashtriya Swayamsevak Sangh may have propped up Kisan Baburao 'Anna' Hazare's India Against Corruption movement in 2011.
Bhushan claims that his former IAC colleague and currently Delhi Chief Minister Arvind Kejriwal knew that the RSS was offering organisational support to the IAC movement.
"But I wasn't aware of that," Prashant Bhushan claims in an interview with Prasanna D Zore/Rediff.com.
How difficult has it been for you to admit that the Anna Hazare-led IAC movement was propped up by the BJP and RSS?
In a 2011 interview with Rediff.com you were categorical that there were no such links?
At that time, I'm pretty sure that even Anna Hazare wasn't aware of the fact that -- and I wasn't aware at that time -- that it (the India Against Corruption movement) was in a sort of very organised way being propped up by the RSS-BJP.
Now, or over the years when one looks at it, and see the kind of supporters who came forward and then you heard about how the backroom organising was also being done by these people who were very close to the BJP-RSS, in retrospect (one can say that the IAC was propped up by the RSS-BJP).
At that time I wasn't looking at this (link) so critically; it's not a question of my difficulty in admitting it; it was that I was not really aware of the fact that this movement was slyly being propped up by the BJP and RSS.
What were those instances that made you look critically at this link?
Over the years, when I saw that, how this BJP ascended to power, and then one started looking back how these people (yoga guru Baba) Ramdev and Sri Sri Ravi Ravishankar, V K Singh (the former chief of the Indian Army who later joined the BJP and is a minister in the Narendra Modi government), who joined the BJP, so to say, and then it became clear that it had been, in a very, very, well considered manner, propped up.
I'm pretty sure, though I have no concrete evidence of this, but I'm pretty sure that a decision was taken by the BJP and RSS top brass to support us on the issue of corruption and take on the Manmohan Singh government.
In hindsight, is it okay to say that the Modi government is the IAC's gift to the country?
They (the BJP) certainly took enormous advantage of the IAC movement in order to bring down the Congress and thereby ascend to power.
Why did Hazare, who calls himself a crusader against corruption, keep quiet when charges of corruption were leveled against the Modi government in the Rafale case?
What does it tell you about him as a crusader against corruption?
The problem is that somebody has to take him through all those documents; somebody has to explain the whole thing (how the Modi government is complicit) to him.
The problem is that Anna cannot work entirely on his own, especially with his growing age.
I don't blame Anna Hazare as such; I don't think he was a person who had any hidden agenda. That's not my impression of him at all.
He is a simple, innocent, kind of person, who needed organisational support in order to carry on his movement.
And that organisational support at that time was provided by Arvind (Kejriwal) and probably by the RSS-BJP from behind the scenes.
I am sure Arvind was aware of (the fact that the BJP-RSS were providing organisational support to the IAC movement), but I wasn't aware of that.
Are you in touch with Anna Hazare?
No, not really. The problem is that he lives there in Pune (Ralegaon Siddhi, actually, close to Pune, but in Ahmednagar district in Maharashtra); he is surrounded by all kinds of people and unless somebody is going to be in touch with him daily (he cannot be made aware of the intricacies of the Rafale case); so you have to invest a huge amount of time in order to have him on board.
By 'all kinds of people', do you mean those from the RSS and BJP?
There may be some of those also; there are all kinds of people around him.
He is a simple-minded man who, again, is not able to sometimes discern which of his staffers are doing things behind his back and have links with other people and so on.
What would your message be for Hazare?
Please do something about the manner in which democracy is being destroyed (in our country); not just democracy civilisational values are being destroyed in this country by this ruling dispensation.
Are you concerned about how the Modi government and the Delhi police is framing serious criminal charges against activists who participated in the anti-CAA movement?
Right now (under the Modi government) the future of democracy in India is very, very, grim.
When you start arresting people like Umar Khalid (who was arrested by the Delhi police under the UAPA on Sunday, September 13, 2020), or these Pinjra Tod women, or the Bhima Koregaon people, some of whom are the finest and the most non-violent, exemplary activists of our times, then there is certainly there is no democracy left in the country.
The Uttar Pradesh government has now proposed a police force that can search and arrest anybody without a warrant. Is this an attempt to suppress voices of dissent by the BJP?
It's mainly the BJP governments (which are trying to suppress dissent) wherever they are in power.
The BJP and RSS are totally fascist parties; they don't believe in democracy.