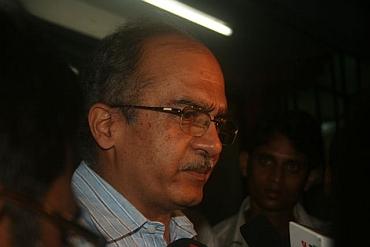 Rediff.com's Prasanna Zore in a freewheeling chat with Prashant Bhushan, member of the Lokpal bill joint drafting committee.
What's you next plan of action? Will you seek any legal recourse against Anna Hazare's arrest? Or will you mobilise public opinion against the government?
People mobilised themselves. There is tremendous anger all across the country and outrage against Anna's arrest, which was undemocratic and dictatorial. First they denied him a place to fast, and then arrested him and his followers.
So there is already tremendous anger and mobilisation of the people against this unjust act of the government. We are just calling upon the people to come out on Wednesday in protest against this totally undemocratic attitude of the government.
And it is only when the authorities feel the power of the people that any kind of sense will prevail on them.
What kind of legal recourse will you seek?
We feel that this is an issue which transcends purely legal and judicial considerations. It's an issue where the ball has been thrown to the people's court and it is the people who will give a fitting response to this violation of their fundamental and democratic rights.
Since Tuesday morning, three union ministers have been alluding that Hazare is a proxy for Rashtriya Swayamsevak Sangh/Bharatiya Janata Party. How will you react to this?
It is an utterly absurd allegation being made repeatedly. Anna has campaigned against corruption whether it is corruption of the Congress, BJP or their affiliates, throughout his life.
He has refrained from sharing a platform with saffron parties or any other political party.
Since August 14, the Congress has been casting aspersions on Anna's image, about him embezzling funds meant for Hind Swaraj Trust. How do you plan to tackle these allegations?
We don't need to tackle these allegations. Nobody believes in them. The Congress has been known to smear those people's image who expose corruption (in the Congress).
They have done this to Vishwanath Pratap Singh when he campaigned on the Bofors issue by fabricating accounts supposed to belong to his son in Saint Kitts Island.
Thereafter, they tried to do the same thing by fabricating a CD against me and my father, and now they have extended the same courtesy to Anna. We don't even need to bother against such allegations.
Is the government's stand softening a bit against Anna and his supporters? Is Kiran Bedi's release an indication of that softening?
I think they have realised this has become counterproductive for them and has roused enormous anger among the people against their action. Therefore they released Kiran Bedi.
Till now the India Against Corruption has managed to keep the movement for the Jan Lokpal bill apolitical. But now the BJP has come out openly in support of Anna Hazare…..
Well, anybody is welcome to support. We welcome the support of all political parties and it has been our stand that the Jan Lokpal bill needs to be supported by all political parties.
Therefore, if political parties come out and support either the throttling of democratic rights or in favour of the Jan Lokpal bill, we welcome that.
Are you willing to soften your stand on the Jan Lokpal Bill?
There are some things which we are prepared to discuss but there are certain core issues which are non-negotiable. Of course, whatever happens finally depends upon the Parliament, but we are perfectly within our rights to campaign for the kind of principles we want in the Lokpal bill.
Any particular issue on which IAC is willing to soften its stand?
That decision will be taken only afterAnna and Arvind Kejriwal are released.
The three union cabinet ministers also stated this morning in a press conference that Anna Hazare was given a chance to discuss contentious issues before the parliamentary standing committee but Anna didn't...
We told the standing committee that this is a useless bill (the government's version of the bill). This should be returned back to Parliament and thereafter let the government bring a proper bill.
What makes you say that the government's version is useless? This makes IAC's detractors say that it is a dictatorial body..either my way or high way kind of an approach?
No. We have not said that the Jan Lokpal bill should be brought to parliament as it is but the basic principles of the bill (Jan Lokpal) should be included in the bill which is brought before Parliament. Thereafter, we are prepared to discuss some of these issues with the standing committee. But let the government at least bring a proper bill.
Could you at least list a couple of core issues that you are willing to discuss with the government?
We have said that some of these issues such as the inclusion of the prime minister or judiciary could be discussed in the standing committee but at least the inclusion of lokayukts of the states and all government servants should come in the bill.
We are very clear that the prime minister and the judiciary should come under the Lokpal, but we are prepared to discuss it in the standing committee.
By saying you are willing to discuss these issues do you mean that you will not push for the inclusion of the PM and judiciary under the Lokpal?
No. We are pushing for it fully but let us see what the government does.
There isn't enough clarity in what you said...
Doesn't matter...
Any word from Delhi police on under the charges they have arrested Hazare and how long before he will be released?
I understand that they are about to release him now. That's what I gather from some news channels.
He has been arrested under the charges of threat to break law and order and create public order which is absurd because Anna has made it clear that whatever he does will be very peaceful and not lead to public disorder. He had even given an undertaking to the police.
There are also talks of the Delhi police taking Anna to Mumbai. How will that change your course of action?
If they take him to Mumbai, he will continue his fast there. He says he will continue his fast wherever he is.
What if the government goes ahead with its version of the Lokpal bill and gets it passed in both houses of Parliament? What will you do then?
Then this public agitation will continue because it will mean that a law which is meant to promote corruption has been brought in the name of the Lokpal bill.
What catapulted the Delhi police arrest Anna on Tuesday morning? The three ministers have been repeatedly saying that it was Delhi police's call and there was no interference from them?
It is absolutely absurd to say that imposition of section 144 or Anna's arrest was decided at the level of the Delhi police.
These decisions have been obviously taken at a very high political level -- at the level of the home minister and various other ministers of this government -- including the prime minister.
Image: Prashant Bhushan
Photograph: Sanjay Sawant