Yaadhum is a documentary that talks about how Islam spread in South India through trade. The film recently won the Bronze Remi award at the 48th World Fest in Houston.
The maker of Yaadhum, Kombai S Anwar, spoke to Ganesh Nadar/Rediff.com on what motivated him to make the film.
I belong to the Theni district of Tamil Nadu and am now settled in Chennai. While growing up in India you are confronted with your Muslim identity. When I was studying in Loyola College, Chennai, they talked about the Muslim invasion of India. It was the colonial historians' version which they were associating with the Muslim community.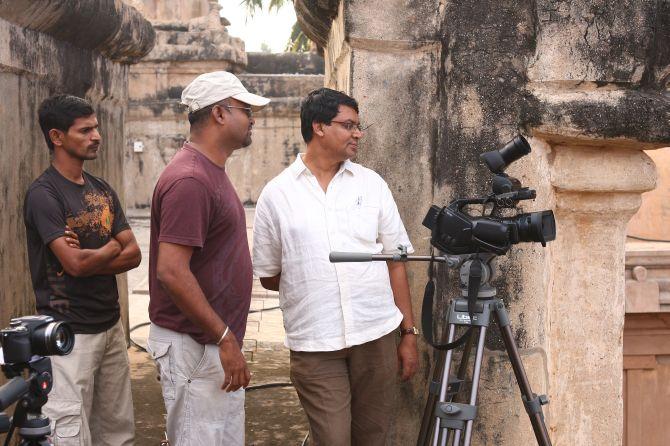 Image: Kombai S Anwar (in white shirt) made his film on a shoestring budget after he received a positive response to his narration of Islam's advent in south India at several seminars.
The Spanish and Portuguese invasions are not associated with their religion (Christianity), even though they were operating on a papal bull.
I was looking at my own heritage. I am a Tamil-speaking Muslim. It was not a problem in my village. When I came to Chennai I realised that people are not used to Tamil-speaking Muslims. They thought that all Muslims speak Urdu. I had to tell people that I don't speak Urdu or Hindi. Even Muslims were surprised. I have read the Quran in Tamil.
Image: The Kilakarai Jumma Mosque in Kilakari, near Ramnad in Tamil Nadu, is one of the finest mosques to be built in the Indo-Dravidian Islamic architecture by the legendary 17th century philanthroper Seethakkathi.
Islam came to southern India through traders. It came here at the same time that it was spreading in Arabia. South India was the centre for the spice trade since it was the transit point for China and South East Asia. Pepper and cardamom were traded from here.
South India was very wealthy at that time. The rulers here encouraged the Arab traders as they brought in wealth. They were allowed to build mosques and practise their religion.
I wanted to know about my roots.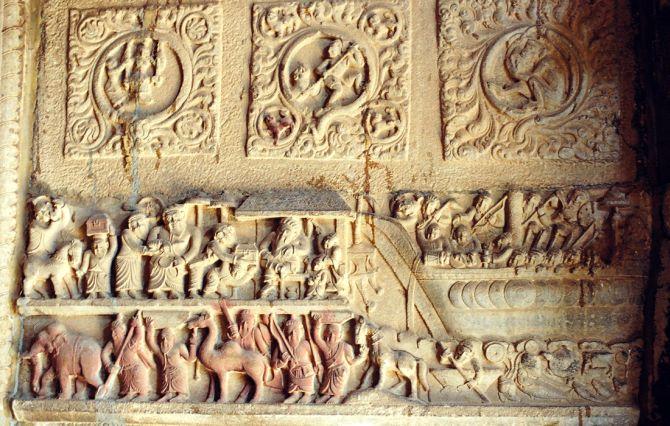 Image: A bas-relief sculpture showing the maritime trade of Muslims, found at the Thirukurungudi Nambi temple in southern Tamil Nadu.
I was invited by the Roja Muthiah Research Library to present a paper on 'Regionality, identity and history writing'. I spoke about this at a seminar they had arranged.
In the mosque we pray facing Mecca. There are no Agamic rules about the construction of a mosque, like for other South Indian temples. So they adopted the local architecture. In Tamil Nadu also they adopted the local architecture of that time. Thousands of mosques had been thus constructed.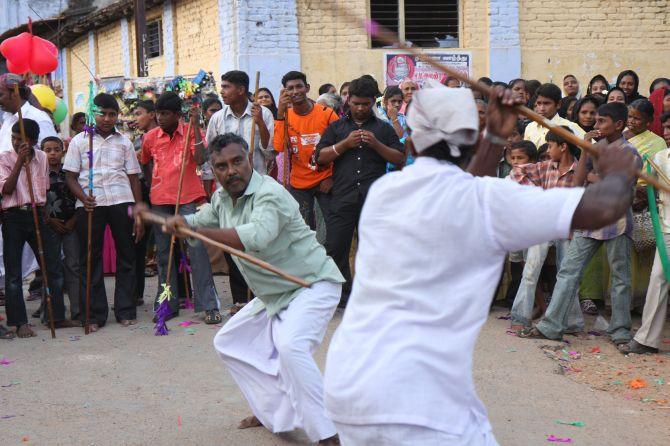 Image: The Tamil traditional martial arts of 'Silambam' being exhibited by Tamil Muslim men.
Scholars who were in attendance for the seminar were surprised by these revelations. I was invited to many seminars after this. People said they had never known about this facet of our history.
As I could not go everywhere, I thought that I would make it into a film, Yaadhum. This was in 2009. I borrowed a small amount of money from friends and relatives and started work on the project.
I had completed 70 per cent of the film, when I got an opportunity to make a series of short films on the Brahadeeswarar Temple, often called the Big Temple, in Thanjavur. The Big Temple was celebrating its 1,000th anniversary. The Archaeological Survey of India had commissioned me to make a film on it, and it took me nine months to complete this work.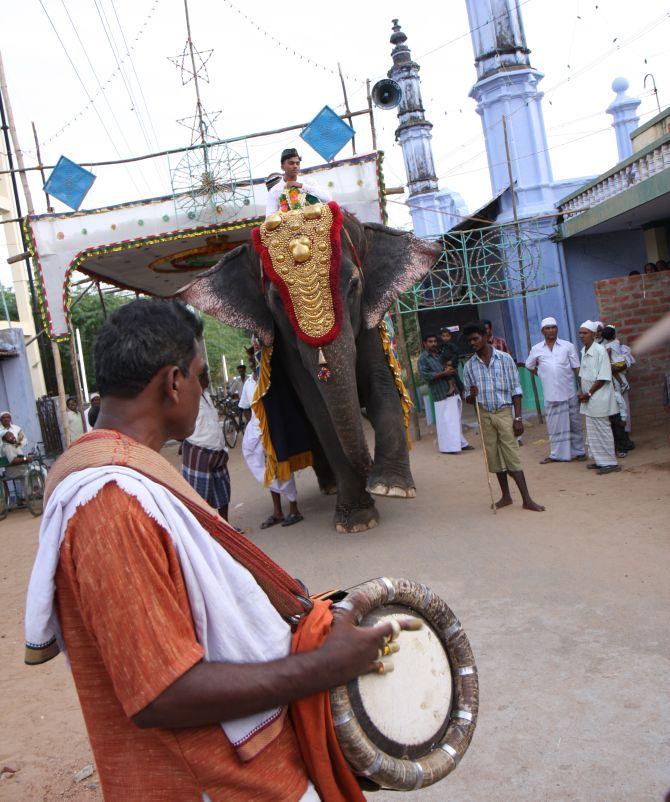 Image: The Kandhuri festival being celebrated by Tamil Muslims in Alwarthirunagari, Thoothukudi district of Tamil Nadu.
The short films for the ASI were shot in high-definition, and I liked the format. So I shot my film again in hi-def. That took me another two years. The movie was finally completed in 2013.
I first showed it where it all began, at the Roja Muthiah Research Library in Chennai. I showed it to some scholars there in November 2013. In 2014, I screened it at The Hindu Literary Fest. This was in English.
After that I released a Tamil version. I first showed the Tamil version in Loyola College, Chennai, where I had studied.
The Tamil Nadu Progressive Writers and Artist Association invited me to enter the film in their competition. They judged the film as the best documentary for 2013, and I received the award in 2014.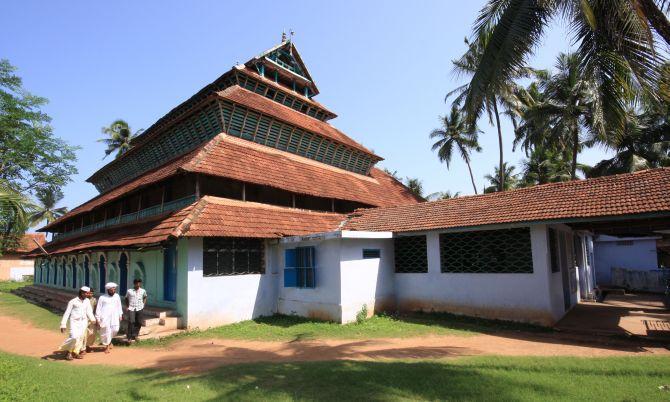 Image: A mosque built in the architectural tradition of the Chera kingdom, by an Arab trader at Calicut, Kerala, some 600 years ago.
Towards the end of 2014 I got a call from the Aga Khan Museum which is in Toronto, Canada. They wanted to see the film as they were planning to screen it at their inaugural film festival in 2015.
After seeing it they suggested that I enter the film in other film festivals, and one of them was the World Fest-Houston International Film Festival. I sent the film to that festival earlier this year. I was pleasantly surprised to win a Bronze Remi award in the Ethnic and Cultural category.
I have sold DVDs of my movie, that is the only monetisation this film has been able to provide. I also got a few sponsorships from some good Samaritans. I have so far recovered half the money I spent on making it.
I am planning a sequel of the film on the same topic. It will be about Tamil-speaking Muslims and Tamils in general, about the diaspora spread over Sri Lanka and South East Asia.
For more information about the film, you can see Yaadhum.com.
As told to A Ganesh Nadar/Rediff.com