How active is Prime Minister Narendra Modi on Twitter? How many times has he tweeted till date?
And most importantly, how did Modi shed his image from being labelled as the 'riot-monger' chief minister of Gujarat to a visionary leader who could lead India during the May 2014 elections?
If you have been wondering about these questions, then Joyojeet Pal, assistant professor at the University of Michigan may have found answers in his research paper.
In an e-mail interview with Syed Firdaus Ashraf/Rediff.com, Professor Pal discusses his findings.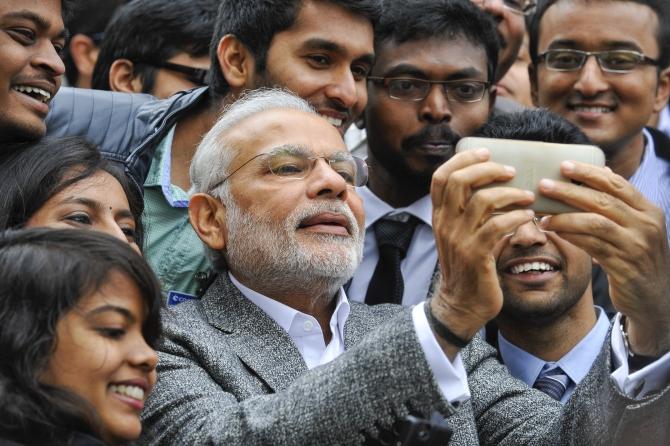 What was the reason for your study on Modi and his tweets?
My research's title is 'Political Social Media and the Global South'; the specific title of the piece is 'Twitter and the Rebranding of Narendra Modi.'
The reason to study Modi was his phenomenal growth on social media, to the point of being second to only Barack Obama.
We were keen to closely examine the motivations and the style of use of such tools in a political system where only a small proportion of the voting population is actually on social media.
When did Modi join twitter? How many times has he tweeted till date?
The official account -- @narendramodi opened on January 10, 2009, as Twitter user No 18,839,785. Till date (the interview was conducted a few days ago), that account has tweeted approximately 10,800 times. The first recorded tweet was on February 1, 2009.
Is there a pattern in Modi's tweeting habits? How often and on what issues does he tweet generally?
The patterns differ from period to period; in recent times, he has tweeted as much as 10 times a day, but this proportion has been less earlier (details are in the paper). The topics have also changed over time.
At the time we started studying his social media behaviour, the most prolific Indian politician online was (former Union minister) Shashi Tharoor, and comparing Modi to Tharoor was a good way to examine patterns.
Tharoor has had a much more conversational form of tweeting, very similar to how a casual user uses the medium, whereas Modi's style is very crafted, so each Tweet is worded to stand on its own as a message to his followers.
It is often stated that there is a big change in Modi's presence on Twitter from before and after he became prime minister.
For example, he was silent on the Dadri lynching incident.
Modi has been a lot less confrontational since the elections. Prior to the elections, there were many direct attacks on rivals on the social media, but post election, he has taken a more 'benevolent leader' style of tweeting, by sticking to largely non-controversial topics and positive tweets, which we discuss extensively in our research.
So he generally avoids topics that have the potential of becoming argumentative flashpoints.
How did Modi convince the world through Twitter that he was not involved in the 2002 Gujarat riots, and moreover, how did he convince people that he had nothing to do with his 'problematic past'?
I think that the effort is more to not focus on the past at all and keep the discussions focussed on development topics. This has been true of his social media campaign since 2009.
In part, the point is that a lot of the younger population has not grown up with memory of the riots. His approach is just not to address that at all and instead to look to the future.
It was said that (former prime minister Atal Bihari) Vajpayee's government lost the 2004 general election because of the Gujarat riots. Do you believe this theory?
Do you feel if Twitter had been around then, one would have had a very different image of the 2002 Gujarat riots?
Frankly, that is hard to say. I do want to clarify one thing that we do not make the claim that social media can impact the outcome of the actual election. Instead, our point is more that social media is part of a broader personality that Modi proposes as a modernising leader.
So if you think in those terms, Vajpayee had an established public image since the Emergency onwards. In Modi's case, the investment into the 'development image' has been happening right from the start of his Gujarat tenure
One mistake that people frequently make with social media is to imagine it as a massive democratising force; this is in part because of the Arab Spring protests. But social media is a reflection of the people on it.
So if you look at the JNU protests (Jawaharlal Nehru University), there is sufficient action on both sides of the argument.
Likewise, if social media was around in 2002, one could imagine that there would be a significant side that would agree with Modi's actions at that time.
Is it true that most of the people in India who are active on the Internet hold right-wing views? And if yes, has Twitter become a medium of discord?
I would not say so. Twitter has become a means for people with extreme opinions to voice those publicly, so essentially those who are most strongly driven by one or another ideology are likely to be willing to publicly make that statement (without particularly caring what their circles think). They seem to be the most vociferous on Twitter or Facebook feeds.
But someone who does not subscribe to extreme views may just decide to sit by, or more commonly, not support the opposite argument because they don't want to get into a flame war.
This is, of course, noticeable in the JNU case, where supporting either argument can end up with one being called either a fascist or anti-national by someone in the common friend circle, if it is relatively diverse.
This actually has much worse consequences for public debate in India, particularly because it is driven by casual citizens, not by some television channel reporter -- so it is harder to cite systemic bias.
How important or decisive was the hiring of APCO Worldwide, the international public relation firm, to change Modi's image as a global chief minister promoting 'Vibrant Gujarat'?
Has APCO got anything to do with Modi joining Twitter, in your opinion?
I cannot comment on this, but it is clear that Modi's public relations campaign has been among the most visibly well managed since the 'Vibrant Gujarat' period.
Modi often used to call journalists 'news traders' before the general election. How do you think he was able to convince people through social media that the media is biased and has an agenda against him and his government?
This is a broader question about political vilification of contrarian voices, particularly of public commentators (journalists, intellectuals etc). I have written about this in an opinion piece (external link) that may be helpful
Do you feel the Congress erred in not taking social media seriously against Modi in 2014?
I think that Congress lost the elections for a range of different reasons, but I feel that investing in social media was inevitable for them -- @officeofRG (Congress Vice-President Rahul Gandhi's official handle) is growing (though VERY small compared to Modi).
The more interesting challenge to the BJP (Bharatiya Janata Party) on social media is, of course, from the Aam Aadmi Party.
Is it possible for Modi to avoid the media until 2019? Will the people believe him if he does not deliver on the economic front?
Again, I cannot comment on this, it is too early to tell. As I have also said before, winning or losing elections has little to do with the social media element alone, there is a lot more that goes into performance, campaigning etc.
What we can definitely say is that Modi's campaign will become a learning point for many other political campaigns worldwide because of its strategies and phenomenal success.
IMAGE: Prime Minister Narendra Modi poses for a selfie with students during a visit at the French National Space Agency in Toulouse, France, April 11, 2015. Photograph: Adrien Helou/Reuters