'There are Rs 90 crore worth of medicines in government hospitals, which is sufficient for the next three months.'
The rainfall that lashed Chennai on December 1 was the highest-ever recorded in a single day in over a century. It took four days for the Tamil Nadu capital to limp back to normal with roads blocked, power disrupted and all communications links severed.
Now, the city is faced with a new problem. With water still accumulated in many areas and piles of garbage waiting to be cleared, the chances of an epidemic outbreak have grown manifold.
The government -- along with many non-government organisations -- has started the cleaning-up task on a war-footing with the state health department conducting camps across the city.
Despite his busy schedule, Tamil Nadu Health Secretary J Radhakrishnan spoke to A Ganesh Nadar/Rediff.com over the telephone about the measures being adopted to prevent an epidemic from breaking out.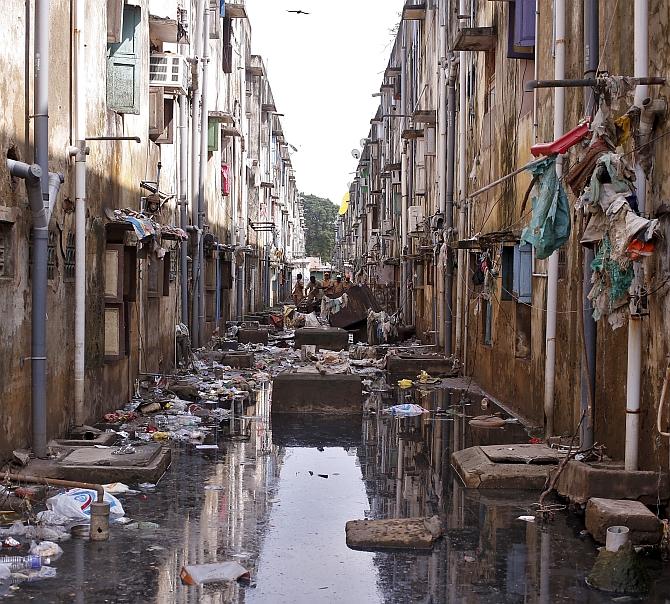 IMAGE: Municipal workers clear the debris after flood waters receded in Chennai. Photograph: Anindito Mukherjee/Reuters
After the 2004 tsunami, bleaching powder was sprinkled on the streets in the affected areas. Will you be doing the same this time?
This time, on the orders of the chief minister, we have ordered 2,000 tons of bleaching powder over and above the existing stocks. They will be spread on the streets once the water dries up.
We will also be distributing bleaching powder packets to households so that they can use it in their homes and compounds.
What steps are being taken to ensure clean drinking water? Is chlorination an option?
The Chennai Metropolitan Water Supply and Sewerage Board (which handles water supply and sewage treatment for Chennai and its surrounding areas) has been doubling the amount of chlorination. We are also checking the chlorine level at the source and at the supply end (the taps). This is done regularly.
What steps are you taking to prevent an epidemic?
1,700 mobile camps have been conducted in various parts of the city. Around 3.5 lakh (350,000) people have already attended these camps. The camps are continuing daily.
The public health department too is taking steps to prevent water-borne diseases.
What sort of diseases can occur after a flood?
We are taking preventive measures against all kinds of diseases. There are skin diseases, communicable diseases and water-borne diseases.
How many more medical camps are you planning?
The camps will continue in areas, which are inundated. The camps will also continue in slum areas.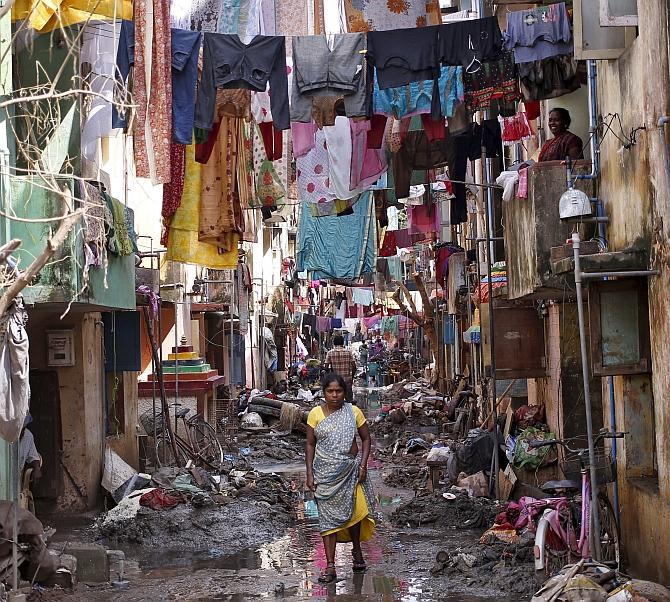 IMAGE: A woman walks through a street filled with mud and debris to collect relief material in Chennai. Photograph: Anindito Mukherjee/Reuters
Are all government hospitals stocked with enough medicines and other supplies?
There are Rs 90 crore (Rs 900 million) worth of medicines in the government hospitals, which is sufficient for the next three months.
We are also putting in advance orders for further supplies.
Have you approached private hospitals and doctors for help in an emergency? Will they provide free treatment to the people?
Private hospitals, which are empanelled with the Chief Minister's Comprehensive Health Insurance Scheme, have already started working with the people who need help.
They have so far conducted 200 medical camps in various parts of the city and will continue to do so daily.
How long will it take for the situation to stabilise health wise?
Health is a sector where we need surveillance. We have an action plan for four weeks, which is being implemented now. After that we will re-assess the situation and decide what to do next.