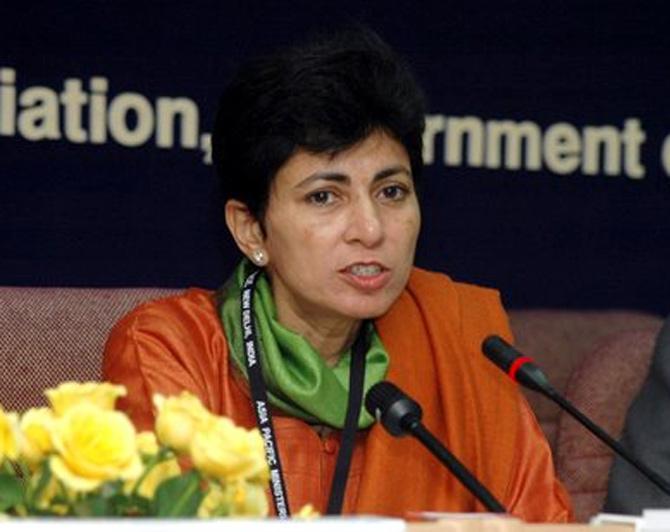 'It was a one-man rule in Haryana, Hooda is an authoritarian'
'There was a divide down the line from the leaders to the workers'
'What the BJP government has promised is nothing but illusion'
Former Union minister and Haryana Congress leader Kumari Selja decries former chief minister Bhupinder Singh Hooda's style of functioning, his inability to carry everybody with him and pitches for a fresh leadership in Haryana after the poll debacle, in an interview with Anita Katyal.
What is your first reaction to the election results in Haryana? Were they on expected lines and what, in your opinion, was the reason for the Congress party's dismal performance?
I have to admit that we did not expect to do so badly. We were actually expecting a fractured mandate, but we never thought that the party would finish third.
There is no single factor which can be attributed to this verdict. In a way, it (the mandate) is a reflection on the working of the state government. It is because of the state leadership that the Congress slipped more than two percentage points since the Lok Sabha election.
Hooda had been heading the government for two terms. It was a one-man rule for all these years. His style of functioning was such that others did not have much say in the running of the government, he did not seek the cooperation of other senior leaders. Not just the government but the whole party organisation down the line -- from leaders to the workers -- felt alienated. And yet he has failed to take responsibility for the party's poor performance.
Hooda's detractors have described him as a dictator. Do you agree?
Well, his style of functioning was certainly very authoritarian. That is also the reason why so many senior leaders left the Congress in the run-up to the election.
Hooda was also accused of pandering to the Jat community and concentrating all development funds in his constituency. This ended up alienating the others which was clearly reflected in the election results.
There are always high expectations in a chief minister's constituency. I don't see anything wrong if a chief minister gives greater attention to his constituency. But I also feel that a chief minister should also see that others do not feel that they are being treated unfairly or that they are being neglected. This is precisely what happened in Haryana.
As far as the caste factor is concerned, the Congress has had both Jat and non-Jats as chief ministers. The party has given representation to all castes. It is the responsibility of the person heading the government to carry this message across all sections so that they feel respectable. Unfortunately, for whatever reason, this was never done. If a contrary impression has gone around, then the chief minister is responsible for creating this divide. I firmly believe that all castes in the state have a place in the Congress -- both Jats and non-Jats.
At one time, you were very close to Hooda. Do you feel hurt that he betrayed your friendship?
As is well known, I along with other colleagues in the party was instrumental in Hooda's elevation.
I do not want to go into personal issues. But I have to say that as and when I raised issues pertaining to different areas in the state and to my own constituency, these were not paid heed to.
On the flip side, it is also said that the bitter infighting in the Haryana Congress also contributed to the party's electoral rout. You have been accused of running a campaign against your own chief minister…
What is factionalism? When different factions have issues. There is obviously a reason for it. An attempt has to be made to resolve these outstanding issues and redress people's grievances. But this was not done. We were deliberately kept away from the campaign and the preparations for the elections. In fact, the fissures were deepened by the powers that be. They created the divide down the line from the leaders to the workers.
The Congress leadership -- Sonia and Rahul Gandhi --- also have to take the blame for the state of affairs in the Haryana Congress. They were aware of the anger against Hooda but they did not step in to sort out matters.
It is not correct to say that the Congress president did not step in to broker peace. She did so on several occasions but it was a one man show in Haryana and the chief minister did not care to pay heed to the party leadership's advice.
But an impression went around that your leadership treated Hooda with kid gloves because he had helped Robert Vadra in his land deals. The leadership could have removed Hooda if it felt he was not falling in line.
To assume that Robert Vadra was a factor would be incorrect and unfortunate. This was not an issue in Haryana. Moreover, our party functions on democratic principles. Hooda was appointed chief minister for five years… you don't change chief ministers on a daily basis. Once he was appointed, it was expected that that he would carry people with him and provide a fair and just administration which he failed to do. The results are there for everyone to see.
What is the way ahead now? Can the Congress be revived in Haryana with Hooda at the helm?
I firmly believe the Congress can be revived in Haryana provided efforts are made to carry everybody together. The time has come for fresh thinking in the state.
We can stage a comeback as our workers have faith in our leadership -- Sonia and Rahul Gandhi; they are a binding factor. People will soon realise that what has been promised by the BJP government is nothing but an illusion. It is the Congress which has stayed committed. It believes in inclusive growth which was translated into schemes which the present regime has been forced to carry on with.
The Congress will have to go back to the people, reorganise its workers and strengthen the organisation at the grassroots level. Experienced leaders must be given due respect and involved in this exercise to rebuild the party. It is also imperative that we reach out to younger persons and acquaint them with the Congress ideology. Most importantly, we must carry the Congress president and vice-president's message down to the common man, which has not been happening.

Image: Former Union minister Kumari Selja.