'I am the senior-most, obedient and loyal soldier of the party and it is the party that will decide Gujarat's next chief minister.'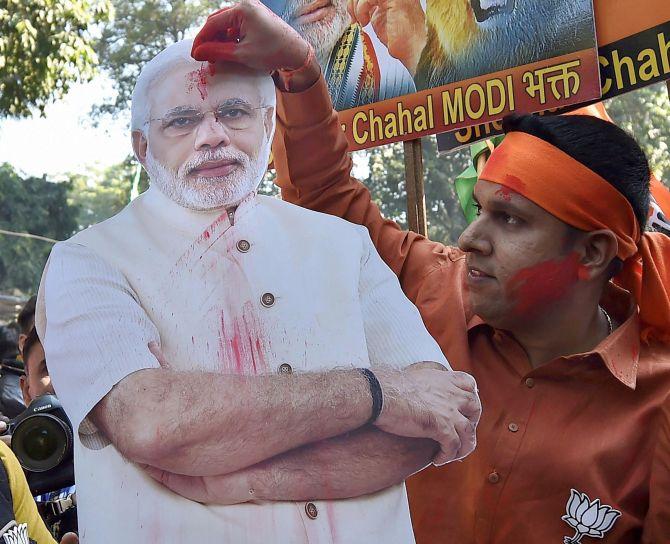 IMAGE: A BJP supporter applies tilak on a cutout of Prime Minister Narendra D Modi to celebrate the BJP's win in Gujarat. Photograph: PTI Photo
On Monday, December 18, the Bharatiya Janata Party won the Gujarat assembly election for the sixth consecutive time. However, its tally has not matched up to its 2012 performance of 115 seats.
Bhupendrasinh Manubha Chudasama, tipped to be Gujarat's next chief minister, discusses the election results with Rediff.com's Prasanna D Zore.
Who do you credit for your victory?
My victory belongs to the voters in my constituency, my workers and the development that the Bharatiya Janata Party governments have brought to Gujarat since 1995.
You won from Dholka constituency in Ahmedabad. What are the reasons voters chose you as their representative?
I have been quite active in my constituency and have consistently worked hard for the development of Dholka.
I have always given importance to communication and that has helped build a relationship based on trust with them.
My voters are confident that I will never belie their trust.
How do you explain the BJP's position given that these numbers are lesser than the 2012 tally of 115 when Narendra D Modi was chief minister?
Bhaiyya, chunav toh chunav hota hai (A victory is a victory irrespective of numbers).
Sometimes you score more, sometimes you score less.
But you must also see that the people of Gujarat have reposed their faith in the Bharatiya Janata Party for the sixth time, no less.
We have beaten anti-incumbency time and again.
BJP President Amit Shah had set a target of 150 seats... Prime Minister Modi too campaigned relentlessly in Gujarat. Still you have won less than 100 seats.
Jeevan main hamesha target toh bada hi rakhna chahiye (One must always set a higher target in life). Only then you feel alive and work hard to achieve your goals.
Work hard and leave the rest to God's will.
IMAGE: Bhupendrasinh Chudasama won the Dholka seat in Ahmedabad by over 71,000 votes. Photograph: Kind courtesy BhupendraSinh1/Twitter
Will the BJP analyse why it could not win as many seats as it did in 2012?
The big point here is that the BJP has won the Gujarat election and we are going to form the next government.
We will, of course, analyse why we couldn't get more or at least 115 seats, but everybody must understand that the people of Gujarat have once again restored their faith in the BJP.
Am I speaking with Gujarat's next chief minister?
Yes, yes, yes.
Are you going to be Gujarat's next chief minister?
Whatever decision our party takes will be acceptable to all of us.
I am the senior-most, obedient and loyal soldier of the party and it is the party that will decide Gujarat's next chief minister.