'Minus Modi, the BJP will get only 50 seats.'
'He will undermine the BJP as an organisation and woo voters on his personal charisma.'
'He is planning 25 big meetings in Gujarat and that will make a difference.'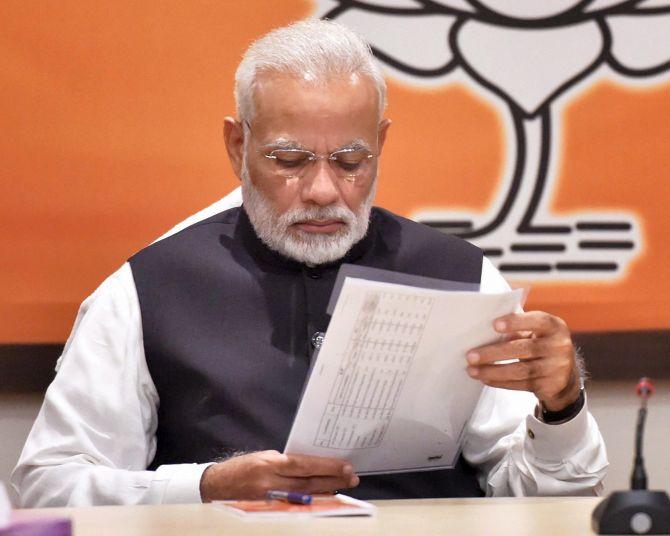 IMAGE: Prime Minister Narendra D Modi at the Bharatiya Janata Party's central election committee meeting at the BJP headquarters in New Delhi. Photograph: Vijay Verma/PTI Photo
It has never been easy to predict the outcome of the Gujarat assembly elections, certainly not since Narendra Damodardas Modi became the chief minister in 2001.
In every election since then, Modi and his Bharatiya Janata Party have been written off by opponents and analysts alike, and each time leader and party have stormed to power with a strong majority.
This election, the situation is different.
Modi is not Gujarat's chief minister for the first time since the 2002 assembly election.
Plus, there is a host of anti-establishment protests across the state, spearheaded by the Patidars and Dalits, all of which point to a deep layer of resentment across the state.
How will it affect the BJP's chances at next month's election?
Dr Vidyut Joshi -- former vice-chancellor, Bhavnagar University and former director of the Centre for Social Studies, Surat -- is convinced that a Modi-less BJP will see its seat tally tumble from 115 in 2012 to less than 100 this time, enough to form a government in the 182-member assembly, while a resurgent Congress will bag around 80 seats.
The Congress will get more seats in rural areas and the BJP will get more seats in urban areas except for Surat because there the Patidar movement is strong, Dr Joshi, below, tells Rediff.com's Syed Firdaus Ashraf.
What is your prediction for the Gujarat assembly election?
I feel the BJP will get between 95 and 98 seats, the Congress will get 85 seats.
Whatever the small parties can take will be taken by the NCP (Nationalist Congress Party, AAP (the Aam Aadmi Party and Shankarsinh Vaghela's party.
Why do you think the BJP's tally will decrease from the present 115?
Obviously, anti-incumbency is one factor.
Twenty-two years (the BJP has been in power in Gujarat since 1995) is sufficient for anti-incumbency.
This happened at one point with the CPI-M (Communist Party of India-Marxist) in West Bengal too.
(Trinamool Congress chief and present West Bengal Chief Minister) Mamata Banerjee had no organisation as good as the CPI-M. But still, there was a reduction of seats. The same is the case now.
There are 10 major movements going on in Gujarat right now against the BJP.
What are these?
The Patidar movement, the OBC movement, the Dalit movement, small traders' movement, ASHA (accredited social health activists) workers movement, anganwadi women's movement, fixed salary workers movement, and ambulance workers movement.
These movements have caused anti-incumbency against the BJP.
Particularly, the OBC and Dalit movements, as they are openly saying that they will vote against the BJP.
Has a fatigue factor set in against the BJP?
After 22 years if you see the same face, you develop repulsion.
So why not change?
People feel they (ministers) have not done their work.
Also, in the name of speedy industrialisation, the BJP has overlooked rural areas. Farmers are agitating for crop pricing and insurance.
The Congress will get more seats in rural areas and the BJP will get more seats in urban areas except for Surat because there the Patidar movement is strong.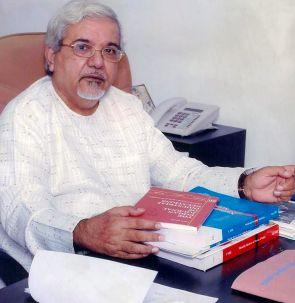 Before every election, analysts say the BJP will not do well but when the results arrive, the BJP has won a thumping majority.
That is why I am giving 95 to 98 seats to the BJP, and it is only because of Modi.
The way Indira Gandhi undermined the Congress and approached voters, Modi will do the same thing.
He will undermine the BJP as an organisation and woo voters on his personal charisma.
He is planning to organise 25 big meetings in Gujarat and that will make a difference.
Minus Modi, the BJP will get only 50 out of 182 seats in Gujarat.
Is there no popular second-rung leader in the Gujarat BJP?
A charismatic leader will never develop a second-rung leader.
Indira Gandhi did not do that and Modi too has not done. Any charismatic leader will never want to have a second leader.
Everyone is talking about the caste combination in Gujarat. Will that be Amit Shah's strategy?
If the BJP gives tickets considering caste, then the Congress will also give tickets accordingly.
So where is casteism? It is not only Amit Shah who is working on it, but Ahmed Patel too who is at work.
Will Rahul Gandhi's visits to temples to project the Congress as a pro-Hindu party work with voters??
It is not a question of a pro-Hindu party, but playing with the emotions of people.
I have observed that Rahul has improved a lot. Earlier, it looked like he was not speaking to people, but now it looks like he is speaking to them.
He is listening to questions from people and giving answers. This interactive method is a different approach.
And every place where he goes, he visits people of the dominant castes.
This is a big change, but still, he is no match for Modi.
80 seats will be a big victory for Rahul, isn't it?
It will be.
The Congress will definitely get 80 plus seats.
Opinion polls say the Congress will get fewer than 80, but I don't believe that.
There are no big Congress leaders in Gujarat and yet you claim it will get 80 plus seats. Why?
In any given constituency the candidate is the face. Like the Congress, the BJP too has no face in Gujarat.
Narendra Modi is the national face and the BJP has no face in the state.
There is not a single leader in the Congress who is acceptable, and the same is applicable to the BJP.
What about the communalism factor in Gujarat?
The BJP will play that card.
In the UP (Uttar Pradesh) elections, Modi played the Kabristan-Shamshan game, which was Amit Shah's strategy.
Anti-incumbency is not only against the BJP, but also against its local leaders.
This situation reminds me of Indira Gandhi's time.
Internally, the Congress was not working and there was chaos, but Indira Gandhi's charisma was fetching votes for the party.
People will vote in the same way for Modi.
The day Modi comes to Gujarat, he will visit every nook and corner and people will follow him as if he is a Pied Piper.
Therefore, I am saying the BJP will get 95 seats.
So, people will vote for Modi only because of Gujarati pride?
Gujaratis are not regional. 40 percent of Gujarati investments are outside Gujarat.
They cannot afford to be chauvinists. They cannot be like the Shiv Sena where there is regional pride for Marathi people.
What will be the impact of this election on the 2019 general election?
I think the BJP will not be able to repeat its 2014 success in Gujarat.
They will not win all 26 (Lok Sabha) seats like they did in the 2014 election.
In 2019, Modi will not get 282 seats like he got in 2014. He will get less than that.
Why?
My reading is that Modi is now isolated. He looks fatigued.
A section of the RSS (Rashtriya Swayamsevak Sangh) has come out against Modi.
Do you know that Sanjay Joshi (a RSS leader and Modi's arch-rival) visits Gujarat every week?