'I don't believe in jumlebaazi.'
'Kahan hua hai sabka saath, sabka vikas?'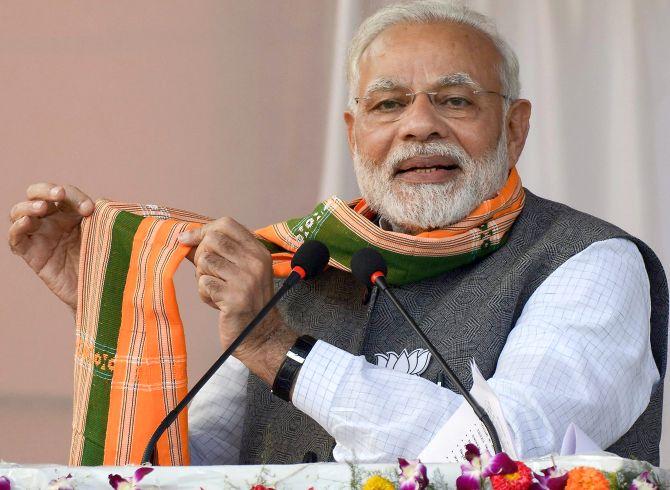 IMAGE: Prime Minister Narendra D Modi addresses a rally in Agartala, February 15, 2018. Photograph: PTI Photo
On a day when Bharatiya Janata Party President Amit A Shah held a Yuva Hunkar (youth power) rally in Haryana, the BJP MP from Kurukshetra raised a banner of revolt against the Manohar Lal Khattar-led state government.
Raj Kumar Saini lashed out at his party-led government in Haryana for "bowing" before Jat leaders.
Saini tells Rediff.com's Prasanna D Zore that he is all set to form his own political party.
Amit Shah's got a huge response. Why didn't you attend the rally?
I saw many leaders present on the dais. But I am not sure how many people were in front of them.
The ruling party always ensures that rallies of party bigwigs get a huge response. For this they spend unlimited resources.
I did not attend the rally because the BJP has surrendered to Jat blackmail in Haryana.
By hobnobbing with the people who are responsible for burning Haryana, our leaders have sidelined and demoralised many genuine leaders in the state.
These protesters, who burnt public and government properties in the state, have terrorised them (pointing towards the loss of life and property during the Jat agitation in Haryana in 2016) and today these people (the Jat leaders) after becoming chief ministers for five times have still not resolved the problems of their community.
Are you going to form your own party by quitting the BJP?
Zaroor banayenge (most definitely).
Are you planning to resign as the BJP's MP from Kurukshetra?
Haan, haan, zaroor. Jab party float karoonga toh isteefa doonga (Yes, yes, I will resign from the party once I float my own party).
Do you expect disciplinary action against you for this open rebellion?
I have no objection if they were to take any action against me.
It is the right of every political party to take such action.
Let them take it.
Why are you opposed to the reservation for Jats?
I am not against reservations for anybody.
What I am saying is there are so many flashpoint across India over the demand for reservation.
At some places there are Jats, at others there are Patidars, Kapus, Gujjars, Marathas, etc.
I am opposed to this kind of reservation.
Sabko aarakshit kar do (Give reservations to everybody).
Let nobody get a chance to partake of reservation meant for somebody else.
I also want a system where one family should have only two children.
One family, one employment, and making Parliament unicameral by abolishing the Rajya Sabha.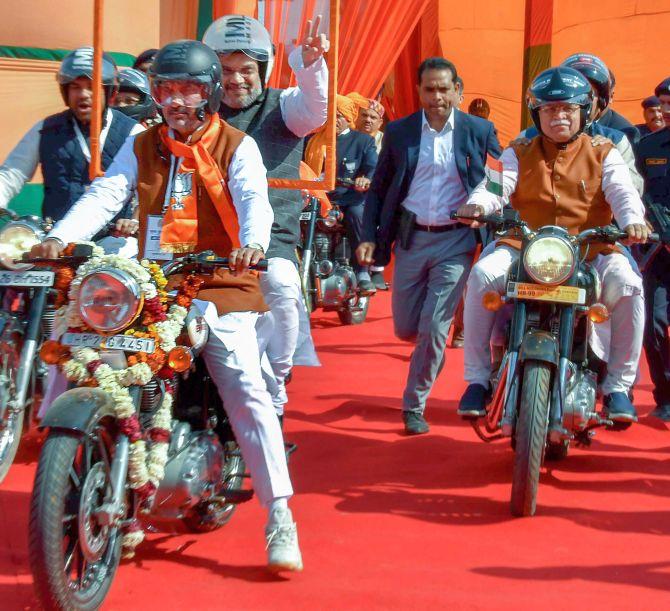 IMAGE: BJP President Amit A Shah rides pillion with Haryana BJP President Subhash Barala during the party's Yuva Hunkar rally in Jind, February 15, 2018. Haryana Chief Minister Manohar Lal Khatter can also be seen riding a motorcycle.
Barala's son Vikas is charged with alleged stalking and attempt to abduct Varnika Kundu. Photograph: PTI Photo
Have you ever met Shah or Prime Minister Modi to seek redressal of your grievances?
Only the weak complain.
Hum kuch kar ke dikhayenge (I will show the BJP what I am made up of).
What exactly do you plan to do?
If the people of the state repose their faith in me and if I ever get an opportunity (to become Haryana's chief minister) then I will bring in 100 per cent reservations.
I will bring ek parivar, ek rozgar (one family, one employment). Only one person from one family will get employment.
Hum do, hamara do karoonga (Iwill ensure population control by implementing every family raises only two children).
I will implement a policy for the benefit of labourers and farmers, double payment for farm labourers and give fair prices to farmers for their produce.
Aren't these empty promises which most politicians dish out?
These are not empty promises.
These kinds of policies are what the nation needs today. This is not political bombast.
We have been listening to such political promises from the Congress for 70 years.
Now is the time to do something material for the people of Haryana.
I don't believe in jumlebaazi (false promises).
Kahan hua hai sabka saath, sabka vikas? (Where is this sabka saath, sabka vikas?)
Give 100 per cent reservation, so there is no feeling of discrimination among India's Jats, Gujjars, Marathas, Patidars, Dalits, Hindus, Muslims or Christians.
Are you not happy with the four years of the Modi government?
I am happy with the thinking of people like Narendra D Modi.
But you openly criticise his sabka saath, sabka vikas.
I am opposing the people behind this thought that denied reservation for backward classes in the Supreme Court; of people who under pressure from certain sections of Haryana gave them a commitment of reservation and the result was the entire state was on fire.
The bill for reservation for the Jats was passed in the Haryana assembly in opposition to Supreme Court and high court orders that such reservation is not Constitutional.
Why is the (Haryana) government giving false commitments?
Why were the people responsible for looting and arson during the Jat reservation agitation released without facing any charges?
Why were the people who burnt Haryana allowed to go scot-free?
Why wasn't the rule of law, and order, not followed?