'I am not talking about reorganisation of just Maharashtra, but of all the states of the Indian Union based on the basis of population.'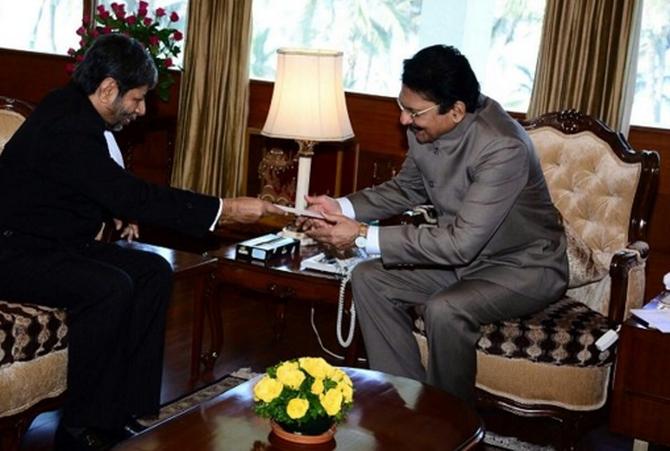 IMAGE: Maharashtra Advocate General Shreehari Aney hands over his resignation to Governor C Vidyasagar Rao at the Raj Bhavan in Mumbai, March 22. Photograph: Press Information Bureau
Former Rashtriya Swayamsevak Sangh ideologue Madhav Govind Vaidya, below, left, speaks his mind to Prasanna D Zore/Rediff.com on the controversy about the division of Maharashtra into states like Vidarbha and Marathwada, following state advocate general Srihari Aney's resignation on Tuesday, March 22, over his remark that Marathwada should agitate for separate statehood.
Is it true that you are espousing the division of Maharashtra into four states?
They (the media) have taken a select part. I had said there should be a new State Reorganisation Commission. I have been pleading for this for the last 10 years with a formula that the population of any state should not exceed 3 crore (30 million) and should not be less than 50 lakh (5 million).
Since Maharshtra has more than 11.5 crore (115 million) population, so naturally it should be divided into four parts and Uttar Pradesh into six parts. Likewise, West Bengal into two parts.
But these should not be achieved by any violent agitation, but through the (new State Reorganisation) commission.
That is how Andhra Pradesh was created. Because (Potti) Sreeramulu died fasting for Andhra Pradesh and there was a violent agitation.
And I am not talking about the reorganisation of just Maharashtra, but of all the states of the Indian Union on the basis of population.
Since a reporter asked me how many states should Maharashtra have based on this calculation, I said four states. But there are exceptions like Sikkim, which has just 10 lakh (1 million) population. Goa is also the exception.
Either they should be merged. But if they want to remain as individual states they should be allowed to be so.
Ideally no new state should have less than 5 million people.
How will the reorganisation of states based on population help development in those states?
That will help the people reach the state's capital.
Also, for the ease of unity, one state should have one language, but it is not necessary. There can be cases like Andhra Pradesh and Telangana where people speak the same language.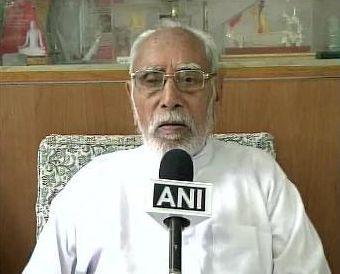 There is a political opposition from parties like the Shiv Sena and the Maharashtra Navnirman Sena to such reorganisation/division.
MNS President Raj Thackeray has stated that Srihari Aney, who resigned as advocate general because of his controversial statement on Marathwada, is speaking the language of the RSS.
How do you respond to such criticism?
I am not an official spokesperson of the RSS. From 2008 I have been giving my own personal opinions. Thackeray is free to express his opinion. And if he wants to know the RSS point of view he should ask the RSS spokesperson.
So, it is not the RSS' opinion that Maharashtra should be reorganised into four different states?
I don't know, but there are four provinces of the RSS in Maharashtra, six provinces in Uttar Pradesh. There are three provinces of the RSS in Rajasthan. That not only depends on the convenience of administration, but also on the extent of number of shakhas and other considerations.
What you have said about reorganisation of states is not the RSS' views, but your personal views?
How can this be the RSS' views now? Who am I in the RSS now? From 2008 I am nobody in the RSS. I did not attend the All India General Council meeting in Nagpur recently. I am 93 plus, how can I travel?