'This chief minister is so obstinate that he is ready to use the police to attain his goal.'
'Had he been more mature rather than obstinate, Kerala would not have reached a boiling point.'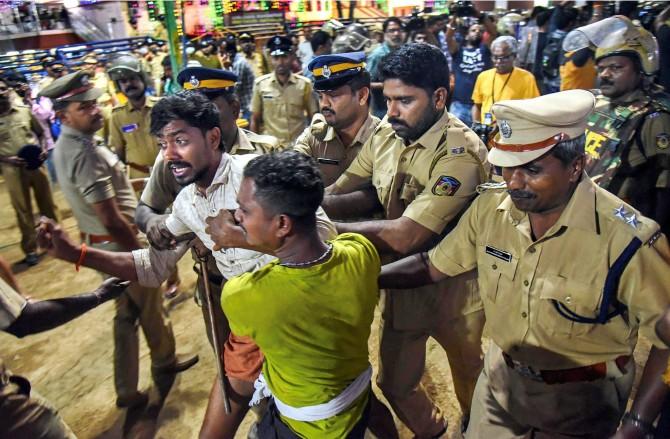 All you hear when you travel in south Kerala are discussions on what is happening in Sabarimala.
While the number of devotees, especially those coming from neighbouring states, has reduced, Congress and Bharatiya Janata Party leaders make trips to the temple almost every day.
Shobha Warrier/Rediff.com spoke to former Kerala home minister Thiruvanchoor Radhakrishnan, below, who had returned from Sabarimala, to find out what is going on at the shrine.
How does the Congress party in Kerala, and you personally, perceive the current situation in Sabarimala?
If you look at the affidavit we had given in 2016 to the Supreme Court, you will know the Congress party's stand on allowing women in the age group of 10 to 50 at Sabarimala.
Our stand is still the same; we said in the affidavit that we supported the high court judgment given by Justice Paripoornan of 1991 which was, women in the age group of 10 to 50 were not allowed to go to the temple. We still maintain that the ban on the entry of this group should continue.
The Constitution says that 'reasonable restriction' can be done in cases like this.
As per Article 26, religious places of all religions are given the right to maintain certain rituals. As Sabarimala comes under such religious places, it is possible to put certain restrictions like these, and this cannot be construed as going against rituals.
That's why we in the Congress are very clear in our opinion.
You have just returned from Sabarimala. Many say Sabarimala has become a war zone. Is it true?
The biggest problem the state face right now is because of the obstinate decisions taken by (Chief Minister) Pinarayi Vijayan.
I doubt whether there were any discussions on this issue within the (Chief Minister Vijayan's Communist Party of India-Marxist) party. If there was a discussion, the Devaswom Board would not have taken a different stance earlier.
Also, some ministers within his ministry, like Kadakampally Surendran and A K Balan, also had a different opinion earlier, but they were forced to change their stand as Pinarayi Vijayan had only one opinion then and now: That women of all ages should be allowed to go to Sabarimala.
But the issue is not that right now. When he said his government would support the entry of women of all ages, nobody expected women devotees of Kerala to oppose this.
When they said they were ready to wait, he decided to bring women from somewhere to Sabarimala.
The worrying aspect is he used the police to take these women there. There were 1,000 policemen protecting a woman called Rehana Fatima who was charged with 15 cases. In fact, the situation became uncontrollable after this incident.
This chief minister is so obstinate that he is ready to use the police to attain his goal. That was when the women of Kerala descended onto the streets in lakhs chanting 'Swamiye Ayyappa'.
Had the chief minister been a little more mature in his approach rather than obstinate, Kerala would not have reached a boiling point like this.
My question is: If Pinarayi Vijayan had taken such arbitrary decisions against other communities, would they have accepted them? Has he ever tried doing so? No, he won't even try.
The fact is every community has its own rituals and traditions which the members have been following for centuries. Why is Pinarayi Vijayan so stubborn about breaking the age-old traditions of the Hindu community?
He says he wants reformation here. What kind of reformation is he talking about?
There was a time in Kerala when reformation was needed and at that time, there was no Communist party. The Communist party had its birth in Kerala in 1939 and the Marxist party came into existence in Kerala in 1964.
The temple entry declaration happened in Kerala in 1936 and the Vaikkom Satyagraham happened in 1924.
What I want to say is the Communist party has absolutely no role in the reformation movement in Kerala.
Thinking that people have forgotten what the reformation movement was, the Communist Party is trying hard to rewrite history.
What is happening in Kerala right now is one person trying to wreck everything people believe in and the entire state has risen against these atrocities.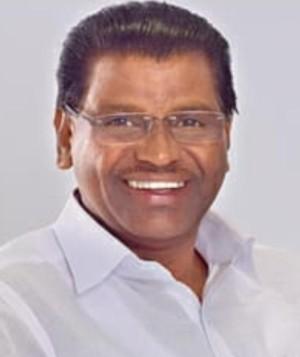 Has it resulted in a political war of sorts?
Yes, when we criticise the Marxist party, he says we are supporting the BJP. If the BJP is the party that is criticising them, he says the BJP is hand in hand with the Congress. What he is playing is the kind of tea shop politics you see in villages.
A disintegration of Kerala is going to happen because of the kind of politics the Marxist party is playing.
Ever since the Sabarimala issue started, not a single family in Kerala has slept peacefully.
I myself received phone calls from hundreds of elderly women in my constituency asking me not to support the government on the Sabarimala issue.
Were you surprised by the reaction from women?
More than it surprising us, it surprised those who perceived this decision as part of a women's liberation movement. They might never have expected such opposition from the women of Kerala whom they wanted to liberate.
Look at what Sreemathy teacher (P K Sreemathy, the CPI-M MP from Kannur in north Kerala) said at Pathanamthitta. She said, 'We gave a golden opportunity for you women to come out of chains, but you don't want to. I am sad that women of Kerala do not have the awareness or understanding'.
What does it show? They (the Marxists) did not expect such a spontaneous reaction from the women of Kerala. It might really have shocked them.
You were Kerala's home minister when the UDF was in power. Now, we see the police outnumbering devotees in Sabarimala. They are reportedly at the Sannidhanam (temple premises) wearing shoes which had never happened in its history.
The police were there earlier too, not to attack or suppress the devotees, but to help them.
The speciality of Sabarimala is all the people who go there are called Ayyappa devotees. They address each other as Swami whether he is an ordinary person or a policeman of any rank.
In the police force also, they never called each other by names or Sir. They never used to wear shoes or caps, they never to insert their shirts, they never saluted senior officers. That has been the practice all along. That was because everybody who was there was a Swami Ayyappan.
The new circular to the police on duty says everybody should wear shoes and a cap at the Sannidhanam and call their superiors Sir and not Swami.
If the police were Ayyappa-friendly earlier, today, they are anti-Ayyappa.
In place like these where millions of devotees assemble, the duty of the police is not to look after law and order, they are there to help the devotees.
Instead of being pilgrim friendly, today the Kerala police look at the Ayyappa devotees with irumudi kettu as criminals.
We can never accept this kind of attitude.
Can you declare Section 144 in a religious place where lakhs of devotees assemble during the Makara Vilakku season?
Sabarimala is a tiger reserve and the Sannidhanam occupies only 12½ acres of land. It is here that they have deployed 15,500 policemen. The rest of the huge reserve is full of wild animals.
This is the first government in the entire world that has declared Section 144 in a wildlife sanctuary. Do they think a tiger knows what Section 144 is?
It shows the blind hatred they have for the issue.
The Sabarimala temple will be open for two months during the Makara Vilakku season. Do you think this tension will continue for two months?
There will be peace only if Pinarayi Vijayan shows some understanding.
He should have waited till the interim period from the date of verdict to the date of review petition hearing (January 22) is over.
Why didn't he? Because for him, the verdict was like a weapon with which he could attack people.
Why do you feel the chief minister wanted to implement the verdict?
I see two reasons. In the recent floods, 600,000 people lost their homes. Not a single person has received any monetary help from the government.
Those who were affected in the floods were promised Rs 10,000, but only a few got some money and that too, only those who are connected to their party.
Rehabilitation has become a farce.
Suddenly, with the Sabarimala issue taking centre-stage, nobody is talking about what the government has not done after the floods. He (Vijayan) is trying to escape the ineptitude of the government through this.
After walking 138 kilometres along with other Congress leaders and meeting a lot of people on the way, I will say that I don't think any popular political leader will hold onto such an unpopular decision.
Why is there a difference in the way the Congress leaders in the state and at the Centre look at the issue?
Some people feel it is discriminatory, but it is not so. That's why I quoted Article 26 which talks about reasonable restrictions in religious places.
You have to look at this issue as part of 'reasonable restriction'. There is only reasonable restriction and there is no gender discrimination as the gender of a person after the age of 10 or 50 does not change!
People from both genders can go there and there is only reasonable restriction.
The Centre says law and order is a state subject and it cannot interfere...
Religion is not a state subject, it comes under the residuary powers of the central government and the concurrent list.
As per our Constitution, under Article 248 in List One under Entry 97, the Indian government can interfere in this matter using residuary powers and the concurrent list.
So, based on the high court judgment, they can come out with an ordinance and protect the temple and the devotees from the current problem. It can be made into a law when Parliament is in session.
If the central government will not do anything right now, we have no option but go on strike.
But when our government comes to power in Kerala, we will do it.
It is not that the Communists are going to rule Kerala till the end of the world.