'And they are going to be milder because we are dealing with the vaccinated and are much richer in terms of the immune response in the population.'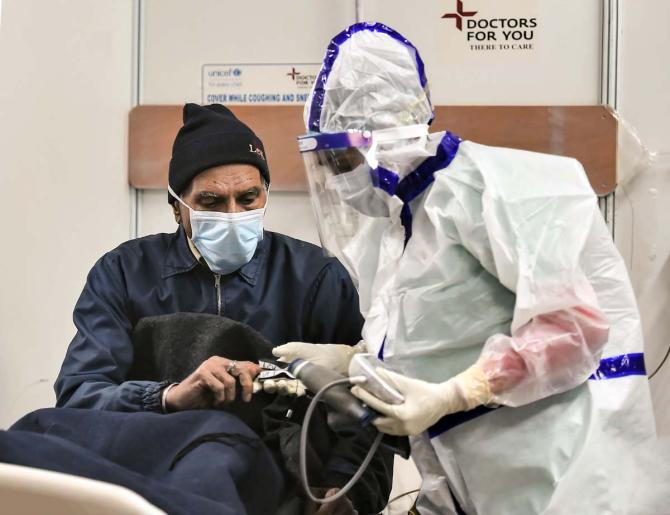 Professor Bhramar Mukherjee is sick.
The epidemiologist and biostatistician, who works at the University of Michigan, Ann Arbor, was on a visit to India in December and January to see her parents in Ruppur, Birbhum, 11 odd km from Santiniketan, and she had a few other engagements in Delhi, Kolkata, Jaipur.
Somewhere along the way -- in spite of the rigid precautions she takes to vigilantly guard her personal health -- Professor Mukherjee picked up the virus.
In Part I of a multi-part interview to Vaihayasi Pande Daniel/Rediff.com, given before she tested COVID-19 positive a day after she returned to Michigan, the professor -- who has been closely and methodically following and modelling the COVID-19 pandemic in our country for the past two years, and offering scientifically and mathematically-computed predictions that have been accurate -- outlines how she feels India will come through the third wave.
Professor Mukherjee is chair of the biostatistics department at the University of Michigan and also a professor of epidemiology, a professor of global public health at the School of Public Health there.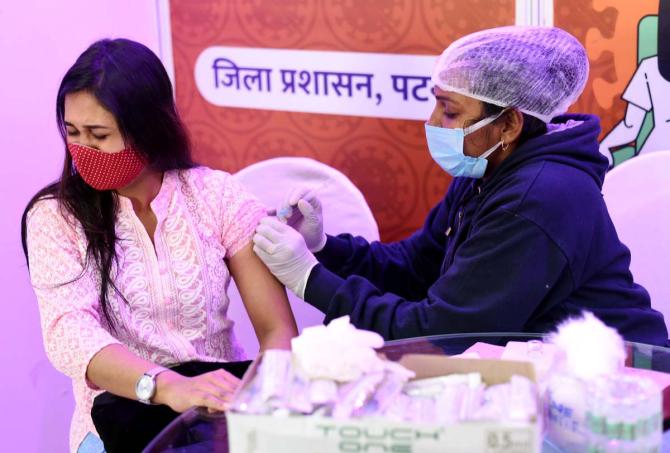 India is facing the ongoing Omicron wave fairly confidently.
Our seroprevalence rate is believed to be about 80 per cent. But perhaps we don't have all the data to show how that happened.
More than 55 per cent of our adult population have got both doses of the vaccine. That means at least 45 per cent have either not received one or both vaccines. Children and the youth are mostly unvaccinated.
We are confident about our oxygen supply and hospital beds.
Is our confidence justified?
I do think that the landscape has changed from the second wave.
First about seroprevalence: We know, from India's fourth national sero-survey -- which ended June, 2021, and at the time only four per cent of India was fully vaccinated -- that a large number of people have actually had past infection. Seventy per cent is not a small number by any means.
Then on top of that there has been the vaccination rollout.
I'm not surprised that areas with high vaccination rates, combined with natural infection, have a very high rate of antibodies.
What concerns me is that -- and it is clear from data from several countries now -- that the reinfection rate and the breakthrough infection rate, whether existing immunity is from a natural infection or a vaccine, is quite high for Omicron.
Infections are going to happen because infections are happening to people who are vaccinated and even boosted.
The only thing that the vaccines can do -- and are designed to do and where the vaccines are holding up -- is to keep us out of the hospital.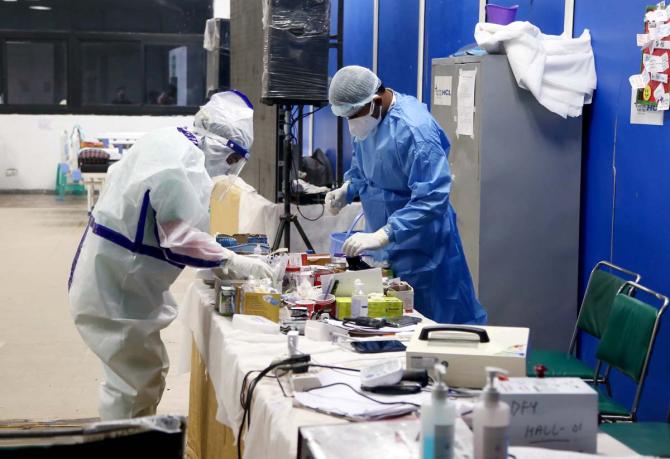 When we compare the Delta wave to the Omicron wave, we really have to think about the immunity quilt of India, across geographies -- it's a hybrid immunity quilt with a patchwork of natural infection-induced immunity as well as vaccine-induced immunity.
Infections are going to happen because Omicron is defeating both of these barriers. As I said, even with boosters, people are getting the infection -- the rate is lower for boosted individuals, but for people with only two doses of vaccine, there is very little protection against infection.
I do think that infections are going to skyrocket and they are going to be milder because we are dealing with the vaccinated and are much richer in terms of the immune response in the population.
But the crisis that we're seeing -- in the United States, and other places -- is that with a lot of people even being mildly sick at the same time, a very small fraction of a very large number is also a substantially large number. So that's the problem.
Many of them may not need the ICU. But if it's uber large: If 60 per cent of India falls sick at the same time, or even (large numbers) in the urban metros -- like what we're seeing in the United States, people not coming to work, health care workers, the essential workers, teachers; people all falling sick at the same time -- that really can collapse the whole system.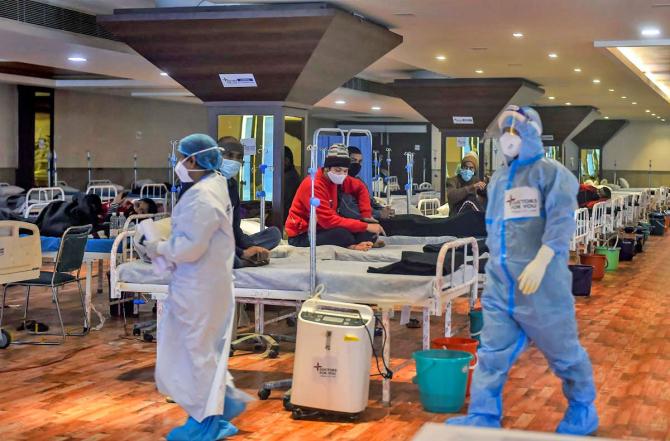 What we saw in the United States, we are gradually starting to see in India. There is a smaller fraction of people, who are in the hospital for COVID-19, but the infection is so rampant right now that we are seeing a lot of people with COVID-19, incidental COVID.
And if people go into the hospital for other reasons, but then are diagnosed with COVID-19, they have to be isolated. That poses another complicated logistical challenge -- to manage that volume of patients.
Already, the Indian healthcare infrastructure is stretched thin. We are really ramping up and I hope we ramp up to provide a lot of beds.
We may not need so many oxygenated beds, we may not need so many ICUs or ventilators, but we will probably need a lot of hospital beds, because the data from the US shows that even for vaccinated individuals, some are needing hydration and other supportive care to get through the critical phase.
Therefore, what is mild at the population level is not mild for everyone. If it's not mild for a small number of people -- when so many people are falling sick over the same period of time -- it could be a very chaotic period for healthcare, as well as the society in general.
The problems are going to look quite different compared to the second wave. I do not think death tolls will increase like the second wave, just because we have a different kind of immunity landscape right now.
I do think that the (overload to) the healthcare system, disruption of public life, the sickness and chaos is still going to continue.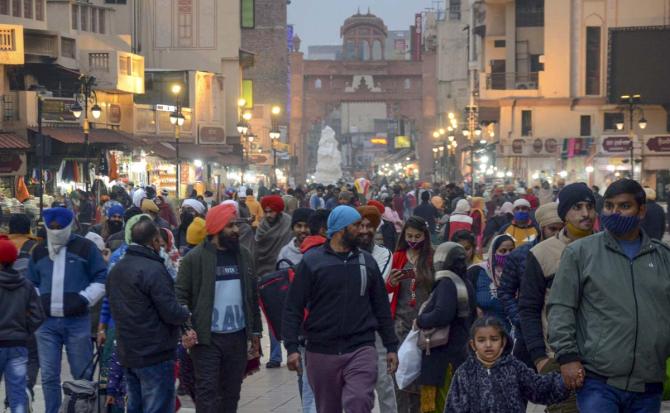 You are in India at the moment. It is one thing to experience what's happening in India from far away, from Michigan. Now you are experiencing it firsthand.
What do you feel are some of the missteps that are happening, either at a village, town, city or state level or at the central government level?
Is the public health messaging correct? What are the issues that are not being raised?
A couple of things:
India has seen like two years of data, just like all other countries, and from the natural experiments that we have seen, we should have better estimates of what interventions work. All of these interventions actually have a huge cost for public life.
For example, I was in West Bengal. Do night curfews really work? Does restricting flights to two days a week from Mumbai and Delhi work? That's what West Bengal did. On what basis?
For example, I took flights. To board domestic flights, one is not requiring any kind of testing, only proof of vaccination. Airlines have even stopped giving face shields, sanitisers and masks to passengers.
They are flying at full capacity, because now there are very few flights.
I had to sit next to people who were quite sick actually. They were sneezing. They were coughing. There are no temperature checks even. This is something very simple and trivial to do. But it has been stopped.
If I was a policymaker, I would probably have more flights but at a lower occupancy, sanitise them properly, check temperatures and give people face shields when they are boarding -- things like that.
I do think that we need to really see what has worked and drop the things that have not worked.
And restricting things is probably not a good idea. Because if stores are open for a limited time, then they get more crowded. So lower occupancy is probably a better strategy than restricting hours.
There has to be much more thoughtful articulation of public health interventions and demonstration (of what works or what doesn't). Do night curfews really bring the R down? Wouldn't weekend curfews be more effective than night curfew. Some of these sham interventions are not really useful.
This time, what I see is that because of the trauma of last time, there are more prompt warnings and interventions earlier on. It's still a little late, because as soon as we saw Omicron circulating, we should probably be hunkering down and doing some of these things, particularly mask mandates, and banning large indoor gatherings, because we do know a lot about what works.
So, vaccination, masks, and ultimately, if you missed the boat on so many things, then go to stay at home orders.
But we really should articulate what works, instead of really jeopardising people's lives with lots of things which are probably not as effective. That's what I saw.
Feature Presentation: Ashish Narsale/Rediff.com