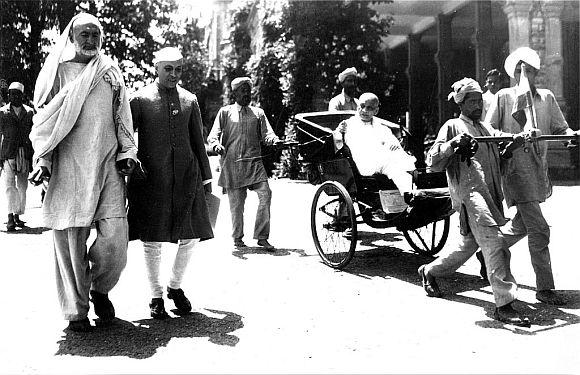 Mahesh Rangarajan, director of the historic Nehru Memorial Museum and Library in New Delhi, tells Sheela Bhatt/Rediff.com how the first prime minister will always remain relevant, and the efforts being made to keep his legacy alive.
Mahesh Rangarajan, 50, is an Indian scholar who does what he likes. This is rare in India where usually the right people do not get the right job at the right time.
Mahesh is a history graduate from Delhi University and from Balliol College, Oxford University, after which he went on to do his doctorate in modern history from Nuffield College there.
Currently he is doing wonders as the director of Nehru Memorial Museum and Library. The difference he has made there in the last three years is stark, and visible. He has not only depoliticised the historic institution, he has brought in profound changes to attract young people.
Prior to this Mahesh has taught environmental history and modern Indian history at Delhi University. He has also written many books and articles ranging from politics to wildlife.
ALSO READ: The house where Nehru lived
The soft-spoken teacher, historian, environmentalist, political commentator and journalist has finally professionalised the functioning of a grand institution. In fact, without much ado he has raised it above partisan politics and has revived its autonomous spirit, exactly as Nehru would have liked it.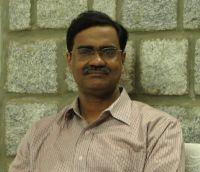 On the eve of the 125 birth anniversary of India's first prime minister Jawaharlal Nehru, Rangarajan, image, left, spoke exclusively to Sheela Bhatt/rediff.com:
You have been working from this office for the last three years. Share with us your views on visitors and the place itself.
The Nehru Memorial Museum is very popular. It gets 3,000 to 10,000 visitors a day from all over the world. Entry is free.
Visitors are of two kinds. There are those who come to simply enjoy the museum, the very grand buildings and the garden. There's a 45-acre estate and most of it is garden. We get a huge number of school children.
There are two groups, one is of people really enjoying themselves, absorbing everything, but I would say in Hindi there's a term called shraddha (devotion). Shraddha ke saath bahut log aate hain (many come with a feeling of devotion) and that's because we've got two slabs, in English and Hindi, from Nehru's will and testament near the entrance. Just see how many people stand there, read it out to their children and get photographed next to it.
It talks about the Ganga as an emblem of India's history. The next slab is from Nehru's 'Tryst with destiny' speech which was put up very early on and then behind the museum, there's a jyoti (flame) which was lit after Nehru's ashes were immersed in the Sangam.
The people come with enormous interest so I think this is one of the important places along with Raj Ghat where people come from all over India. I'm struck by the great diversity of people speaking different languages from different parts of India throughout the year, except on Monday when we are closed.
So interesting! The section of Indian urban youth that is hooked on to Facebook, Twitter and all the time juggling their mobile phones, what is the context for Nehru still remaining for them?
There are two very important reasons that make Nehru relevant. One is that many of the modern gadgets that we use rely on information technology which also relies on some degree of industrial base. And broadly, very few people would disagree that the years 1947-64 saw India, rather exceptionally among the newly independent former colonial countries, invest in science and technology.
Institutes of research, not only AIIMS or the CSIR laboratories, but also IITs and IIMs. And the agricultural research institutions which were later to power the green revolution, funded actually by the Ford Foundation, six of them, were given enormous impetus.
So we look at 21st century India, its technological and scientific programmes and even in the '40s and '50s, as early as 1946, in his speech in the Constituent Assembly on the importance of atomic power… And as you are well aware, Homi Bhabha being entrusted with the space programme. So that's one point the youth should know.
Second, this place, the Nehru Memorial building, was earlier the house of the commander in chief of British India, ie, the second most powerful man in British Raj. Nehru lived here. Nehru led the nation, then, from this house.
So when we look at technological and scientific progress and the existence of India's democracy, lots of it took shape here in Nehru's time. I would rather add a third.
In 1947, in the summer, there was an Asian Relations Conference at the Purana Qila. Mahatma Gandhi was the key speaker but that ARC should be remembered, it was an unusual conference because the Arabs and Jews of Palestine were represented in it and there were delegations from both Tibet and China sharing the same dais. So early on, it was established that India as an Asian power stands for peace.
These three continue to be very significant: technological progress, democracy and India as an Asian power of peace.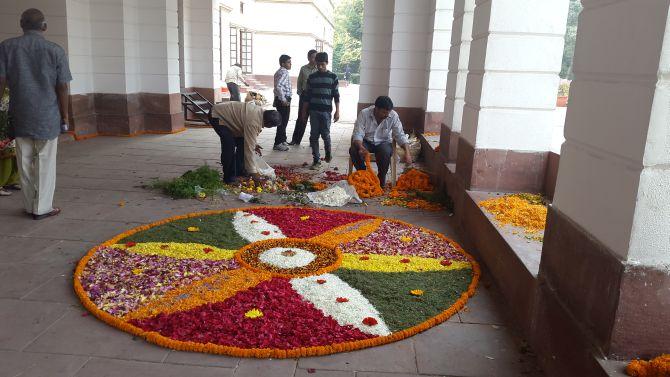 Preparations at the Nehru Memorial Museum for the 125th anniversary function. Photograph: Sheela Bhatt

Why did Nehru choose this place as his residence after independence?
Nehru became prime minister on August 15, 1947 and he was very happy living on York road which is now called Motilal Nehru Marg. He refused to go to another house. On January 30, 1948, when the great tragedy, the assassination of Mahatma Gandhi, happened, there was a great security overhaul and the security forces said they could not ensure the physical security of the PM unless he lived in a place with one exit and entry point.
And it was with great reluctance that he decided to move and he moved here in August 1948. It was the residence of the PM of India from August 1948 to his death on May 27, 1964, and in this period he had put down one condition, which is very interesting to note, that the front gate be kept open always. From morning to evening.
After the assassination of Indira Gandhi the situation changed but this is the largest official estate still open to the public six days a week. The one day the museum is closed, the grounds are still kept open.
Why is there a recreated office of the minister for external affairs inside?
When Nehru died there was a debate about what to do with the building. There was a committee formed from which one person is still alive, Dr Karan Singh, and among others were the famous journalist Romesh Thapar. They decided that the museum should be there to commemorate three things. Jawaharlal Nehru and his achievements, struggle for freedom and the independence of India.
As we are aware, he was PM for 17 years. There are some rooms where he worked which have been left alone. There is a room where he did his work and study, there is a room where he died, there is a room where he met visitors and there is a room where the visitors waited.
The minister of external affairs room is very interesting. He is the only PM who also handled foreign affairs portfolio for the entire period of his prime ministership, 1947-64. So obviously he spent time there, other than in the PM's office.
This is not the original room but they have recreated the room here as it looked like, then, in South Block.
Can Nehru be forgotten?
Countries that forget their history cannot have a future. And it is very significant that when he died, very moving speeches were made in the Rajya Sabha two days later. And you can read the record of the Rajya Sabha, it's on their website, the two most moving speeches are by M C Chagla, the then education minister, and Opposition MP Atal Bihari Vajpayee. Chagla spoke in English and Atalji spoke in Hindi.
In 1980, when the BJP was formed with Vajpayee as its founder president, Chagla was the special invitee. And if you look at their speeches, Chagla talked about Nehru as the world's statesman figure. Vajpayee talked about how the ship has to continue even if the captain has departed. So the two visions of Nehru -- India's place in the world and India as a democratic country -- they are balanced.
I'm giving you two people, one was a colleague who was a critic. And the other was a young opposition MP who later went on to form the first non-Congress government to last five years. So if they gave space and time for a very important figure, I'm sure everyone else will.
How do you keep Nehru's spirit alive?
This institution, the Nehru Museum and Library, was inaugurated November 14, 1964, by a very great scholar, who happened to be the President of India, Sarvepalli Radhakrishnan. Lal Bahadur Shastri, M C Chagla were also present.
We will embark upon the upgrading of the museum soon, it is a great museum of the 1960s but we will upgrade it, we will use a lot of videos, audios, photos, lots of archival material gathered here and some of these, not all, will be available on the Nehru portal which will be launched on November 14 this year by the home minister.
The library building is a very interesting structure. It was commissioned in the 1960s, was designed by MS Rana, one of the students of Frank Loyd. It is a very interesting library because it not only has three lakh books but also papers from the Nehru era. There are books on modern Indian history. Nehru's collection is on display in the museum as he kept it, we haven't moved those books. We also have oral history records. A very interesting collection of private papers of 1,200 individuals.
Over the last few months we acquired the papers of Nayantara Sehgal and George Fernandes. It also includes the papers of a range of personalities -- Lal Bahadur Shastri, VP Singh interviews etc.
Interview with V P Singh?
Yes, three volumes in the oral history record. The private papers include other kinds of figures -- Jayaprakash Narayan, Acharya Narendra Dev of whom we have selected works, Rajaji whose selected works are coming out, last month we had the second volume.
This place has the largest collection of RSS leaders MS Golwalkar, KB Hegdewar related literature too. We also have material on Syama Prasad Mookerjee, Govind Ballabh Pant. There is a range of figures and it has a very micro-frame collection.
We also have a fellowship programme. We have 30 fellows who come here for two years to study modern Indian society, contemporary history, and the grounds are so large that we have a small children's centre that works with school children. The grounds themselves are worth looking at. As I said, most of the 45 acres is not built on. It is a large estate having 350 types of individual trees, shrubs and plants of over 75 varieties, four species of owls; we are developing that as well.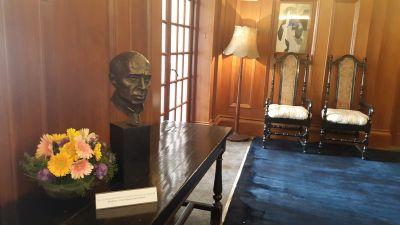 On the occasion of the 125 birth anniversary of Nehru, what are the big things being done?
There is a formal commemoration by the ministry of culture today. They have chosen the Nehru Memorial Museum and Library to launch it.
The ministry of culture is launching a gold coin of various denominations. The Nehru portal will be launched formally. And it has a very important thing along with the audios and videos of his life, which is a selected collection of his works. They are very bulky. So the first 15 volumes will be made available online. The government had earmarked Rs 20 crores for this ceremony.
We will design the Nehru museum in a modern way. We are about to pick a designer this month and the work will start immediately. Secondly, we have got money for the Nehru portal. Third, the ministry of culture has given Rs 5 crore for continuance of the very key project of the selected works of Jawaharlal Nehru.
This financial year, 2014-15, in all 10 volumes of over 6000 pages will be published. These are letters and speeches from one year of his life: 1960.
What is the most unique thing that young visitors should see here?
The spirit of Nehru! The library is a very specialised one, only scholars can come, but the spirit is of discovery, of enquiry, of learning. We have in this building the largest seminar on India, South Asian history, and over 12 thousand people came last year. This year we are having a speaker a day. Their speeches are all on the web, they are freely accessible in audio and video.
We have published around 100 papers over the last two years. So I think this is a place of chintan manan, thoughtful serious debate. These are both in English and Hindi.
A non-Nehru-Gandhi set-up is in power in New Delhi. Do you find any difficulty with the celebration plans for Nehru's 125th birth anniversary?
None. This is a very important anniversary and I just want to say that this institution has been there for 50 years and there have been many governments of many parties in New Delhi. But we never faced any issues.
It is a non-partisan institution, an autonomous institution under the ministry of culture and as people may not know, it the NMML Society which is our governing organisation, to which we report, the ex-officio is the prime minister of India. The last two PMs, Atal Bihari Vajpayee and Manmohan Singh, were heading us. Now, it is Narendra Modi.
Image (above): A file photo of Jawaharlal Nehru with Frontier Gandhi, Khan Abdul Ghaffar Khan. Also seen on the right, in the hand carriage, is Sardar Patel. (bottom) A Nehru bust greets visitors on entering the museum. Photograph: Sheela Bhatt