'This virus came in December 2019 and how this virus is going to behave in October and November, we don't know yet.'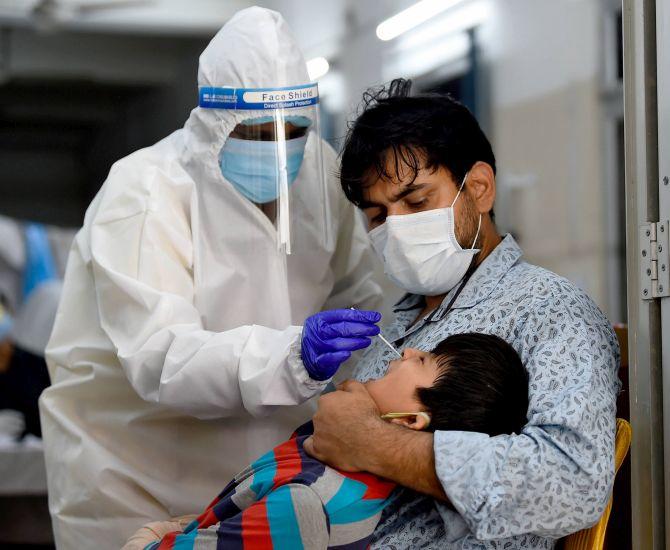 In early June, the Delhi government issued a dire warning for its citizens: Coronavirus cases in the national capital would likely reach 550,000 by the end of July.
On July 2, the nation's capital saw the total number of cases crossing 92,000 and the fatalities standing at 2,864. In the last few days, Delhi has stepped up with increased testing.
Now, looking at the renewed efforts by the Arvind Kejriwal-led government, Professor Mahesh Verma, vice-chancellor, Guru Gobind Singh Indraprastha University Delhi, believes that the COVID-19 tally won't reach the estimated number of 5.5 lakh cases and that the Delhi government's efforts will soon see a positive result.
Dr Verma is a part of a five-member committee that was constituted by the Delhi government last month for healthcare infrastructure augmentation and strengthening of overall preparedness of hospitals to battle COVID-19.
Speaking to Syed Firdaus Ashraf/Rediff.com, Dr Verma says, "home care is the key. Only moderate and severe cases should go to hospitals. If we flood the hospitals with routine cases, then the entire health service system will go bust."
The COVID-19 situation in Delhi is bad. But is it really as bad as is being portrayed in the media which says Delhi will reach 5 lakh cases by end of July?
I totally disagree with that. The COVID-19 situation in Delhi is not bad and in fact it is quite okay.
A couple of days (ago), the cases did rise for some days, but today the situation is in control.
There is no hue and cry regarding beds today as there are ample beds made available by the government. They have also increased the number of beds in anticipation. I hope that doesn't happen.
What is your own estimate of what the coronavirus tally will be at the end of the month?
When the figure of 5 lakh patients was estimated for the end of July, the doubling rate was 12 to 13 days. Today, the doubling rate has gone up to 18 to 19 days. There is a decline seen in Delhi for the last few days and I hope the numbers will reduce even more.
You seem to be very confident that the nation's capital can arrest the growth of the cases?
Nobody can predict how COVID-19 will behave. We don't know this virus as there is no past history for us to predict how things will go in the future. It is wishful thinking.
We have seen trends in other countries where it had its effects and we are learning from them.
And as I said earlier, Delhi's doubling time was 13 days and now it has gone to 18 days and that is how decline happens. In these countries where a decline was seen, the doubling time went up to 35 days and that is how decline begins.
With the monsoon setting in, do you feel that coronavirus crisis will worsen?
As the disease is increasing, so is the immunity. It will be more like routing cough and cold when immunity increases.
In rains we all run to get cover and gather under a bridge not to get wet. This leads to violation of social distancing. That is the worry, but with the immunity increasing I don't think the number of cases will increase.
Moreover, there is no evidence that humidity or temperature affects this virus.
We feel more and more people if they get asymptomatic and develop anti-bodies, then the growth of COVID-19 can be arrested. Let us not hope that the monsoon will affect the COVID-19 scenario.
Do you feel Delhi should adopt a new strategy to contain coronavirus?
There are two things that needs to be done. Home care and cluster containment.
Suppose there is a case in a house, then the first floor and the second floor of the house should be contained so that others don't contract the virus. That is the only strategy.
Most of the cases are very mild and they can be treated at home. I think home care is the key.
Only moderate and severe cases should go to hospitals. If we flood the hospitals with routine cases, then the entire health service system will go bust.
And if we keep a track on 'Testing, Tracing, Treatment, Team work and Tracking', we will solve the problem.
5Ts -- Testing, Tracing, Treatment, Team work and Tracking -- are the key to solving the COVID-19 problem and Delhi is doing that.
Has community transmission taken place in Delhi?
I am not an epidemiologist or virologist to tell you if this is community spread or not. We come across cases where people say they don't know where they got it from even though they did not step out of their home. So, we don't know at this moment. And the answer is very blurry on community spread.
But these kinds of cases are not true to Delhi, but happening all over.
This is a viral infection and droplet infection and there has to be a source for another person to infect you. So, whether it is in the community or not I don't know as I am not expert on this.
Do you think unlock 1.0 was a bad strategy for Delhi?
Lockdown was imposed for almost 75 days. Life is important, but means of livelihood is also very important.
The first case in China was reported in December and we are now in the month of July.
Therefore, we have to get back to life in a phased manner with all precautions.
Night curfews are still on. Shopping malls are shut. And one has to understand people have to get out and buy food, so I will not say unlock 1.0 strategy was bad.
Except in June for a few days when there were high cases, about 4,000, but today if you see the cases are around 2,300.
We cannot keep everything shut for a long time.
If the doubling rate is now 18 days, why is Delhi starting Unlock 2.0 now?
It has been announced on July 1 and only two days have passed. The system has to run and even if you want arrangements for COVID-19 patients you need to get workers and staff to treat them.
The government has emphasised on social distancing and other things that need to be followed with utmost precaution.
There is a solution for everything. The objective is to find a solution and not remain stuck to the problem.
The number of COVID-19 deaths in Delhi is 2,000 at the moment. What can be done to prevent more deaths? And in what way can citizens help in containment?
Citizens have to follow the rules of COVID-19.
Sometimes what happens is that after a certain time citizens become complacent and take things easy. They need to follow all the norms.
When do you think the curve will flatten in India? What would be the early signs of it?
That is a million dollar question. Nobody can answer when the curve will flatten.
As far as I see in Delhi, there is a certain decline and I hope this decline continues. I think in coming weeks or months we will reach that place, whatever that place is.
It is said that unless 25 per cent of our population gets infected herd immunity will not come.
And in most of the cases if they are asymptomatic, then they develop bodily immunity. They do get infected and the impact of infection is not severe.
When that happens, the flattening of the curve will happen. Hopefully in some weeks we will reach there.
Has any country reached this state of herd immunity and flattening of the curve?
Lot of countries have reached the flattening level, but then again experienced a second wave, like Singapore.
Hong Kong is going through a third wave.
Viruses are known to come back again. Just like a viral infection they decline and come back again, but they do not come back with virulence.
This virus came in December 2019 and how this virus is going to behave in October and November, we don't know yet.
Hopefully by then, the number of cases will fall.
Do you think Delhi Chief Minister Arvind Kejriwal failed to roll out a proper strategy to contain the pandemic, as many suggest?
Not at all. He co-ordinated well with the central government and that is why you see so much of preparedness on the ground.
There is pro-activeness of the Delhi government and there is total support from central government.
This controversy between the Centre and state is being unnecessarily raked up. There is no fact in that.
There is fantastic harmony between the Delhi state government and the central government. You must have seen central and state governments have held joint meetings to solve the problems.