'Gaumutra kills all bacteria,' says the Congress corporator from Mumbai, who wants cow urine to clean the city's hospitals.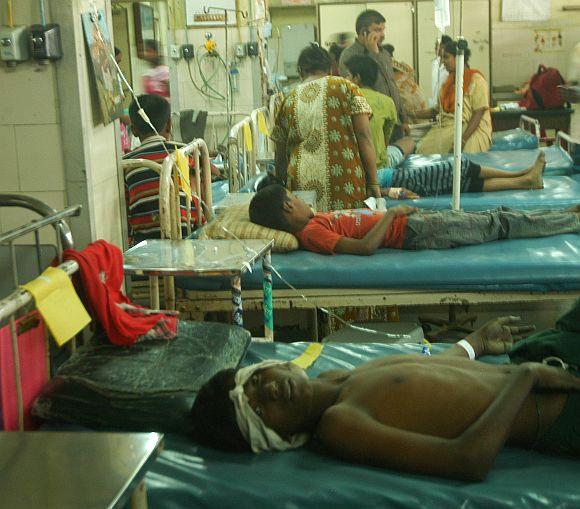 The Politics of Cow may be synonymous with the Bharatiya Janata Party and the Sangh Parivar. But the Congress party does not want to be left behind, at least not in Mumbai.
Come November 3 and Congress councillor Parminder Bhamra will move a proposal in the Brihanmumbai Municipal Corporation to make gaumutra (cow urine) compulsory to clean hospitals in Mumbai.
Bhamra, image, left, tells Syed Firdaus Ashraf/Rediff.com why he feels so strongly about gaumutra.
What is the reason you are moving this proposal to use cow urine in hospitals?
I feel not only hospitals, but gaumutra must be used everywhere. Diseases like cancer can be cured by gaumutra, so why not use it? You see, gaumutra kills all bacteria.
Do you want phenyl to be replaced with gaumutra?
I am saying we should respect sentiments.
What does your proposal in the Brihanmumbai Municipal Corporation say?
While phenyl is made of chemicals, this (gaumutra) is Ayurvedic, so it must be used.
Will gaumutra not lead to a bad smell in our hospitals?
If you take out its ark, then it will not stink.
Ark is like refined gaumutra. If you use that, there will be no smell.
My proposal states that gaumutra must be used in hospitals (of Mumbai). We are using chemicals everywhere and at some places the smell of chemical is so bad.
This Hindu custom has been going for years and gaumutra was being used (in ancient times).
Just like Sanskrit was our original language and was shut down. It is our original language and we must use it. If you see today, gaumutra is only used in puja.
Have you found out what the cost of one litre of gaumutra is vis a vis phenyl? Is it cheaper?
Gaumutra is a bit expensive.
Gaumutra costs Rs 40 per litre, while phenyl is a little cheaper.
Have you spoke to the ruling Shiv Sena and BJP in the BMC about backing your proposal?
Why should I ask them? This is my proposal.
Will Congress corporators support you?
One hundred percent. Do you know the Congress party symbol was once the Cow and Calf? Other parties have captured our symbol. Originally it was our symbol.
Has the BJP then hijacked the cow from your party?
The BJP's job is to hijack other people's ideas. They don't have their own brains. They only take other people's ideas and move ahead. They have taken all the ideas of the Congress and some of the Janata Dal and moved ahead.
An experiment was conducted in a Rajasthan hospital, using gaumutra for cleaning purposes and it was found that cow urine is more expensive than phenyl.
Yes, it is expensive. But you should think we have done some kind of shuddikaran (purification).
Do you know four products of cow urine have been patented by America? You can check this on the Internet.
Don't you think that the additional sums of money we spend on cow urine can be used to provide better treatment to patients?
How much will it cost? Rs 10 or Rs 20 per litre?
You are talking about hospitals all over Mumbai.
The budget of the BMC is huge. It is around Rs 40,000 crore (Rs 4 trillion).
One feels the Congress has also started playing Hindu vote bank politics.
No way. This is not an issue where you have to play politics with. I have been using gaumutra to clean my own house.
IMAGE: A municipal hospital in Mumbai. Photograph: Sahil Salve