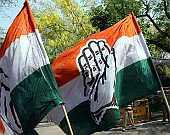 A coalition government will come to power in Karnataka.

The state will have two chief ministers in the span of the next five years.
These are few predications made by political analysts who are studying the current scenario in the state ahead of the upcoming May 5 assembly elections.

Dr K Shantaram Shetty from Barkur near Udupi has been closely following the political developments in Karnataka for the past three decades or more. A passionate political analyst he predicts in an interview with rediff.com's Vicky Nanjappa that the Congress-Janata Dal-Secular alliance will oust the current Bharatiya Janata Party government in the state.

Will the BJP be able to repeat its 2008 performance?
I do not think so. The last time there was a sympathy wave in favour of the BJP and they damaged the chances of the JD-S. Today that situation has changed. The BJP is remembered for rampant corruption and they themselves are to be blamed. They have contributed to their downfall. The reputation has taken a hit.

How do you think the JD-S will fare this time?

Their performance will be good. In fact, I can give a region-wise analysis of how the JD-S will perform. For starters, their main area of victory would be the Old Mysore region. In Mysore and Chamrajnagar, they will secure seven seats. In Mandya five, 11 in Bangalore rural and five in Bangalore city. In Kolar, they will win five, Tumkur -- six, Chickmagalur -- two, Hassan -- six, Chithradurga and Davangere -- six, Shimoga -- two, Haveri and Gadag -- three, Bijapur -- three, Gulbarga -- three, Bidar -- three, Koppal and Raichur -- four and Uttara Kannada -- two.
The recently conducted urban local body polls would indicate otherwise..
The urban local body polls can never be a pointer to the assembly elections.
How many seats will the Congress and the BJP win?
I feel that the Congress may get around 88 seats and the BJP, 46.
Clearly, a hung assembly then. Who will form the coalition?
Without doubt, it would be the Congress and the JD-S. There would be a term-sharing agreement between the two parties.
What about Yeddyurappa's Karnataka Janatha Party?
It will win only six seats.
What about the BSR Congress-led by Sriramulu?
Even the BSR Congress will get six seats if the manage an alliance with one of the major parties. They are trying to enter into a pact with other political parties and if they manage it they win up to six seats. Otherwise they will win just one seat.

Coverage: Battleground Karnataka