'He has terror charges against him. And for an army officer, it's just terrible.'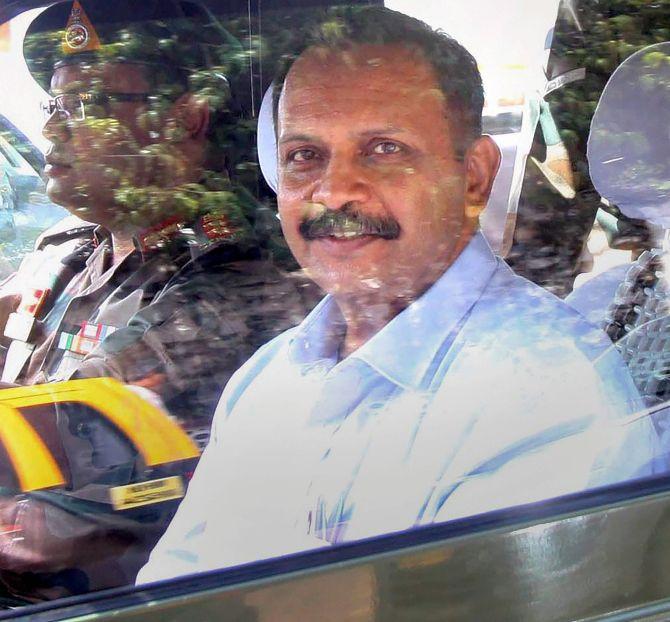 IMAGE: Lieutenant Colonel Prasad Shrikant Purohit after his release on bail in August 2017. Photograph: PTI Photo
For Aparna Purohit, Lieutenant Colonel Prasad Shrikant Purohit's wife, the National Investigation Agency court's order that her husband will not be tried under the draconian Maharashtra Control of Organised Crimes Act, but the Unlawful Activities Prevention Act and the Indian Penal Code came as a huge relief.
"The court's decision hasn't really sunk in. Maybe it'll take a day or so. Also he hasn't seen the order as yet, so we don't know the details," she had told Rediff.com
"As far as we are concerned, until and unless he gets an 'innocent' verdict, his honour is not going to be restored," Aparna Purohit tells Swarupa Dutt in the second part of the interview.
Do you think if the UPA government had still been in power, your husband would have got bail in the 2008 Malegaon blast case? Has the NDA government in power helped your husband's case?
The Supreme Court has given him bail, not this (the Bharatiya Janata Party) government.
The court of inquiry (ordered by the Indian Army) papers helped get his release. It was begun in 2009 and ended in 2012. It is based on the court of inquiry papers that he got bail.
So he would have got bail irrespective of the government in power.
Your husband has said that the army stood by him, but an inquiry conducted by the directorate general of military intelligence is reported to have found him 'highly radicalised'. The report also quoted you as saying your husband had a deep hatred for Islam.
The army ordered a court of inquiry, which is a fact-finding body. The court of inquiry probes the case much like a court, except that it is constituted by the army.
The court of inquiry exonerated him and during the nine years he was in jail and the army neither terminated nor suspended him.
All these charges came up before the court of inquiry, but they found nothing in the claims.
The same court of inquiry report, according to the Indian Express, said that your husband did not heed your advice and refused to disassociate himself from religious groups.
This is absolutely false. I was never called to record any statement. Not by the ATS nor the court of inquiry or the National Investigation Agency. I have never been called to any of these places.
Your husband was an officer with military intelligence. What was his scope of work?
Well, MI takes care of a lot of things. Wars are changing, it's not limited to borders.
A lot of (terror-related) activity is happening within the country. So MI works in tandem with the IB (Intelligence Bureau) and the police and then shares the information.
Investigating terror plots are also part of their brief.
I cannot share what my husband did with MI.
The draconian Maharashtra Control of Organised Crimes Act invoked against your husband was dropped in 2009 by the sessions court.
The MCOCA charges were added again in 2010 by the Bombay high court but dropped in 2015 by the Supreme Court.
Did you feel he would get bail when the charges were dropped?
We approached the Supreme Court and the court dropped the MCOCA charges. Because the sessions court had given a positive order, we were confident that the Supreme Court would give a similar order.
The Supreme Court order also said bail was to be considered within one month. They had put a deadline for the lower court. But it took six months to even constitute a special court to hear the bail application.
I had told my son that their father would come home in 2015, so I was literally counting the days.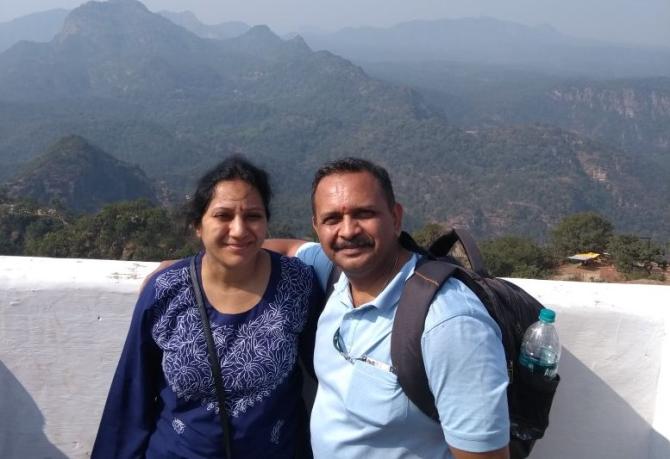 IMAGE: The Purohits on a trek in the hills after Lieutenant Colonel Purohit was released on bail in August 2017. Photograph: Kind courtesy, Aparna Purohit
Have you ever met Sadhvi Pragya Singh Thakur or Swami Aseemanand? (The National Investigation Agency court on Wednesday, December 27, dropped the charges against the sadhvi who, along with Lieutenant Colonel Purohit and 11 others, was an accused in the 2008 Malegaon blast case. Aseemanand is an accused in several terror cases including the Malegaon case).
I haven't met Swami Aseemanand, but they used to get Sadhvi Pragya to court, so yes, I have seen her, but not met her.
The term 'saffron terror' was coined after Sadhvi Pragya's arrest by the Maharashtra Anti-Terrorism Squad. Does saffron terror exist?
I have never actually thought about it.
What are your thoughts about Hindutva, Hindu rashtra, can they co-exist with Islam? Your husband has been accused of wanting to set up a Hindu nation with a new Constitution.
In the army all these things don't matter. People from different faiths worked with my husband. These thoughts never entered his head or ours.
Who is Hindu and who is not, how does it matter? It was only after he was arrested that they started hitting us with all this.
'What happened to my father should not happen to anyone else'
The Purohits' younger son was just three years old when his father was arrested in the 2008 Malegaon blast case.
His mother told him that his father had been posted at the border and since it was not a family posting, they would not be able to see him for a long time.
The boy, who did not want his name or his photograph published, is now 12.
At once a child and an adult, he tells Swarupa Dutt about his father and his "heroine" mother.
---
For five years I had no idea that my father was in jail. My mother did not tell me because I was just three years old.
Then I happened to see a newspaper with my father's photograph and she sat me down and explained everything.
I didn't want to go to school that day, but she said I should do everything I used to do.
Be normal, she said.
Except for that one time, I never asked my mother for any more information on the case.
I read everything I could lay my hands on. I would only ask her to tell me funny anecdotes in court.
And then I stopped reading up on the case as well because there is so much information on the Net that it only made me upset.
I don't want to know. I don't want to look back.
It was very difficult to meet my father in court. My mother never took me to jail, only to court or to hospital, when he was there for check-ups.
I somehow took my father's case quite lightly. I wish I hadn't because then I could have helped my mother more.
She is the real heroine. I am very grateful to her.
The day my father got bail, all of us went to Mumbai and I just kept thanking my mamma for getting my father back.
(His mother adds that he had no reason to feel grateful towards her, but the day his father got bail, he kept kissing her and saying, 'Thank you, mamma' over and over again. She felt, 'chalo kuch kiya hai for the children.)
I was very young when he was arrested, but obviously I remember my father. Nobody can snatch those memories away. They were the best times ever.
I think I missed gardening the most with my father. He loves gardening. I missed the formalities that he introduced in the house like dressing for dinner. Or just doing things together.
I missed his voice. I missed everything. I just want to play with him and my friends, of course.
What happened to us and my father should not happen to anyone else.
I want to join the army. I don't want to go abroad even though India is a corrupt country. I want to make this country better.
My brother is studying to be an engineer, so he will go abroad. That's brain drain, you know!
I don't want to look back at what happened to my father in jail nor do I want to ask him.
I don't want him to be unhappy. I want life to be normal after this.
After he got bail and he wore his uniform for the first time in nine years, he called me and told me he was really happy.
He almost began to cry. I told him I was very proud of him and I felt proud of my mother again...
As I told you, she is the great one.
Hindutva and Islam already coexist. It coexists outside the army as it does within the army.
As for a Hindu rashtra, I haven't even given it a thought. It's not worth even thinking about all this.
News reports said that your husband was fed up with the increasing number of terror attacks against Hindus. That is why he....
(Interrupts) This is what they are alleging, correct. But I don't agree with any of this. You and I are going to be angry with terror attacks, but we won't act on it. Neither did he.
But he had the wherewithal since he was in the army.
No, he didn't. Let's get one thing straight. Just being in the military doesn't give you the power to do anything you please. Every position in the army has its own limitations.
Being in MI, he did not have the means to act outside his brief.
His brief was to collect information and pass it on to his seniors and coordinate with the other intel agencies.
He never had the power to do what he is being charged with.
One of the charges against your husband is that he supplied the RDX for use in the Malegaon blast.
Right from day 1 we have been saying that it is impossible that he would ever have access to RDX.
MI never gets into operations. The way it works is that they would infiltrate these groups and collect information.
Based on the information, operations are carried out by other units.
Reports say there were two weapons in his house which he could not account for.
They never was any unaccounted weapon with him. He had a total of three weapons.
All three are licensed weapons which we have deposited with the army along with the licences.
This was one of the charges in the court of inquiry, which was found to be false.
Also that ammunition was found. That too is false.
The FIR drafted by then Maharashtra ATS chief Hemant Karkare says Lieutenant Colonel Purohit was the real architect of Abhinav Bharat, set up to spread terror against minorities in the country.
The Abhinav Bharat case is sub judice.
In its findings, the ATS under Hemant Karkare said after Purohit founded Abhinav Bharat he led a team to Chhattrapati Shivaji Maharaj's fort at Raigad to pray for its success.
The court of inquiry also found that your husband had a well-stocked library with books on Shivaji Maharaj.
This was never part of the court of inquiry findings. And how does it matter if he had books on Shivaji?
In Maharashtra, I would think 85 per cent of people have books on Shivaji because he is part of history.
He used to read a lot on the Peshwas and Maratha history and utilised the techniques that the Maratha people followed.
The American military has one specific course on Bajirao Peshwa and his battle techniques, since he is the only general who never lost a war.
My husband is from the Maratha Light Infantry. He has to know the people who are under his regiment, right?
If he doesn't know Maratha history he cannot stand in front of his troops. It's impossible.
In 2015 and 2016, Lieutenant Colonel Purohit wrote a letter to then defence minister Manohar Parrikar in which he said, 'I have been robbed of honour, dignity and rank and punished for serving the nation.'
Has his honour been restored now that he is out on bail?
As far as we are concerned, until and unless he gets an 'innocent' verdict, his honour is not going to be restored.
He has just got bail now. We have a long, long battle ahead.
Of course, there is a taint. He has terror charges against him. And for an army officer, it's just terrible.
I cannot even begin to tell you what it means. But we will fight it out.
Right now only his rank has been reinstated.
Please qualify the 'long' battle ahead of him.
The framing of charges has not even taken place. The prosecution may want all sections to be there, the judge will have to decide. It is a long battle.
At least he is out of that place (prison) and he feels comfortable and he is accessible to me and he can take charge coordinating his case.
The retirement age for officers in the armed forces is earlier than for civilians. Suppose he retires in the next five years and your case is still being heard then, the support from and protection of the army will not be there.
I don't fear it. With the court of inquiry papers, we will be able to prove our innocence.
I have learnt one thing... take each day as it comes.
Rohini Salian, the special public prosecutor in the Malegaon blast case, had told the Indian Express that she was asked to go soft in the case after the NDA government came into power.
What Rohini Salian said is between her and the NIA. I am not concerned with that.
In 2011, the NIA took over the case completely from the ATS.
The NIA was supposed to investigate all the terror cases. (The NIA is probing the Samjhauta Express (February 2007), Mecca Masjid (May 2007) Ajmer Sharif (October 2007), Malegaon and Modasa (September 2008) cases). Why didn't she even file a chargesheet? She was handling the case till 2015.
I don't understand where the 'go soft' has come from.
The NDA government came to power in May 2014. What was she doing between 2011 and 2014? She has done nothing.
Let them politicise, let them do whatever they want.