'For the BJP, development is nothing more than a jumla.'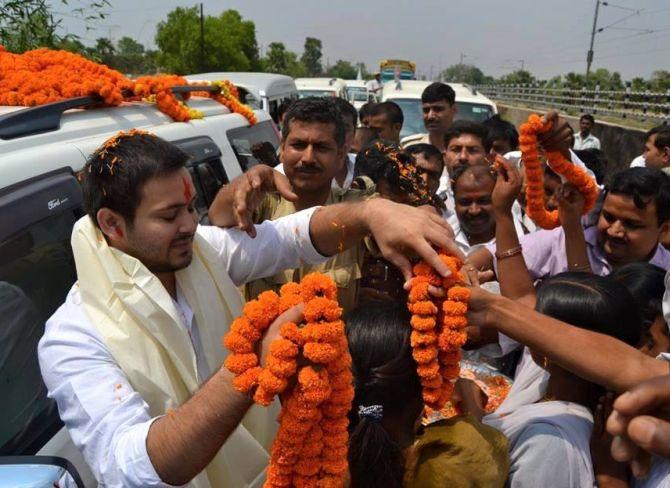 IMAGE: Supporters greet Tejaswi Yadav at a campaign rally. Photograph: Tejaswi Yadav/Facebook
Cricketer-turned-politician Tejaswi Yadav, Rashtriya Janata Dal chief Lalu Prasad Yadav's 26-year-old son, is the party's candidate for the Raghopur assembly seat.
One of the star campaigners of the grand alliance -- which comprises the RJD, the Janata Dal-United and the Congress -- Tejaswi Yadav spoke to Rediff.com contributor M I Khan about his father, caste and the BJP.
What feedback are you receiving about the grand alliance's prospects?
Political rivals should not be treated lightly. We are taking the fight very seriously. The feedback we are getting is very good. We have the upper edge.
If this momentum of positivity continues, the grand alliance will win a clear two thirds majority.
How confident you are about your own seat -- Raghopur?
It is a traditional seat. My father Lalu Prasad Yadav and mother Rabri Devi have won the seat since the 1990s. It was a one off that my mother lost the seat during the previous election (Rabri Devi lost the seat in the 2010 assembly election to the Bharatiya Janata Party's Satish Kumar Yadav).
There is no fight in Raghopur. The BJP's candidate Satish Kumar Yadav is no fight for me. People have told me time and again that Satish failed to fulfil any of his promises.
Why does your father keep repeating that the Bihar election is not just a state election, but very important for the country?
He is right. The Bihar assembly polls will decide not only the fate of the country, but also of Prime Minister Narendra Modi. These polls will affect policy making when it comes to matters such as land acquisition and reservation for Dalits and OBCs (Other Backward Classes).
Our secular structure and the right of freedom of expression will be strengthened if the grand alliance defeats the BJP-led NDA (National Democratic Alliance) and forms the next government in Bihar.
There is a perception that Lalu Yadav and the RJD indulge in caste politics and have not contributed to Bihar's development and growth.
For the BJP, 'development' is nothing more than a jumla.
Modi promised two crore (20 million) jobs to the youth every year; he promised the return of black money and also promised to end corruption. Nothing has happened for the last one-and-a-half years.
When my father was railway minister, he was praised for the development projects he undertook. He also helped set up several industries, worth thousands of crores (billions of rupees worth) in Bihar.
My mother and father continue to work for development in different ways.
You mention development. What steps have you and your family taken to carry out development?
We have been fighting for the poorest of the poor and for social justice.
Since the 1990s, Lalu Prasad has been fighting for the weaker, marginalised and downtrodden sections. Is it a crime to raise our voices for their political, social and economic empowerment?
Two-and-a-half-decades ago, they had no voice, no place, no say in society. Lalu Prasad's fight for social justice has changed this.
Instilling confidence and making them stand on their feet has been Lalu Prasad's work.
What kind of development are our rivals talking about? We are committed to development for all and development of the poorest of the poor.
Our rivals term us casteist, as if we came up with the concept of castes. Castes were not created by Lalu Prasad. He is the only one who has tried to give the ones deprived of a voice, some power.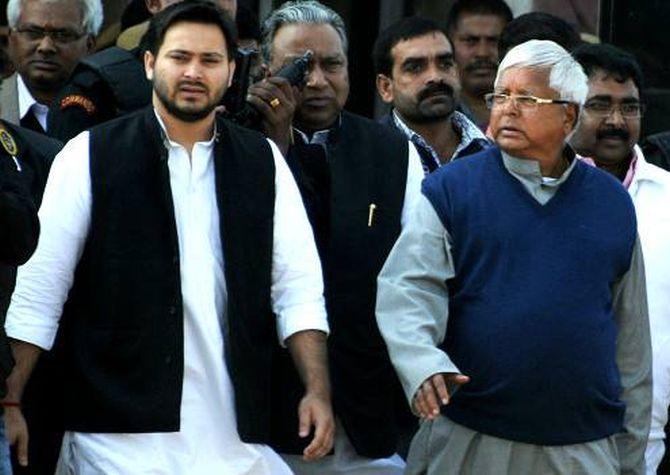 IMAGE: Tejaswi Yadav with his father Lalu Prasad Yadav. Photograph: Tejaswi Yadav/Facebook
Your father created an uproar with his remark that the Bihar polls are a fight between the backward and forward castes. Is this not caste politics?
Certainly not. He used this term in reference to the poor and the powerful in society. My father has never spoken against the upper castes. It is part of a well-planned conspiracy to defame him after he tried to bring about a change in society and politics.
Your father has been blamed for 'Jungle Raj' in Bihar during the RJD's rule from 1990 to 2005.

What is this 'Jungle Raj'? Please study all records of crimes. Compare those figures with figures from other states.
What about Gujarat when over a thousand people were killed in 2002 and when houses, shops and business establishments of a particular community were destroyed?
Please compare the crime rates of Bihar with those of BJP-ruled states like Jharkhand, Madhya Pradesh, Gujarat and Maharashtra. Pakistan flags appeared in Jammu and Kashmir, which is also ruled by the BJP.

Are you blaming the BJP for 'defaming' Bihar's name?

Bihar has been defamed and given a bad name due to the BJP's repeated efforts to paint the state in negative colours. The BJP has a single agenda -- to target Lalu Prasad and defame Bihar.
It is the BJP that should be blamed for the lack of industries in Bihar. Their propaganda about the so-called lawlessness in Bihar has created a poor image of the state, which has discouraged investors.
You played cricket. Now you are in politics? Are you comfortable?
Politics is serious. I played cricket for several teams, including the Under-19 teams for India and Delhi. Today, half of those playing in Team India are my friends. I am enjoying politics, the opportunity to serve people and directly connect with them.
Are you the brains behind your father's plans to use social media to connect to youth?
Social media is an important and modern tool to connect to the people, particularly young voters. The new generation spends a great amount of time on social media.
I persuaded and convinced my dad to use social media to reach out to the youth. He accepted my idea and is very popular on Twitter and Facebook.