'The second Covid wave spread due to the irresponsibility of the Election Commission and now they are committing the same mistake.'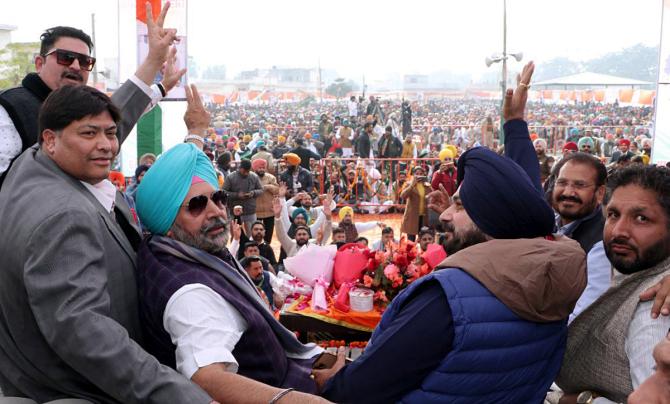 All India Bar Association Chairperson and senior advocate Adish C Aggarwala has written to Chief Election Commissioner Sushil Chandra on Monday urging him to defer the assembly elections in Goa, Manipur, Punjab, Uttar Pradesh and Uttarakahand till the threat posed by the Omicron variant of the coronavirus recedes.
The letter has come at a time when all political parties are going full tilt at wooing the voters in these states with election rallies.
However, the coronavirus threat is real: On Monday, Delhi Chief Minister Arvind Kejriwal held election rallies in Uttarakhand, and on Tuesday announced that he had tested positive for covid.
Cities like Mumbai are already witnessing a third Covid wave, but, thankfully, in many parts of the country the number of cases is relatively low compared to the second wave that ravaged India last year.
The Election Commission had come under fire last year as well for going ahead with assembly elections in West Bengal, Tamil Nadu, Kerala, Assam and Puducherry.
"Political parties cannot decide the right to life of the general public," Aggarwala tells Syed Firdaus Ashraf/Rediff.com.
Why have you approached the Election Commission to defer the assembly elections?
The Election Commission of India is not adhering to the norms of the Government of India regarding (Covid) protocols. The Election Commission has to see what is the prevalent requirement (to hold election rallies).
Today, section 144 (of the Criminal Procedure Code) has been imposed in many places after the notification was issued by the Government of India on December 27. And here, the Election Commission of India is permitting holding of rallies by political parties.
As a matter of fact, representatives of the Election Commission of India are supposed to be present at all public meetings and they have to ensure that there is no violation of covid protocols.
And one can see on television that people are not wearing masks in election rallies. They are not following the norms of social distancing to prevent the spread of covid. And if they are doing this, they have to be fined, according to rules.
The Election Commission says it is holding elections because political parties want it.
Political parties cannot decide the individual fate of Indian citizens regarding covid protection.
Omicron is three times more transmissible compared to other covid viruses like Delta which struck us last year during the second wave. And these are not my words, but the words of the health ministry, Government of India.
Let political parties do what they want in their homes, but not in public places. The Election Commission is not supposed to be dictated by political parties.
Last year (2020), in Bihar, all political parties suggested that there should be postponement of elections, but the Election Commission did not accept this suggestion because it had to see the larger interest of the people of this country and not that of political parties.
The Madras high court also observed and stated that (holding political rallies in times of covid) is a case of killing of innocent people. The court also said the Election Commission must be prosecuted.
There are cases in past where elections have been postponed even after notification.
Delhi Chief Minister Arvind Kejriwal has tested positive.
I am not concerned about political leaders catching covid, I am concerned about the general public. They are holding election rallies and nowhere is covid protocol being observed. If you have to permit elections rallies then you have to ensure that all covid norms are adhered to.
We have to follow the law of the land.
Did covid spread after election rallies in West Bengal and other states last year?
At that time people were not following covid protocols and therefore the cases rose. Had the Election Commission not conducted elections in the midst of the second covid wave, the virus would have not spread so fast then.
And even if it wanted to hold elections, they should have followed all covid protocols. If you recall, last year thousands of people turned up without masks at political rallies.
Did you produce any proof to the Election Commission that the virus spread in the second wave because of election rallies?
Why do you need proof?
WHO (the World Health Organisation) and our own ministry of health tell us that to beat covid you need to mask up and maintain social distancing. And if you don't do that covid will spread. This is the protocol of the Government of India.
You have corporates telling people to work from home and on the other hand we are having election rallies!
All these covid protocols are to be followed till January 31 and this is what the Government of India is saying, not me. And whoever defies this, is liable to be prosecuted.
Do you feel in such a scenario we must conduct elections in May rather than in February or March?
You cannot conduct elections amidst the covid wave. And we all know that the Constitution clearly says that if a government completes its term and for some reason elections are not held, governor's rule can come into effect for the next six months.
By holding election rallies, you are killing the people of India.
Do you feel the Election Commission is acting irresponsibly?
Yes, and that is what I have written to them.
I wrote in my letter that the second covid wave spread due to the irresponsibility of the Election Commission and now they are committing the same mistake.
Political parties cannot decide the right to life of the general public.
Every citizen of India has the right to life and that is what our Constitution says. This is our fundamental right.
One reason the ECI does not postpone elections is because it is difficult to manage security and other issues in a vast country like ours.
Earlier ,this was never the case.
In India till 1971 all elections (state and Parliament) were held simultaneously on the same day. It is only now that the ECI is coming under the pressure of political parties and conducting elections (the date they choose). If they want, these political parties can campaign on television, but they are not doing it.
Before 1971 there was only radio as a means of communication to campaign.
Moreover, in marriages you don't allow more than 50 people, but in election rallies you allow thousands of people to attend. What kind of logic are you applying?
Relations are coming under strain because people are not calling more than 50 people to marriage halls due to covid protocols.