'Most Assamese don't understand a word like ghuspethiya and its insulting connotation.'
Relatives of a former President, a former chief minister of the state, an ex-serviceman who served for 30 years, wife of an MLA of the ruling party, and an MLA of the principal Opposition party are among those 4 million people left out of the final draft of Assam's National Register of Citizens.
Clearly, the draft has a large scope for correction and these persons and others like them are most likely to be included in the final list of citizens.
But there seems to be no clear policy about those who will eventually be declared 'non-citizens'.
As the exercise was carried out under the Supreme Court's monitoring, questions are being raised why the apex court did not ask the government, or lay out guidelines, to make a plan to deal with such people and decide the future course of action.
In the first part of the interview, Sanjib Baruah, professor of political studies at Bard College in New York, explained the history of migration and the 'foreigner' question in Assam.
"Despite the rhetoric of some of our politicians, when we look at the overall picture, the NRC exercise and the citizenship amendment bill for them are all about pleasing domestic constituencies," Professor Baruah tells Rediff.com's Utkarsh Mishra in the concluding part of the interview.
How can the NRC fulfil the demand of securing the privileges of the indigenous people of Assam when Indian citizens who are not native Assamese will also be included in the list?
Assam is not a state where there is any legal way to separate a group of people as 'indigenous' and safeguard their interests.
One can, of course, make an argument that Assam needs such laws. But that is not the current legal situation.
Under the current law, Assam is like most other Indian states -- say, a state like Gujarat, Maharashtra or Tamil Nadu -- where there is no legal way of defining or safeguarding the interests of indigenous people.
The situation is different in a number of neighbouring states that were 'excluded areas' of some kind in colonial times, states like Arunachal Pradesh, Nagaland or Mizoram or Meghalaya.
You are quite right. Since the NRC is a register of Indian citizens, to expect it to safeguard the 'privileges for the indigenous people of Assam' would be barking up the wrong tree.
For that we will need different conversation and a different set of tools.
Should the Supreme Court have focussed more on issuing guidelines about what should be done with those left out of the final list?
Of course it should have, and it must.
Statelessness -- the condition of being formally excluded from citizenship everywhere -- has been called the world's 'hidden catastrophe'.
Our Supreme Court is known globally for its pubic interest jurisprudence. It has an obligation to do all it can to prevent statelessness, not contribute to its creation.
The issue may not lead to a civil war, as Mamata Banerjee says, but it will certainly lead to polarisation on a nation-wide scale.
Already, BJP leaders in various states are raising the demand to conduct a similar exercise on a national level.
Do you see the BJP benefiting electorally from such a situation?
I don't see the BJP benefitting from the NRC electorally in Assam.
Already, we can see that the Barak Valley is furious about the NRC for understandable reasons: The memories of Partition there are very different from that in the Brahmaputra Valley.
The BJP would have, of course, liked to pass the Citizenship Amendment Bill before the completion of the NRC. But they could not.
Since people -- including those running our national political parties -- seem to know so little about the modern history of Assam, they expected that Assamese public opinion on the Citizenship Amendment Bill to be exactly the same as that in Delhi -- a city of Partition refugees.
For the moment, the Citizenship Amendment Bill has been shelved because of protests in Assam. The bill will separate out the Hindus from the list of people now excluded from the NRC.
That will please a large number of people, but will alienate an equally big number.
The BJP would like to postpone this bill till after the next election, but they will face huge pressure from Bengali Hindus in Assam not to do that.
In the rest of Assam the bill will once again face formidable obstacles, jeopardising both the BJP's alliance with regional parties and its electoral prospects.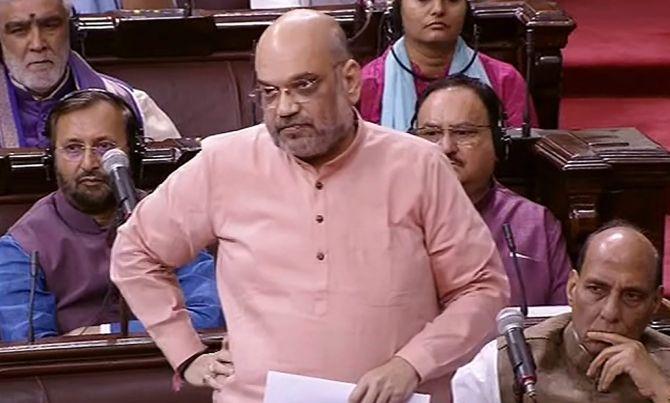 The BJP president called these four million people 'infiltrators' at a press conference on the same day it was said that this is just a draft, exclusion from which doesn't mean one is not a citizen.
Has it become difficult now for the government to frame a lenient policy for those who will be left out?
He could say something like that only out of ignorance.
I have a number of friends and family members whose names are not included in the NRC.
Some of them are born and brought up in Assam and others were born in places like Punjab or Uttar Pradesh; they live in Assam because they are married to someone from there or because of work.
Since the updating of the NRC has taken place only in Assam, it has not been easy for them to get government officials of their states of origin to issue the necessary papers.
Fortunately for the BJP president, most Assamese don't understand a word like ghuspethiya (infiltrator) and its insulting connotation.
But I know from news reports that there are people like 70-year-old Phulbaso Devi of Fakirganj who was 'fuming'.
She was married to a former Assam police constable and had submitted a 1943 land document from Sahebganj district in Jharkhand, but her name does not appear in the draft NRC.
Her son was quoted in the press as saying, 'My mother was very angry when she heard Amit Shah saying on television that those who missed the NRC are ghuspethiya.'
NRC Coordinator Prateek Hajela is very clear. He says only a 'judicial scrutiny' can establish whether or not someone excluded from the NRC is an illegal immigrant.
What could be the best possible solution for this problem?
Deportation doesn't seem feasible, whereas allowing 'non-citizens' to stay will expose them to the risk of being attacked in case of communal strife.
It is not just that deportation is not possible, our government has no interest whatsoever in jeopardising its relationship with Bangladesh by raising the inconvenient issues of unauthorised cross-border migration and deportation.
The Assam movement's original demand was summarised in three 'Ds' -- detection (of 'foreigners'), deletion (of names from electoral rolls) and deportation.
I can't imagine that leaders of the Assam movement ever thought of the implications of achieving the first two Ds, but not the last one.
In that sense, whatever the NRC may have achieved, it does not do what the Assam movement tried to do.
Larger political forces have appropriated their demands.
Despite the rhetoric of some of our politicians, when we look at the overall picture, the NRC exercise and the citizenship amendment bill for them are all about pleasing domestic constituencies.
They have no appetite for diplomacy with Bangladesh on this issue.
Any imaginative solution to the problem requires acceptance of the reality that the idea of Partition as the creation of two, and subsequently three, bounded nation-States -- each functioning on a 'container model of national sovereignty' -- has never quite matched up with ground realities of Partition's eastern border.
We need to get out of the illusion of unilateralism. Only then it becomes possible to imagine alternatives like an Indo-Bangladesh protocol on labour movement.
A labour protocol could take some of the pressure away from the circular migrant who until now has had to look for security by procuring fake citizenship papers and finding a political patron.
Like so many other seasonal cross-border migrants in the world, they may actually prefer going back and forth rather than settling in the place where they find seasonal work.
To be sure, that will deal with only a small aspect of the problem. But I see the acceptance of bilateralism as the beginning of a solution, and the illusion of unilateralism a dead end.