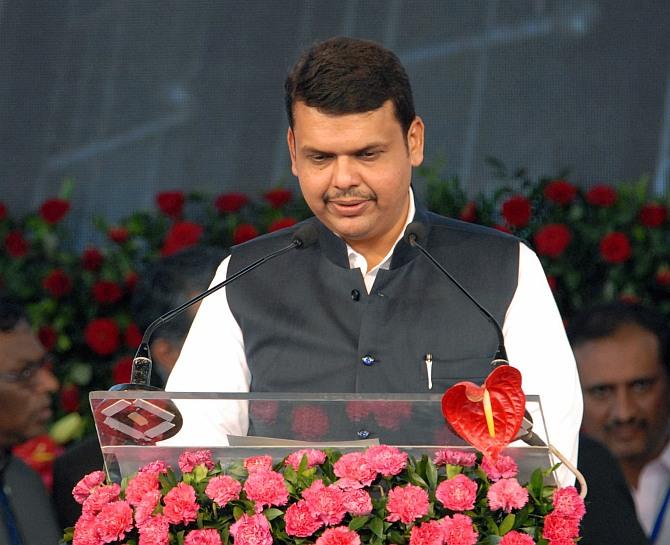 'The BJP said they want less government and more governance. But they are doing neither. It is shocking to see them so ineffective.'
Maharashtra's new Congress boss Ashok Chavan, in an exclusive interview to Rediff.com
Ashok Chavan, only one of two Congress candidates who won the Lok Sabha election in Maharashtra, has been named president of the Maharashtra Pradesh Congress Committee.
Chavan resigned as chief minister after his name cropped up in the Adarsh housing society scam. He was accused of using his office to help his in-laws get apartments in that society. Since then he has maintained a low profile.
Speaking to Neeta Kolhatkar/Rediff.com after his appointment, Chavan, below, left, says the Congress has given him more than any leader could ask for.
Is it a karmic cycle? The Congress sent a leader from Delhi to 'clean the image' of the party after your name cropped up in the Adarsh scam. Now they have appointed you state party president.
The party leadership has given me a big responsibility. This shows the faith the Congress leadership has in me.
Image: Maharashtra Chief Minister Devendra Fadnavis, taking the oath of office. Photograph: Press Information Bureau
I kept interacting with people and stayed with my ears to the ground.
I will focus on the performance of the Bharatiya Janata Party-Shiv Sena state government. I will ensure we play the role of a formidable Opposition.
Farmers' suicides have increased in the last one year. It has never been so high. Farmers' loans need to be waived.
Now these are the issues the state government needs to tackle on an urgent basis. Apart from the assembly, we will see that the Congress party comes out on the streets to protest.
From all quarters we will see to it the state government is made to perform.
You mentioned the Congress will come out on streets in large numbers. Does the party have the numbers?
Of course. We have a big network and the Congress has always been a mass-based party. Yes, the recent elections were a setback, but that is more to do with perceptions.
There have been problems on issues, but not with the party. Clear misconceptions were created against our party.
We will have to prioritise issues and we will once again prove what the Congress can do.
The Congress-Nationalist Congress Party did a lot of positive things, some policies were good and the BJP government is continuing with them.
Why did your leadership fail to take it to the public? Where was a disconnect in your campaign?
The nature of campaigns have changed. Social media has become more effective than print. Social media has replaced print, because it is more personalised and effective to drive home a point.
We can't blame anybody for not being able to drive across the message.
Do you feel vindicated that you have been brought back to head the party?
(Smiles) I would not like say it is vindication. Not at all.
In spite of whatever problems I faced, my constituency and the people of the state have supported me. I never was away from my party.
I have always remained connected to the people and party leadership without any complaints and I worked silently. I believe the party has acknowledged my work.
This is such a politically safe reply you have given.
So you want a headline! (Laughs aloud.) But seriously, you need to understand the Congress has given us all a lot.
I am happy they have given me this responsibility at a time when the party needs to come back.
Forget whatever happened, we have to move ahead.
Is corruption an issue for your party? Does it matter at all, with you becoming party president?
The media needs to clean up its image. I will not say anything on a sub-judice matter. But the fact is corruption is an issue for our party and me.
It is a fact that people will expose corruption in government, outside and in public places. It will not be tolerated and that is our agenda.
The Congress has a new leader after it faced one of the worst debacles ever in the state.
We have seen very good times, this is another experience. All parties face good and bad times.
Look what the BJP was prior to this. These things happen in politics. We will all work to ensure that the Congress bounces back.
What are the immediate and long-term goals you have set?
Short-term goals are to get the house together and focus on the local bodies' elections. The issues will be have to be studied.
I will focus on our membership drive. I need to understand the local issues which led to people in certain districts going away from the Congress.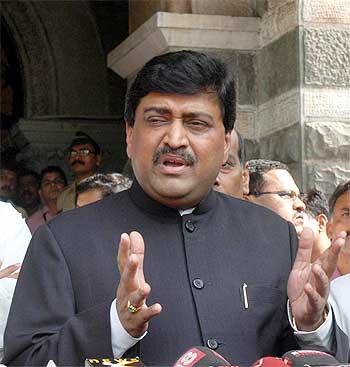 Do you face any opposition? There have been many factions in the MPCC.
I have run a coalition government and did not face any bickering. I also had no problems with other parties, be it in the coalition or Opposition or my colleagues.
I don't work in groups, I work for my party. I do not expect personal loyalty. Everyone should work for the party.
I am clear, that I want to know from those who left the party prior to the elections their reasons. Or those who have gone away from us what made them do it?
I will try and get them back. I am a good listener and whatever they have to say I will listen. There is a lot to be done.
Do you think the present BJP government is working?
The BJP said they want less government and more governance. But they are doing neither. It is shocking to see them so ineffective. I know it is too early and they should be given time.
But see the spread of swine flu, farmers' problems, the way they have failed to tackle the unexpected rain damage.
I will see that Congress party surveys the rain and hail-affected areas and submit a report. I want to ensure we are a formidable opposition.
What is your opinion about the BJP-Shiv Sena coalition? Do you think they are like the Congress and NCP, throwing barbs at each other?
No, no. The Congress-NCP were together since 1999. Here one was first in the Opposition, then joined the government. Now they (the ZSena) are part of government, but have doubts. They taunt the leaders and ministers.
Their honeymoon period is over too soon.