'The condition of some Adivasi hamlets is worse than Somalia, worse than what the prime minister described.'
'There are instances when Adivasis have to demolish the hut they live in to bury the dead as they do not have any other place to bury their dear ones.'
'There are tens of thousands of Adivasis who do not have land, a house or even good food to eat.'
'What kind of human development are you talking about?'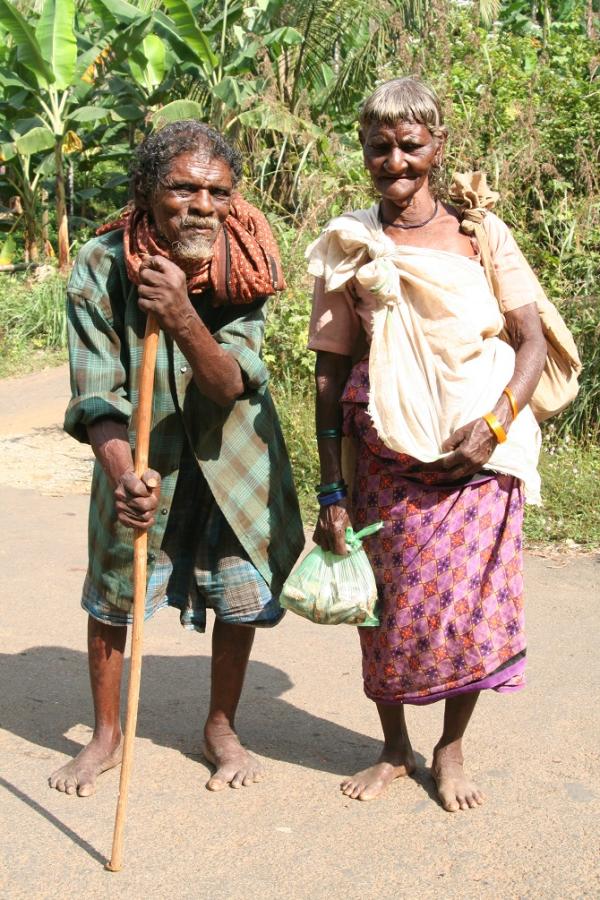 IMAGE: A tribal couple in Kerala. Photograph: Kind courtesy: Sreejith K/Wikimedia Commons
At his election rally in Thiruvananthapuram on May 8, Prime Minister Narendra Modi commented that the condition of Adivasi children in Kerala is worse than that of Somalian children.
Modi's comments provoked an uproar in Kerala and the hashtag #pomoneModi which literally meant get lost Modi, was trending on Twitter.
Kerala Chief Minister Oommen Chandy threatened to file a defamation case against the PM for insulting the state and its people.
Then came the Facebook post by Kerala's well-known tribal leader C K Janu supporting Modi and criticising Chandy for not seeing the reality.
C K Janu is contesting the assembly election from Sultan Battery in north Kerala with the Bharatiya Janata Party's backing.
She is the leader of the Adivasi Gothra Maha Sabha, a social movement that has been agitating since 2001 for the redistribution of land to the landless tribal people in Kerala.
In 2016, she formed the political party, the Janathipahya Rashtriya Sabha and is contesting the Kerala assembly election as a part of the National Democratic Alliance.
On the final day of campaigning, C K Janu, left, below, spoke over the telephone to Shobha Warrier/Redfiff.com from her constituency.
After the prime minister was widely criticised for his comparison of Attapady with Somalia, you wrote on Facebook that there were 100 Somalias in Attapady...
Yesterday (May 13), an Adivasi woman's two children died here. Do you know why? Because they didn't have proper, nutritious food. This is not an isolated incident.
Incidents like this are widespread and happening regularly. The situation is scary, but nobody wants to talks about it.
Those living outside these areas do not know how these people live. Most of them do not even have proper houses; they live under plastic cover.
They live in such pathetic conditions that they have no house, no food and not even proper paths to walk in some of the interior areas.
When I tread through such terrain and reach where they live, I feel horrible to even ask for votes.
Does anyone have the right to ask their support? The condition in which they live is extremely pitiable.
On one side, Kerala boasts of unenviable growth and Kerala tops the country in human development index also...
It's hogwash! Kerala is one state where the maximum human rights violation is taking place and that is where the Adivasi Dalits live.
There are tens of thousands of Adivasis who do not have land, a house or even good food to eat.
What kind of human development are you talking about?
There are instances when Adivasis have to demolish the hut they live in to bury the dead as they do not have any other place to bury their dear ones.
There is no dignity in death also for these people.
Even today, people have to search for food from garbage piles. Do you call this human development?
Both the LDF and the UDF criticise each other while taking pride in the growth Kerala has achieved...
Both the UDF and LDF do not consider Adivasis as human beings.
When they do not even consider them as human beings, how can you expect them to consider them as part of Kerala?
Do you think both the LDF and UDF have been exploiting these people?
Of course, they have only exploited Adivasis as vote banks; as faceless, nameless people to make their rallies bigger.
As an Adivasi, I have been working for the rights of Adivasis for almost 30 years. We have had several demonstrations over the years. In fact, the outside world came to know about the Adivasis of Kerala only after our agitations.
Though both the fronts are aware of the condition under which the Adivasis live, they have not done anything to improve their lives. The Adivasis are only vote banks.
The chief minister accused the prime minister of insulting the state and the people by comparing Attapady with Somalia...
I will not agree with what the chief minister said. The prime minister has not insulted anyone; in fact, he has told a bitter truth.
The people of Kerala could not hear the truth as they have been basking in the promotion that Kerala is a heaven on earth.
When you tell the rest of the world that Kerala is a heaven on earth, it is but natural that the truth like this hurt them. To such people, it is an insult.
You come here, I will show you not one but hundred Somalia in Attapady.
In fact, the condition of some Adivasi hamlets is worse than Somalia, worse than what the prime minister described.
I want to ask all those who talk so proudly of the growth of Kerala, are we not part of that great Kerala? Are we not part of that heaven?
When they are propagating about the heavenly Kerala, they feel insulted and ashamed to hear about a Kerala that is like hell.
When someone points out the hell to the world, it exposes their shortcomings and their lack of understanding.
Today, they are criticising the prime minister because these people do not want the world to know about the hell that is there in this heaven.
Now that I have spoken the truth about Attapady, the rest of India will realise what the prime minister said was right.
I am not an outsider; I was born and brought up here. I am a part of them and I know how we live.
People in Kerala reacted negatively, calling the prime minister pomonemodi on social media.
It was very bad and undignified to call the prime minister of the country this way. The problem is even the people of Kerala do not consider Adivasis as human beings.
Nobody cares whether the Adivasis live or die.
In 2013, (Marxist leader and former chief minister) V S Achuthanandan told a press conference that if Attapady was like Somalia, the UDF was responsible for it.
Both the LDF and UDF followed the same policies. In fact, the worse of the two is the LDF. They treat the Adivasis as slaves and do not even give them identity cards so that they do not vote for anybody else.
In your case also, when you accepted the BJP's support, you were criticised a lot. Why did you take the BJP's support and not that of the LDF or UDF?
The problems the Adivasis face have to be solved politically, but both the LDF and UDF are not ready to look at them or solve their problems politically. Only the BJP agreed to consider this as a political issue and that's why I decided to accept their support.
Did you expect such criticism for your decision?
I expected much more criticism from them as they want us to be their slaves forever. They neither want us to have a political voice nor do they want us to be politically strong. I expect the BJP to do something positive for us.