'(Upper caste) leaders talk against the Constitution, reservations and the nation and still get away.'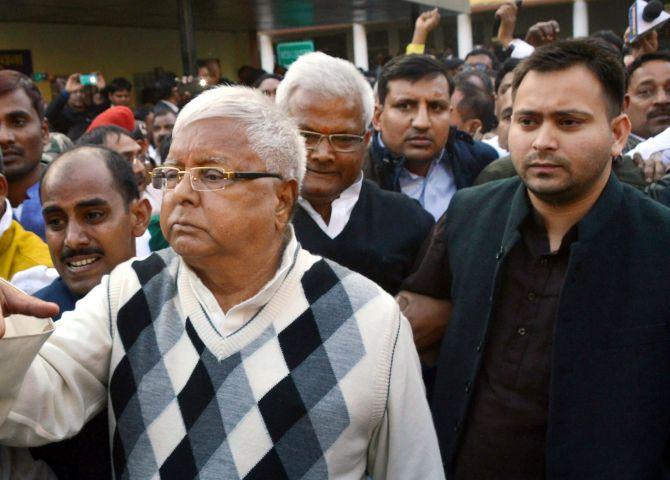 IMAGE: Lalu Prasad Yadav being escorted by police officers after his conviction in a fodder scam case. His son Tejashwi Yadav is to his left. Photograph: PTI Photo
After being convicted in yet another case related to the fodder scam, Rashtriya Janata Dal President Lalu Prasad Yadav tweeted (external link): 'Powerful people and powerful classes always managed to divide society into ruling and the ruled classes. And whenever anyone from the lower hierarchy challenged this unjust order, they would be deliberately punished.'
Lalu's tweet resulted in a furious online debate whether only politicians belonging to the lower castes are punished.
"The administrative structure is headed by forces who don't like lower caste politicians," Professor Kancha Ilaiah Shepherd, author and social activist, tells Rediff.com's Syed Firdaus Ashraf in an interview.
How true is Lalu Yadav's statement that only OBC and Dalit leaders are being 'targeted by the system' once they rise to power?
If you look at the incidents of major arrests on corruption charges in the political domain you get names like Lalu Yadav, Mayawati and DMK (Dravida Munnetra Kazhagam) leader A Raja.
Raja actually liberated the telecom sector from the elite and middle class down to every labourer. He too was targeted. And look at the accusation against him and what happened.
I don't know what kind of official traps are possibly laid for these politicians.
The administrative structure is headed by forces who don't like lower caste politicians. So naturally, one does not know how these politicians get trapped into it.
The amount of money which was involved in Lalu's case was not huge. It was only Rs 86 lakh.
But corruption is corruption, isn't it?
Yes, but why are only SCs, STs and OBCs caught?
Take, for example, BJP (Bharatiya Janata Party) leader Anant Kumar Hegde. His language is anti-constitutional and anti-national.
Even in the Congress, Mani Shankar Aiyar, (for example), comes from a particular caste.
Basically, these leaders love the Manu Dharma system and not the Indian Constitution.
They come from that end and they project that Dalit and OBCs who come to rule are corrupt, as if others are not corrupt.
Even (Nationalist Congress Party leader) Chhagan Bhujbal, who is in jail, is a known OBC leader. (Former Jharkhand chief minister) Madhu Koda (who was convicted in a coal scam case), I think, is a tribal.
But we also have instances like the late Tamil Nadu chief minister J Jayalalithaa, a Brahmin, being convicted.
She is the only Brahmin (leader who was convicted). Tell me about a second one. I need numbers.
(Upper caste) leaders talk against the Constitution, reservations and the nation and still get away. No arrests are made and no action is taken against such leaders.
On the contrary, Dalit (politicians) get arrested (on minor charges).
Look at Chandrashekhar (founder of the Bhim Army), a Dalit leader from Uttar Pradesh. He was arrested in a small case.
The same was true for Jignesh Mewani, the Dalit leader from Gujarat.
So our system is designed in a way where crores are spent in hiring SC/STs and OBCs, but political power is not in their hands.
Money and power are with the upper castes, but the corruption of only lower caste (politicians) is highlighted.
The likes of Lalu Yadav and Mayawati who are against the caste which has been ruling historically are in trouble.
Mayawati has said she will convert to Buddhism.
India gives equal opportunities to everyone. SCs, STs, OBCs get reservations.
Reservation is not an equal opportunity. Where is the equal opportunity in education?
You establish English medium schools for the rich and the upper class.
Earlier, they used to establish Sanskrit gurukuls for themselves. Now only government schools are run in regional languages. So where is the equal opportunity for them?
Look at case after case of corruption and you will find only one section (of politicians) is getting caught.
Now, how could the CAG (Comptroller and Auditor General of India), who accused Raja of Rs 1.76 lakh crore scam, say such things?
Raja had to spend time in jail. His entire political career was over.
In the BJP too, its first Dalit president Bangaru Laxman was caught taking a bribe. No one from other castes was caught.
Why was Laxman alone caught? Does it mean that no other people in the BJP take money? Are there no funds coming to the party? Laxman died a sad man.
BJP leader Dilip Singh Judeo resigned as a minister of state in the Vajpayee government after being accused of allegedly taking a bribe. He was not a Dalit.
Maybe it wasn't a major case. I don't know.
Corruption, according to Pandit (Jawaharlal) Nehru, is like greasing oil in Indian politics.
Since 1947, Dalits, tribals and OBCs constituted only four per cent of the ruling class. But the number of people held under corruption charges has the highest proportion of such politicians. Why?
Corrupt people are corrupt. Why cite their caste?
If that is the case, what about Vijay Mallya?
What about industrial corruption which completely ruined the banks?
Talk about the industrial sector, 90.6 per cent of which is controlled by Banias and Brahmins -- 46 per cent by the Banias and 44.6 per cent by the Brahmins.
The Shudras account for just 3.8 per cent. So why is India so poor?
Why is India not like China? Which is the main ruling class? They are the Banias and Brahmins.
It is a market economy. Those who are good, get jobs.
Why is China not like us? Why are they innovating? The answer is the working class has become the rulers.
The feudal system has gone out of China. Now, these people compare India with Pakistan, but I want to compare it with China.
Where has China reached in social equality and economic equality? And where are we? Why?
Who should be blamed -- only the SC/STs and 'their corruption'?
Have you ever found...
(Interrupts) My question is that they say if SC/STs come to power, they will become corrupt, they aren't meritorious.
But the moment the SC/STs ask for English education they (the ruling class) refuse by stating they (the lower castes) want to become Christians.
What is this? Brahmins and Banias who are running industries and education centres in India are English educated. Have they become Christians?
Why target OBCs, SCs, STs?
Lalu Yadav is making such statements to target (Prime Minister Narendra D) Modi on caste lines, isn't he?
When Amit Shah called Gandhiji a 'chatur bania', journalists didn't speak against it.
Modi said since he was an OBC, Mani Shankar Aiyar was attacking him.
So, if Mani Shankar Aiyar is referring to a caste, so is Modi.
If an OBC like Modi can become prime minister, what is the point of saying such things?
Modi is not a Shudra. He is not from a land tilling background or a production background. He is from the business community.
(Note: The Atal Bihari Vajpayee government included (external link) Modi's ghanchi community into the OBC list in 1999.)
Caste and culture are an inherent institutional factor in India.
Whether in higher or lower politics, the upper castes ruled India for 2,000 years and they can escape from any problem.
Indian rulers, by and large, were corrupt for centuries. It is not that only one group is corrupt.
But the lower (castes) gets caught and gets punished, the higher caste escapes through various mechanisms. This is a fact.
Don't you think it is wrong to speak in such a manner? Is it good for the country?
Untouchability is there in the country. Do you mean to say we should not talk about such things?
In every sphere of our society, there is caste. It is like cancer in our body.
Without discussing, how do you operate or remove it?
How do you find a solution or medicine to this cancer?
Even during the times of the Buddha, there was untouchability and he spoke about its removal.