'I was under the illusion that this could never happen to me because my background was such -- corporate CEO, IIT professor, IIT alumnus, IIM...'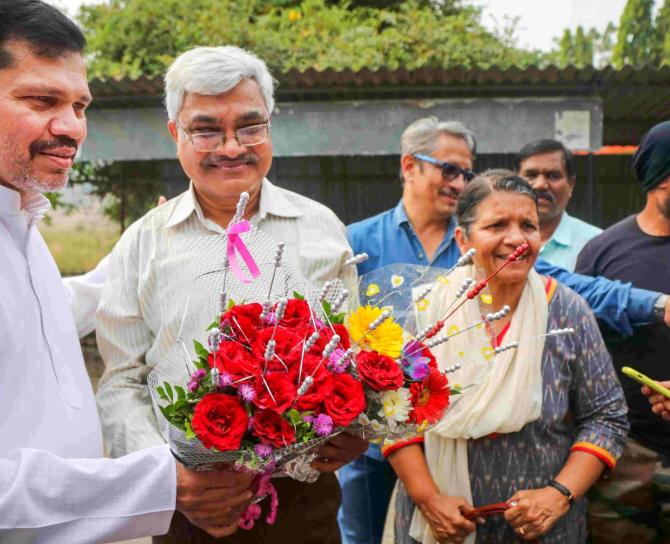 Anand Teltumbde was born into a family of Dalit labourers and excelled in his studies. He went on to get an MBA from one of the top IIMs in this country.
He was a professor at IIT-Kharagpur and later became a senior professor at the Goa Institute of Management.
He is married to Rama, Dr Babasaheb Ambedkar's granddaughter.
On August 29, 2018, the police raided Professor Teltumbde's home, accusing him of having a connection to the Elgar Parishad and Bhima Koregaon case.
Anand Teltumbde, in an interview with Rediff.com Senior Contributor Neeta Kolhatkar, reveals, "I was made to stand naked before their CCTV camera. This is the sort of humiliating experience you undergo at Taloja jail."
The first of a multi-part interview.
How does it feel to be home, now that you are on bail? How are you adjusting to the freedom?
(Chuckles) I am trying to be normal, because my arrest gave me the shock of my life.
I had never bargained for such a thing.
I used to think, even if I had tried to get myself arrested, I wouldn't have been.
Actually, it was not that sudden. Had I been in Goa when the NIA and police raided my house, on that very day, I would have got arrested.
Nothing could have been done. The legal process gave me over a year time to prepare for myself.
That day was a miraculous escape. After that, the rest is history.
They did arrest me, however, and let me have a taste of police lock up for 13 hours before the court declared my arrest illegal and freed me.
After I was released from prison, I tried to behave as normal as possible.
My younger daughter had arrived just a few days ago to be with Rama.
In fact, it was she who arranged for my quick release from jail. The older one came after the third day.
Have you settled in a new routine? Have you gone back to writing?
I had begun writing in jail itself.
I had a routine to read and write every day and I have written four books in jail. Though these books need a lot of deletions and additions.
I utilised my time in jail effectively. Various subjects.
The oldies had begun writing their jail memoirs, like Varavara Rao. Father Stan Swamy had also planned to do so.
I felt I too should take up writing. (Laughs).
I have never told my daughters about my background and early years.
I began to document this and in between, I began writing on other themes.
I don't write about myself, so I began to question myself, why was I doing this? Then I resumed and planned a format where my story could be woven into the social-political context.
A little bit of me but a lot about the environment, history, geography and struggles of people around me.
The second book, I began to think of writing it as an intimate letter to Dr Babasaheb Ambedkar. (Smiles) Being a relative, he being so many things to us, so I started writing it in this format.
It is a continuous letter that may run up to 700 pages.
In this, I am reviewing his book, why he wrote those books, in the context of today's developments, because he is intimately connected to the Constitution of India, the politics, through so many things.
The third book is on nationalism, the title and other things may differ.
I am exploring nationalism as an abstract idea with which how the ruling class has been cheating people.
This book is on nationalism, patriotism and all these symbols and how people get fooled.
The fourth book is about my being interviewed by the people in jail.
Did you ever in your wildest dreams imagine you would have got arrested?
Even if I wanted to, there was no possibility or an occasion for my arrest.
I never imagined I would have a jail life.
I was under the illusion that this could never happen to me because my background was such -- corporate CEO, IIT professor, IIT alumnus, IIM... these were real hurdles in my imagination, if I wanted to go willingly.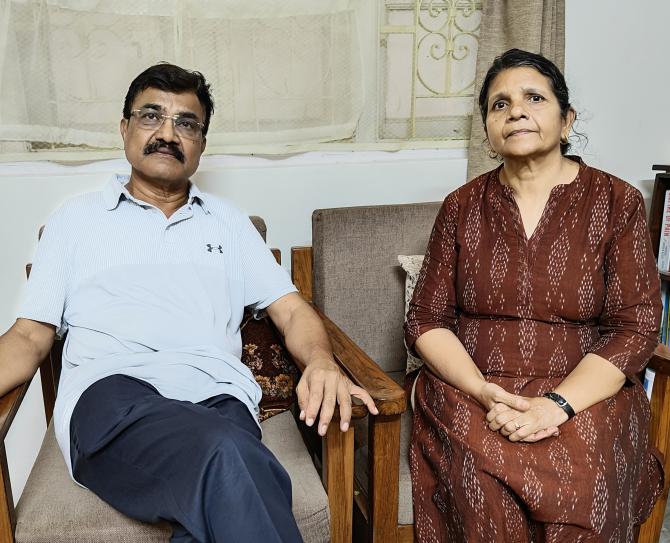 On April 14, were you arrested here, from Raj Gruha (Dr Ambedkar's home in Dadar, north central Mumbai)?
Actually, it so happened, on March 23, 2020, we had booked our flight tickets to Mumbai because we would not get another opportunity to come to Mumbai, so (we thought) let's go home.
On the flight from Goa, we learned of the national lockdown.
Thankfully, we had a few clothes here in Mumbai. Otherwise, we had only packed for three days.
After we landed, there was no taxi or vehicle.
Then Rama called her brother, who came to the airport.
The Supreme Court rejected our bail (Gautam Navlakha's case was clubbed with Anand's by the apex court).
Our lawyers had felt at the time that we would get some relief because of the pandemic and maybe, the courts wouldn't work.
But as you are aware, our bail was rejected and we were asked to surrender within seven days. I went and surrendered in Mumbai.
I went to the NIA office at Pedder Road (south Mumbai). Gautam surrendered in Delhi.
Where were you put away initially, once you surrendered?
They had given me an arrival time of 2 pm. The Supreme Court had given this deadline.
I was kept in the NIA lock-up, which is a room.
They took me to the court and sought remand. They were granted four days.
The process is like office clerical work. They ask basic questions, such as name, place, etc.
I just sat there all the time. Absolutely nothing else was asked. No investigation or questioning.
After four days, they produced me again and sought more remand and again, I was asked nothing.
They just kept me in their lock-up. After 11 days, the judge sanctioned judicial custody. I was taken to Taloja.
Can you relive your Taloja jail tenure? What was it like on the first day?
The first day I was brought in, I was supposed to be quarantined, so I was taken to the hospital barracks.
The situation was horrible. I don't have the ability to describe how terrible the situation was. (Laughs).
I was taken there by 3 pm. I sat outside for a long while.
Then the police came, around 7.30 pm, after which the horrific treatment began. They make you stand in a corner.
There were different desks and each had a different questionnaire.
At the first desk they ask you your name and details. I had to hand over my money.
Then they took my bag to another desk. I had a backpack, not realising they wouldn't allow me to take it.
The way they tackle it was shocking. They hold it with both their hands, turn it upside down and empty out that bag.
They told me not to take the bag inside the jail.
So I asked how could I take my clothes, medicines, toiletries, dry fruits and snacks? He dismissively ordered me to put it in my towel. I was appalled.
Then another brought a gunny bag and ordered me to put my stuff in it.
The process is extremely humiliating. I told myself, this is how life is going to be inside the prison now onwards, I should prepare myself. Then they make you strip.
How did life begin thereafter in the Taloja barracks?
They woke us up at 6 am and gave us breakfast -- upma and tea.
I tried eating and sipping, but could not.
I offered it to the Vasai man, who took it willingly.
Then an officer came and I told him I would die here, he had better shift me elsewhere.
He agreed to do so, but asked me to wait.
When they say wait for a while, it means that the first night, nothing happens, then the second day too passes.
On the second day, you have to meet the superintendent.
That is the most humiliating experience. They will strip you (of the upper garment) and make you sit on the floor.
Thankfully, due to my health, I was spared.
I was made to stand in that state (without the upper garment) and they took photos. This is the sort of humiliating experience you undergo.
How was your experience on the first floor?
There were rooms with amenities on the first floor, self-contained type.
They gave me a cot with bedding. It was actually clean.
For three days, I had not eaten anything, had not bathed and there was no question of using that toilet.
First, I bathed, as they had given me buckets etc.
I had not slept for three days and two nights.
I then began to look for my snacks, toiletries and dry fruits, but everything had been stolen.
There was a canteen, so I could get things. All 'elite' prisoners were kept on the first floor.
So, all the serial murderers and gangsters were my companions (chuckles).
When they learnt of my things being stolen, before I could ask anyone, they sent across eatables and other things. They also advised me such instances of humanity are aplenty in the prison.
One Vijay Palande asked me to eat and said if I faced any problem, I should ask them (his other companions). And they kept helping me.
They asked me to settle down and tell them if there was any issue.
Then slowly, you learn the grammar of the jail. There is a lot of corruption in jails.
If you pay money, you can get anything. You get good sabzi, unlimited things from the canteen, and visits to outside hospitals from the very same place. Those who have these benefits may share with others.
Feature Presentation: Rajesh Alva/Rediff.com