'We worked hard, brought a very positive manifesto saying this is what we have done and this is what we will do.'
'But people liked something else.'
'They didn't like expressways, they want a bullet train.'
'I have realised that in a democracy, the poor doesn't know what they want.'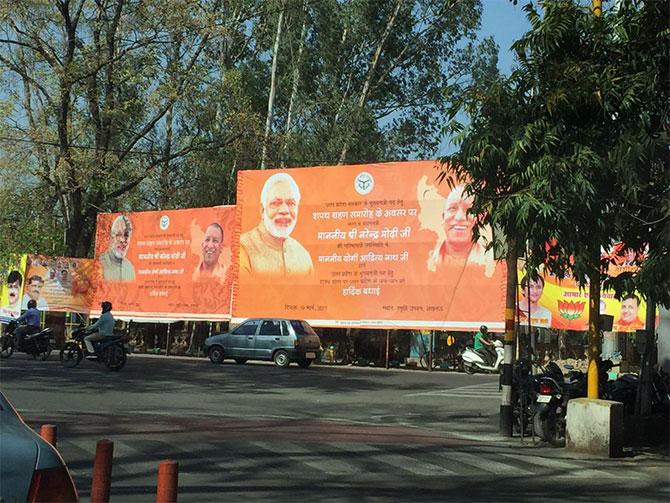 IMAGE: Posters felicitating UP Chief Minister Yogi Adityanath in Lucknow. Photographs: Archana Masih/Rediff.com
Akhilesh Yadav dissects why the Samajwadi Party lost the Uttar Pradesh election, and what lies next for him and his party.
An exclusive interview with Rediff.com's Archana Masih.
What do you see as the reasons for your party's poor performance?
It was a very difficult and different election.
We worked hard, brought a very positive manifesto saying this is what we have done and this is what we will do. But people liked something else.
They didn't like expressways, they want a bullet train. I can't help it.
I distributed 18 lakh laptops, they want something more.
I gave pension to 55 lakh women, but they want something more.
They are happy with the cylinder, gas stove (the prime minister's scheme to provide LPG cylinders to poor women), but not happy with Rs 6,000 pension they are getting.
You are an experienced politician and have met the people of your state. What is it that they want then?
I have realised that in a democracy, the poor doesn't know what they want.
But it is often said that the Indian voter is a smart voter.
I doubt it after seeing the UP results. I disagree. (Laughs.)
How are you going to take on a party with such a large majority?
They are themselves weak.
One CM and two deputy CMs is a first for UP.
When they start work, a lot will be out for everyone to see.
I heard there was some displeasure in the distribution of departments.
My nameplate was removed by the people, but theirs is being removed by each other (laughs).
The media is managed. If such a thing had happened with us, there would have been a hungama (furore).
You are criticised most for Muslim appeasement.
You look at any scheme -- say the Samajwadi pension distributed to 55 lakh women. It went to the high court that we were giving it to the Muslims.
It also went to the Supreme Court -- that they are giving more pension to the Muslims -- and a double judge bench said this is the best scheme ever given by any state for poor women.
The judge said it's a beautiful scheme. So a Supreme Court judge says a scheme is good and people accuse us of being partial to one section of the people.
Similarly, laptops: No one can raise any question on its distribution.
In certain places when I heard people say that Yadavs and Muslims have benefited from this scheme, I made the whole list open and online.
But the media is also kamal ka! (astonishing!), they never printed that news.
Only toppers were getting laptops -- so how can jaati (caste/religion) come in that? It is not possible!
About kabrastan (graveyard) -- you can see the kabrastan, but not the shamshan because samashan ghats were made by the river and people don't go by the river.
How many of us go to the riverside?
Shamshan ghat has to be traditionally made by the river, while kabrastans are in the middle of the villages and hence visible, and they took advantage of that.
The PM said shamshan mein nahin kabrastan mein paisa kharch ho raha hai (Akhilesh Yadav's government was not spending money on Hindu cremation grounds, but Muslim graveyards).
They were playing with people's minds and hammering it psychologically because kabrastan is visible and shamshan is hardly seen.
The boundary wall of the kabrastan was made so that there are no quarrels between people as far as encroaching on each other's land was concerned.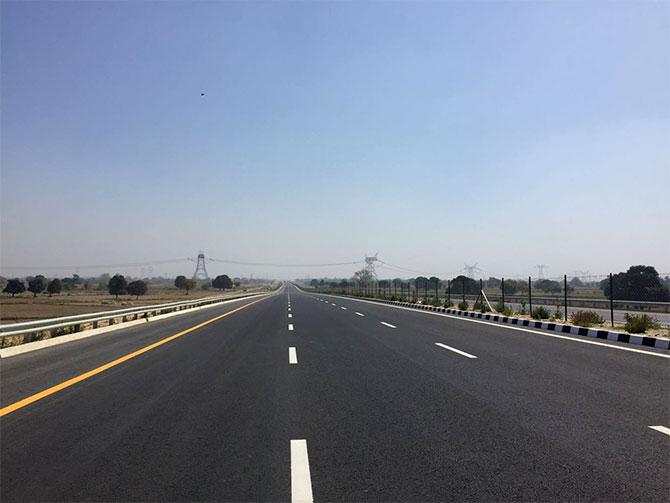 IMAGE: The Lucknow-Agra Expressway. At 302 km, it is said to be the longest expressway in India.
'They didn't like expressways, they want a bullet train,' says Akhilesh Yadav.
You said you were not able to take your message across to the people. On the other hand you have a PM who is a master communicator with the masses.
Master of lying.
Political dishonesty was inflicted on the people of UP.
Why do you say that?
Because they said we are giving electricity connections to Muslims and not to Hindus.
How can it be possible?
He said we give more electricity on Ramzan and less on Diwali.
How can that be? The PM never gave an answer to that.
He raised some issues that had nothing to do with the people of UP, that's why I say he did political beimani (dishonesty) with the people of UP to form a government and people will realise this soon.
Have you thought of going beyond the borders of your state?
When I was in government, I said I won't move out of UP.
Now that I am not in government, my dream is bigger.
I feel I must move out.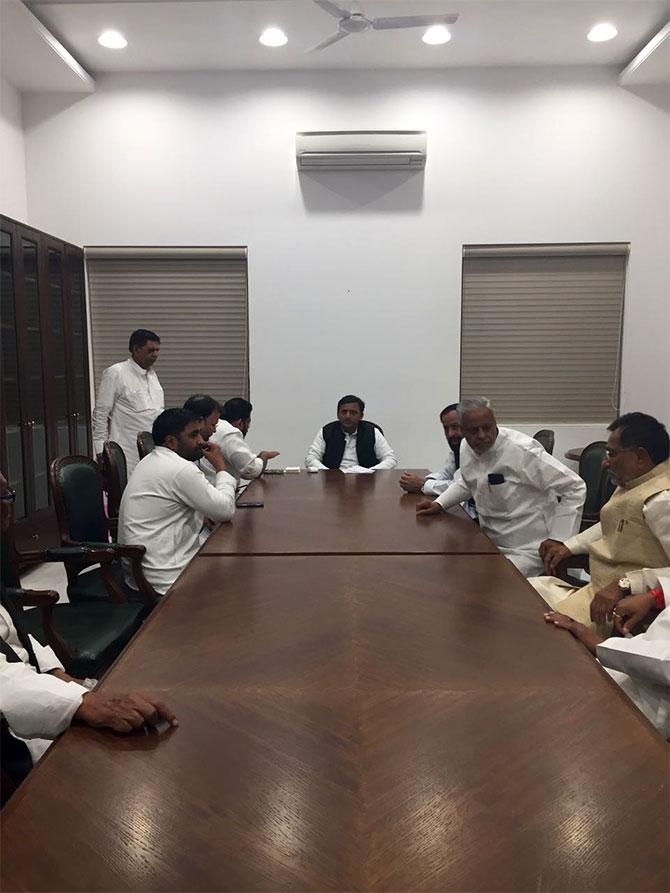 IMAGE: Akhilesh Yadav, the Samajwadi Party's national president, with SP leaders from all over the country, at his Lucknow office, March 26, 2017.
What is the big dream?
To travel everywhere and build the party.
This is the president from Kerala, next to you is the Bihar president, I will take help from them.
Here is a senior leader from MP. Now I have a lot of time to work for the party.
From April 15 we are once again starting our membership drive.
It will give me a chance to go and meet people and rebuild our whole cadre.
We will use social media, go out myself.
How much does social media help achieve success on the ground?
Every political party needs a team to run things on social media.
It helps a lot, it sends the message quickly.
But you have to be smart enough to counter their negative campaign.
Over the years how did the SP weaken as a party?
We have not. We have got 29% vote.
I don't want to raise the issue of EVMs because people have doubts about it looking at the BJP's mandate in UP.
We also received complaints from certain booths.
How do Opposition parties hope to counter the BJP onslaught? A mahagathbandhan?
There are around 100 weeks left for the Lok Sabha election.
It is too early to say if there will be a mahagatbandhan.