'Victory is victory -- be it with a margin of 1 vote or 100,000 votes.'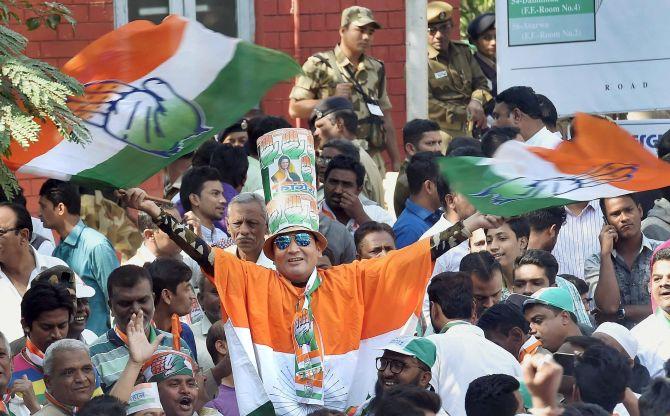 IMAGE: Congress supporters celebrate the poll results. The Congress improved on its 2012 tally in Gujarat. Photograph: Santosh Hirlekar/PTI Photo
Senior Bharatiya Janata Party leader and former minister Jay Narayan Vyas isn't afraid of answering difficult questions.
After losing the election in Sidhpur, the four-term MLA, below, left, confessed to Rediff.com's Prasanna D Zore that it is because of people like him that BJP President Amit A Shah's target of winning 150 seats was not achieved.
Are you satisfied with the BJP's performance?
The BJP will form the next government in Gujarat. (So), the figures you talk about are not important.
The most important thing is that a BJP government will be established for the sixth consecutive time in Gandhinagar.
This is no small achievement. Since 1995 people have been voting for the BJP's developmental policies. This is some sort of a record.
Are you satisfied with the margin of the BJP's victory?
If you give me a chocolate to eat and ask me if it was sweet and tasty, and then ask me if it was a big or small chocolate, it makes no difference to me. A chocolate is a chocolate.
Victory is victory -- be it with a margin of 1 vote or 100,000 votes.
So you are not disappointed with the outcome of this election?
Why should I be disappointed?
Because BJP President Amit A Shah had set a target of 150 seats and the BJP is under 100 seats.
I have lost my election from Sidhpur and I blame myself that I have not been able to deliver the goals set by my party president. Why should I comment on my party president's target?
If I have failed to perform, the party president can't help it. He reposed his faith in me and that is enough for me.
This is not about one seat from Sidhpur, but the BJP is down from the last election's tally of 115.
Each one of us from the BJP who lost in this election will give you a similar reaction.
Ultimately, what matters is the BJP will form the next government and continue Prime Minister Narendra D Modi's agenda and policies of 'sabka saath, sabka vikas.'
How do you see the Congress performance?
The Congress has improved on its performance since 2012 and has gained in stature.
Hopefully, they should gain in shouldering responsibilities also.
Considering your seniority and stature in the party, will you be playing any role in the next government?
That is up to the party to decide, not up to me.
If the party calls me to work upon any other thing that is fit for me I will consider it.
Do you think the Patidar agitation and GST affected the BJP's poll prospects in Gujarat this election?
You can draw such loaded conclusions, but I don't agree with it. Because when you win or lose there are many factors that contribute to it.
What kind of questions will the BJP confront after seeing a below 100 tally?
There will be a very purposeful approach and analysis.
I think lesser the number, the more will be our responsibilities. It will help us perform better than what we have achieved so far.
What is the most important lesson that the BJP has learnt from the Gujarat election?
It is too early to comment on that. If at all, political parties learn from such things is again a debatable issue.