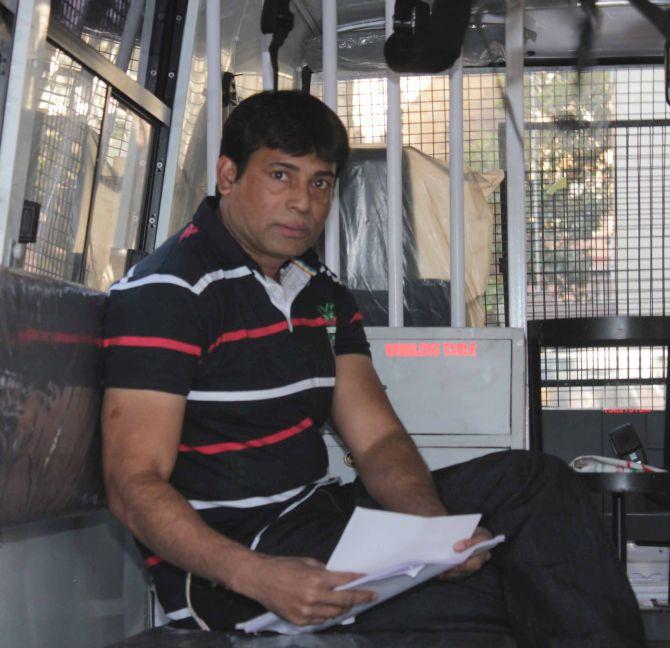 Image: Gangster Abu Salem
'Even the mafia has certain ethics and follow certain rules, but Abu Salem was so ruthless, so inhuman, there was no ethics at all. He had no basic humanity in him.'
India's foremost crime writer S Hussain Zaidi on the dreaded gangster.
India's number one crime journalist and author, S Hussain Zaidi, is back to doing what he does best.
A tell-all book on Abu Salem, the dreaded gangster of Mumbai who posed a threat to every filmmaker with his extortion calls in the late 1990s and early 2000s.
Titled My Name is Abu Salem, this is Zaidi's third book and a trilogy on the Mumbai underworld after two successful books, Dongri to Dubai and Byculla to Bangkok.
Zaidi has other books to his credit too like Mafia Queens of Mumbai, Headley and I and his very first,Black Friday (subsequently made into a film). Besides, he was the scriptwriter for films like Shootout At Lokhandwala and the upcoming Kabir Khan film, Phantom, starring Katrina Kaif and Saif Ali Khan.
That it is not easy to pen a book on the underworld was underscored when Salem's lawyer secured a ban on Zaidi's book in the Terrorist And Disruptive Activities (Prevention) Act court in Mumbai last week.
Zaidi challenged the order in the Bombay high court and won a verdict in his favour, following which the book is now back in circulation.
Zaidi tells Syed Firdaus Ashraf/Rediff.com why he chose to write a book on Abu Salem, the gangster who is locked up in Taloja jail in Maharashtra.
When did you decide to write a book on Abu Salem?
Since the time I finished Black Friday, some time in 1999, I had thought of writing a book on Abu Salem. By then Abu Salem had already become big. He had already killed Pradeep Jain (the builder), Gulshan Kumar (the music baron).
He had started terrorising Bollywood moguls and at that time his affair with Monica Bedi was also doing the rounds, and he came across as a gangster who was ruthless, colourful, had no ethics.
He was totally different from the other lot of gangsters ruling the roost that time. So, I thought a book on him would be interesting.
However, I was too occupied with my other books, Dongri to Dubai and Mafia Queens of Mumbai, so I could not devote time to this book. Finally, when I finished my last book, Byculla to Bangkok, I realised that the mafia trilogy cannot be completed unless I profile one more gangster who is so different from the others.
And when I looked carefully, I realised the only guy on whom a book can be written is Abu Salem.

What were the traits in Abu Salem as a gangster that so fascinated you into writing this book?

Dawood Ibrahim is a Mumbai boy. Arun Gawli, Amar Naik and Chotta Rajan, they all are from Mumbai. So to know the raw nerve of Mumbai and to capitalise on the fear factor of the city is different.
Abu Salem comes from the back and beyond of Sarai Meer, in Azamgarh. What we pejoratively call in Mumbai a 'bhaiyya'. Now these guys don't understand the Mumbai psyche. They are more concerned with survival. Their struggle is more hand to mouth.

Abu Salem comes to Mumbai at 20 and by 25 he is dominating the underworld in Mumbai. He has done every kind of gangster work. Be it extortion, delivering firearms to Mumbai stars, getting into the movie industry, reaching Dubai and making forged passports.
In a few years time this 'bhaiyaa' dominated the city's crime scene, which was very strange. And on top of that Abu Salem does not follow any code of conduct.

As I wrote in my introduction, even the mafia has certain ethics and follow certain rules, but Abu Salem was so ruthless, so inhuman, there was no ethics at all. He had no basic humanity in him.
I wrote in my book he called the widow of one of his victims, Jyothi, on the 13th day after her husband's death. He called her and starts laughing, so what kind of human being are you? I thought his story has to be told.

Did you think he was a psycho because when he ordered Gulshan Kumar's murder from Dubai, he heard on the phone Gulshan Kumar's screams as Salem's shooters kill him?

In the Gulshan Kumar case it was a case of revenge. I would say, Gulshan Kumar was a very gutsy man. He refused to be cowed down by gangster threats. Abu Salem did not like that because he did not like the way Gulshan Kumar showed his guts, he did not care who Abu Salem was. He showed Abu Salem that he was not threatened by him.
Abu Salem did not like that. So he thought he should teach Gulshan Kumar a lesson and at the same time the film industry must get the message, that if you mess with Abu Salem your fate will be like Gulshan Kumar's.

Do you believe Abu Salem gave Azamgarh a bad name?

No, I don't think so. In fact in Azamgarh the people are proud of Abu Salem. When you talk to them, they say 'Oh, Abu Salem, he brought so much honour to this small village!' I am surprised by the kind of honour he got his village.

Where have Abu Salem's shooters disappeared and why could no one replace him after his arrest?

Abu Salem worked with the mentality that in Uttar Pradesh and Bihar, Rs 5,000 was a big amount. People don't get to earn that kind of money even if they toil for months. He told them you use desi katta (country-made guns).
In UP and Bihar people used to take out country-made guns and open fire to show their supremacy. It is a very local thing to make and it can be made at an iron-monger's shop.

So, he convinced those rowdy guys and told them to come to Mumbai where he would provide them with an American revolver and also pay them their return fare by train.
Come to Mumbai, press the trigger, run back to your village and disappear. So, who will not take this chance? What he was doing in Uttar Pradesh, he was to do in Mumbai.

So where have his foot soldiers disappeared today?

Abu Salem had no proper gang like Chotta Shakeel, Chotta Rajan or for that matter Arun Gawli who had a proper set of shooters whom they used as and when they wanted.
Shakeel's shooter, Sadiq Kalia, was such a ferocious guy or for that matter Arun Mahajan of the Rajan gang, Arun Gawli too had so many shooters. These shooters were on police records, but in Abu Salem's case, you come and go. They were never on police records and there were no shooters as such.

Can you tell us how actor Sanjay Dutt landed in jail because of Abu Salem in the 1993 bomb blasts case?

I don't think he landed in jail because of Abu Salem. He landed in jail because of the weapons that he possessed and he destroyed those weapons. Abu Salem was just a courier boy whom Anees Ibrahim (Dawood Ibrahim's brother) had asked to deliver those weapons to Sanju Baba.
Abu Salem was not a big fish at that time, he was just a small-time guy.
Sanjay Dutt got that AK-47, an assault rifle, from Abu Salem. He kept that gun in his house and he destroyed those weapons when he came to know the cops were looking for that gun. So, Sanjay Dutt did not land in jail because of Abu Salem.
How did beautiful and intelligent girls fall for Abu Salem? Be it his first wife Sameera Jumani or for that matter Monica Bedi? What were the tricks that he used to charm them?

Sameera Jumani was 17 years old when she fell in love with Abu Salem and had not seen much of the world. Abu Salem was courting her seriously at that time in a very filmi manner.
He used to follow her to college and again on the way home. He used to keep looking at her constantly. He used to talk about Sameera to her friends. So this 17-year-old girl thought Abu Salem was genuinely in love with her. She stayed with him for five years and when she reached Dubai she realised her mistake and started regretting marrying Abu Salem.
It was her inexperience she could not see through Abu Salem and his ways. She got entrapped by Abu Salem.
The same is the case with all the girls in his life?

Even Monica Bedi, yes. Abu Salem was a wife-beater. He used to beat his women. When he used to court them he used to present himself as the best guy (around).
Abu Salem was clean shaven and had chocolate boy kind of looks and girls felt he was good-looking. So they fell for his innocent looks and charming conversation.
They thought he was genuinely in love with them and did not foresee a future with a gangster. They only realised these things later in life. They were very regretful after marrying him.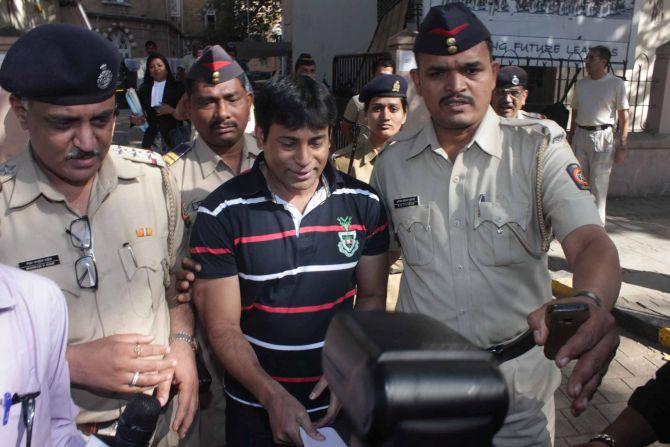 Image: Abu Salem being presented in court.
Did Sameera Jumani, Abu Salem's first wife, get him arrested from Portugal, by tipping off the Indian intelligence agencies about his whereabouts?

It is good to keep it vague. Someone has told me this in confidence, that you can only allude, you can only hint, but you cannot say for sure.
Let it be vague. Let it be Sameera Jumani, let it be Monica Bedi, let it be the CBI, let it be Interpol or for that matter let it be Dawood Ibrahim.

Did you ever get a chance to ask Abu Salem how he got arrested?

No. This man was very upset that I was writing a book on him. He wanted me to write a script on him and make a Rs 50 crore (Rs 500 million) movie. He didn't open up with me.

Why did Monica Bedi drift apart from Abu Salem after her arrest in Portugal?

She got tired of running. Her association with him was need-based. Monica Bedi realised that it was Abu Salem who was helping her get roles in movies. He helped her make a mark in Bollywood.
She thought she would slowly climb the ladder and attain fame, but it turned out to be totally contrary to her expectations. She had to become a fugitive on the run from the Indian agencies.

And how much can you run? How long can you run?
Abu Salem was constantly on the run from the CBI, from Dawood Ibrahim. He was in Dubai, Europe, America. Monica on the other hand wanted a stable and secure life.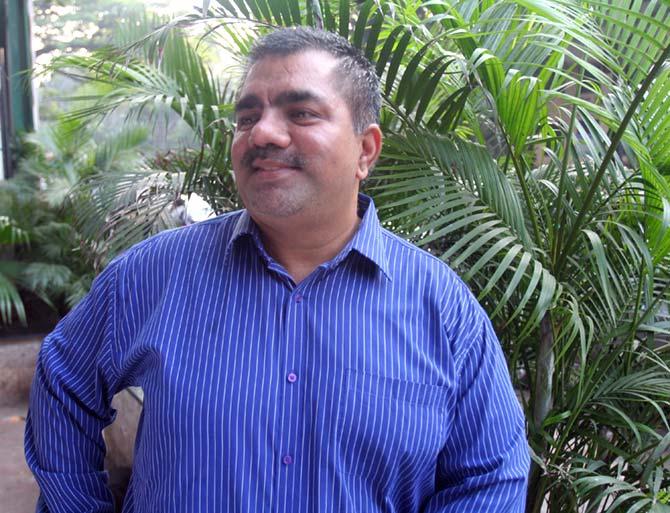 You mention a very interesting fact in your book, about how Abu Salem got involved with a senior Mumbai police inspector to kidnap the owner of Milton Plastics. Is it true that the police inspector kidnapped this businessman on Abu Salem's behalf?

This inspector was developing Abu Salem as a mole, as an informer, but how and where? As an informer, Salem is supposed to provide information to him. He is not supposed to use you.
It exactly became like Dawood Ibrahim where the Mumbai police thought they had cultivated Dawood as an informer, but Dawood instead started using the Mumbai police.
In your book you claim Sanjay Dutt tipped off Chotta Shakeel and Dawood Ibrahim about Abu Salem being in New Jersey. You said Dutt denied this.

It is difficult to make Sanjay Dutt say 'yes&' to it. But Chotta Shakeel has said this on so many occasions, how his men got a tipoff from a star and how his men 'fielded' to get Salem. Moreover, Salem's sources also say it about this incident.
There is lots of circumstantial evidence for it. If Sanjay was not a party to the plot, then why was Salem gunning for him? He could have just said he was not involved and given the evidence to Salem.
So is it true that Abu Salem wanted to kill Sanjay Dutt?

Yes. Abu Salem felt betrayed. He thought Sanjay Dutt was his friend and he betrayed him. Not only him, Salem also wanted to kill (film director) Sanjay Gupta.

What did Sanjay Gupta do?

He was a friend of Sanjay Dutt. They were in Goa,where Salem& wanted to kill them.
Sanjay Dutt had heard about this and there was a fear factor in the industry that whoever was close to Sanjay Dutt will get bumped off.

Where has Salem's money gone? Has it disappeared?

It has not disappeared. It is locked up in some property which is known to his fourth wife. It is known to some people who are funding him.
He has enough money to fight his cases and hire expensive lawyers. How can a battery of European lawyers be at the beck and call of Abu Salem?
All these lawyers will not work for free for Abu Salem or for the love of God.
He was brought here in 2005. For nine years, Abu Salem is leading a good lifestyle in jail. He is wearing designer clothes, eating biryani, wearing shoes. Where is the money coming from?
Do you think Abu Salem is still operating his bank accounts?

Not him. Those people. The people who are close to him, they know where those properties are and they know that they have to help him legally and once Salem comes out he can access the money.

You mention in your book that Salem married a girl on a train, were you able to meet her?

It is known to everyone. She herself admits it. Salem himself told me once, he will ask his wife. I wonder which wife was he talking about?
Sameera Jumani, he has divorced. Monica Bedi is not in his life anymore. Then, which wife? I have written in my epilogue where he said, he will discuss with his wife.
I said, which wife? Monica Bedi? He said, 'Jaaney do abhi (let it be).'

Do you think Salem's lawyer Saba Qureshi will get him out of jail?

Saba Qureshi has smart plans with her legal team in Lisbon. They are approaching the administrative court and putting pressure on the government in Lisbon by pressurising them. 'Why are you not calling Salem back after two years of the cancellation of his extradition?'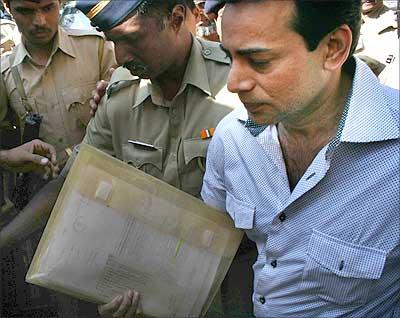 Image: Abu Salem can only be tried in eight cases out of the 52 filed against him in India, says Hussain Zaidi.
How many cases are there against Abu Salem right now?

There are 52 cases against him in India.

But due to the stringent extradition terms with the Portugal government, in India he can be tried only in eight cases.

What are these cases and what is the maximum punishment that he can get in these cases?

He cannot be punished for beyond 25 years as India has promised this to the Lisbon court. He has already spent nine years in jail.
Maybe, he can be in jail for another 16 years. He will be a free man after that.

What are the charges against him?

There are three passport forgery cases in Lucknow, Bhopal and Hyderabad. There are two, three extortion cases in Delhi.
Then there is the killing of Ajit Dewani, the killing of Pradeep Jain and the Mumbai blasts case, the delivery of weapons (to Sanjay Dutt).

What will be the maximum sentence in the delivery of weapons case?

The same as Sanjay Dutt. Six years.
But what the CBI has done is that they have charged him under conspiracy also so that he can get more punishment which is where they have made a mistake. Salem's lawyers have gone to the Lisbon court, saying he cannot be tried for conspiracy because (while bringing him back) they never mentioned charging him under conspiracy in the 1993 blasts case.
Therefore, Salem's lawyers are demanding that the extradition be cancelled.
This is a technical thing that they have to fight now.
The Indian government scored a big victory by bringing Salem back to India, isn't it?

Was it? Out of 52 cases, he can only be tried in eight cases and even those eight cases does not include the Gulshan Kumar killing. What kind of victory is that?
What about all those extortion and all other cases? They don't even have that Milton Plastics kidnapping case against Salem. Only eight, in which three are in Delhi for extortion, why not the Mumbai extortion cases?
Why not the attempt to kill director Rajiv Rai?
Why not the attempt to kill Subhash Ghai?
Why not the attempt to kill Aamir Khan?
Why not the attempt to kill J P Dutta?
Where are all those cases? Why is it a victory?
The Indian government has been able to get him back under certain restrictions. And you know what? L K Advani, the then deputy prime minister and home minister of India, had to give a written guarantee, so why is it a victory?
I say victory, because he would have been granted bail in Portugal and become a free man by now, isn't it?

My whole point is, if it is country to country and if Salem is such a dreaded gangster, I don't think the Indian government has to bend backwards to get him back. You are a sovereign country.
For example, if a criminal from Portugal comes to India will the Portugal government ever bend backwards to get him? So, why did we bend so much to get him here?
Abu Salem is a criminal who was found by Interpol. Not only that, for the longest time Abu Salem maintained that he was not Abu Salem at all, but Arsalan Ali, a Pakistani citizen. They had to get his fingerprints from India to prove he was Abu Salem. And it means that Abu Salem had no credibility left.
He was also charged with perjury in a Portugal court. So when there is no credibility of this guy, why human rights for him? If there are 52 cases, why don't you send him back?
In the Gulshan Kumar murder case, the Indian government had solid evidence, so why did they not put up this issue in the Portugal court?

Because the Indian government was scared after they lost the case against music director Nadeem in London. They failed to extradite Nadeem in the Gulshan Kumar murder case and they also failed to extradite Iqbal Mirchi from London, so they were scared they might lose in the Abu Salem case too.
The Indian government felt, why go into that case which was already thrown out by the London court? Perhaps, his lawyers would have shown to the Portugal court that the Indian government had already lost the case in London.
You see, we work in a very wishy-washy manner. We don't go with a definite, firm stance and that is a problem.
Two attempts were made on Abu Salem's life in jail. Do you think he can still be bumped off in inter-gang rivalry?

He will definitely be bumped off, not necessarily by inter-gang rivalry, but by Indian intelligence agencies. Because, you see, in his case extradition has already been cancelled.
It is quite possible that Salem's lawyer might win the case in an administrative court and the European court subsequently.
If he wins the case there and the Indian government faces embarrassment as they had faced earlier in the Portugal supreme court, it is quite likely they might have to send him back.
It will be a huge international disaster for the government. They cannot afford that to happen.
There were two attacks on Salem's life in jail, but by who?

It is very mysterious. One of the attackers was the same guy who killed the lawyer Shahid Azmi. He was attacked in Taloja jail, and the guy who shot Salem was the same guy who shot Shahid Azmi.
They say Shahid Azmi was killed by Indian intelligence guys and you never know if they are the same guys who tried to bump off Salem in jail. Things are still shrouded in mystery.

What is the status of the Abu Salem cases in Portugal?

Right now it is in the administrative court. They are trying to complain against the Portugal government on how, in spite of the cancellation against extradition, they have not asked for Salem's recall back to Portugal.
It is quite likely that the administrative court will give a judgment in favour of Abu Salem. If that happens, the government (in Portugal) will be under pressure to get Abu Salem back.

Second option, they may also go to the European Union. If they go to the European Union again there will be pressure on the Portugal government from two courts, one their own administrative court and second, the European court. They cannot go against these two courts. They will have to put diplomatic pressure on India to send Salem back.

This could be problematic and embarrassing for the Indian government.

If that does not happen, does it mean that after 16 years Abu Salem will be a free man?

Yes, for sure.