The Chinese Communist Party's all important 19th Party Congress is just months away, and President Xi Jinping finds himself confronting unlikely challenges to his pre-eminent position, says former RA&W officer and China watcher Jayadeva Ranade.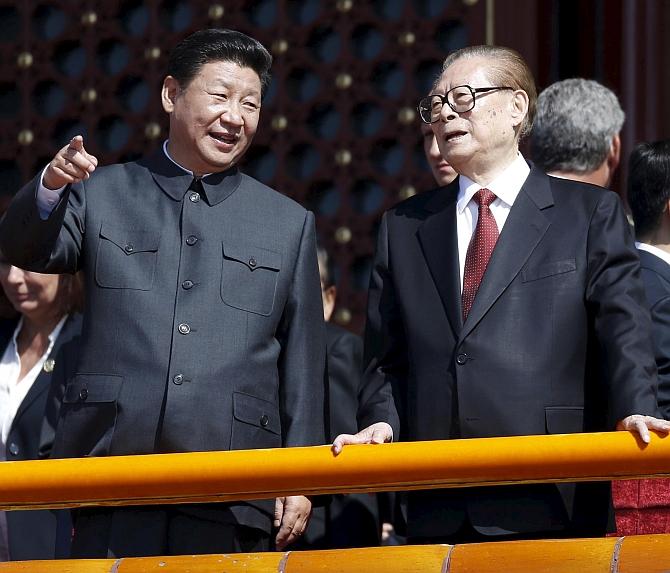 IMAGE: Chinese President Xi Jinping with former Chinese president Jiang Zemin at a military parade in Beijing, September 3, 2015. Photograph: Wang Zhao/Reuters
Forces opposed to Xi have gathered around Jiang, who despite being 90 is still apparently involved in party politics.
With just five months before 2,300 delegates representing 88 million members of China's Communist Party converge on Beijing for the 19th Party Congress, China's political situation is becoming tense.
Since last October there have been indications of political infighting at the highest echelons of the Chinese Communist Party.
These come amidst reports suggesting that Chinese President Xi Jinping is likely to ignore the informal retirement rules for senior cadres -- in force since the 17th Party Congress -- to retain 68-year old Wang Qishan, Chairman of the Central Discipline Inspection Commission, in the Politburo Standing Committee.
Between last August and March, the Hongkong-based pro-Beijing Sing Pao newspaper published accusations against Hongkong Chief Executive C Y Leung, the Liaison Office and Politburo Standing Committee member and Chairman of China's National People's Congress Zhang Dejiang.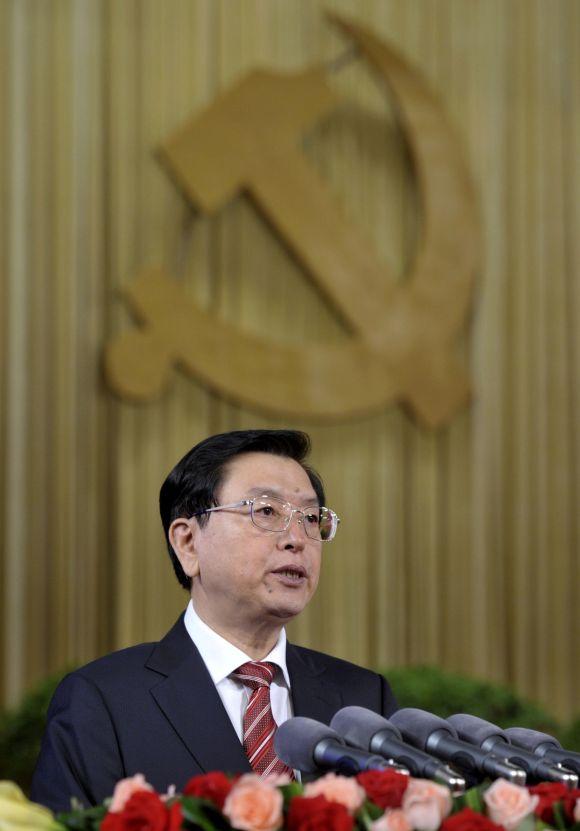 IMAGE: Zhang Dejiang at the Chongqing municipality's Communist Party Congress. Photograph: Reuters
Zhang, an orthodox cadre who has been aligned with former Chinese president Jiang Zemin, oversees the Hongkong-Macau Affairs Office.
Hinting at high level backing to Sing Pao and in a convenient coincidence, the powerful anti-corruption watchdog body headed by Wang Qishan released a report in November of the findings of its Central Inspection Team on the Hongkong-Macau Affairs Office and its subsidiary units.
Personnel of the Hongkong-Macau Affairs Office were subsequently changed.
Zhang, though, continues to oversee Hongkong affairs and has successfully installed Ms Carrie Lam, a person of his choice, as Chief Executive of Hongkong.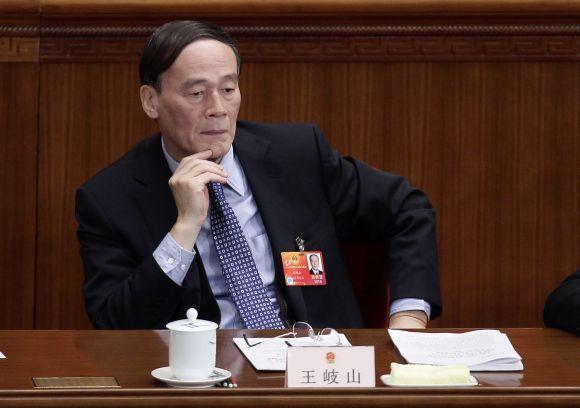 IMAGE: Wang Qishan attends a plenary meeting of the National People's Congress, at the Great Hall of the People in Beijing. Photograph: Jason Lee/Reuters
More recently since March, Chinese billionaire Guo Wengui, suspected of having close links to China's intelligence apparatus and currently living in New York, began airing accusations of corruption and infighting at the highest levels of the Chinese Communist Party on his Voice of America programme.
In his latest video on May 29, he launched a direct attack on Wang Qishan.
Guo described Wang as the 'real power now' and as 'incredibly corrupt' from his many years of involvement in China's financial sector.
He also claimed that Xi Jinping doesn't actually trust Wang Qishan and that Xi's confidant, Vice Minister of Security Fu Zhenghua, was investigating Wang and the head of the Central Political and Legal Affairs Commission -- the country's security apparatus, Politburo member Meng Jianzhu.
Guo's Youtube interviews are, interestingly, getting a lot of comments from the Chinese.
Separately, Ling Wancheng, the California-based brother of the now disgraced former director of the powerful Chinese Comunist Party Central Committee General Office Ling Jihua had promised to release his own 'explosive' expose on May 29.
Reports in 2013 claimed that Ling Jihua had stored a huge number of very sensitive documents with his brother as insurance.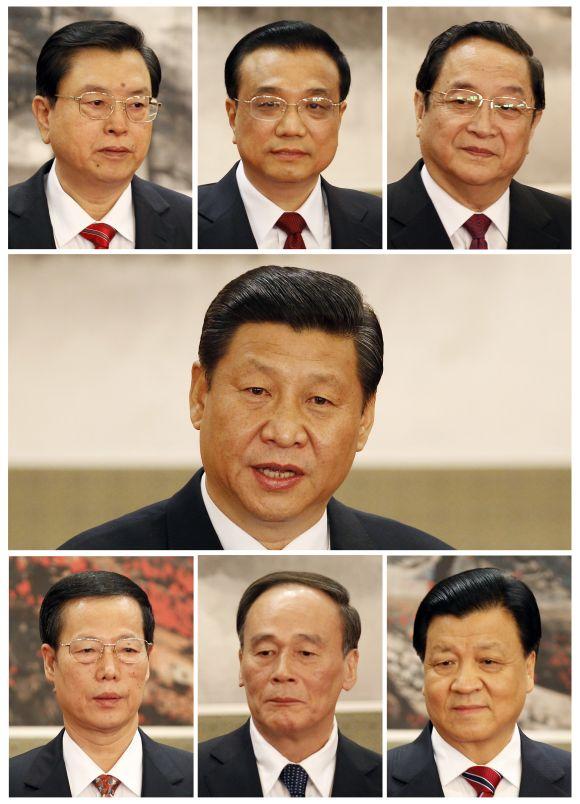 IMAGE: China's current Politburo Standing Committee, the most poweful body in the country: (1st row from left to right) Zhang Dejiang, Premier Li Keqiang, Yu Zhengsheng, (2nd row) Xi Jinping, (3rd row from left to right) Zhang Gaoli, Wang Qishan, Liu Yunshan. Photograph: Carlos Barria/Reuters
The unprecedented sustained anti-corruption campaign in the Chinese Communist Party, government and People's Liberation Army has undoubtedly upset and impacted large numbers of people.
By late last year, 176 cadres of the rank of vice minister and above were among the million party members officially reported to have been punished for corruption.
By March 2017, 4,883 PLA officers had been punished.
For cadres affiliated or identified with Jiang Zemin, the 19th Party Congress represents the last opportunity to benefit from 90-year old Jiang's influence.
Many of them would be opposed to Wang Qishan and certainly opposed to his getting a second term.
These persons constitute an influential bloc opposing Xi Jinping.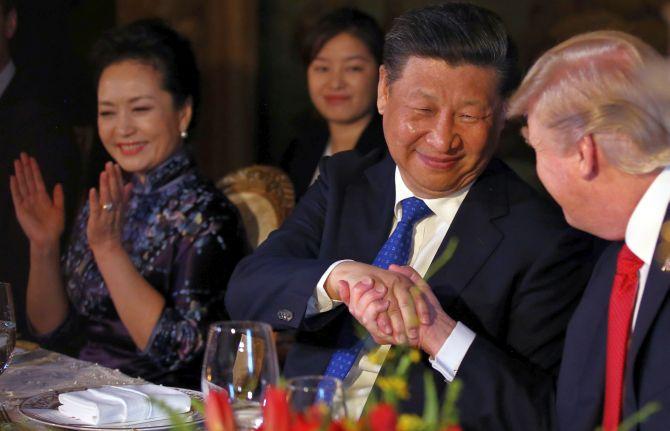 IMAGE: Xi Jinping, his wife Peng Liyuan with US President Donald Trump at the dinner during their summit at Trump's Mar-a-Lago estate in West Palm Beach, Florida. Photograph: Carlos Barria/Reuters
Meanwhile, with an eye on the forthcoming 19th Party Congress in November, Xi has strengthened his position to emerge as the pre-eminent member of the Politburo Standing Committee!
He has used international events to project his leadership credentials. In January, he became the first Chinese president to attend the World Economic Forum in Davos and championed the importance of economic globalisation.
At the summit with US President Donald Trump in April, he was able to stabilise China's most important bilateral relationship.
At the Belt and Road Forum in Beijing on May 14-15, Xi advocated China-led economic globalisation to rival the US.
He will similarly use the opportunities offered by the G-20 Summit in Germany and the BRICS Summit this September in Xiamen.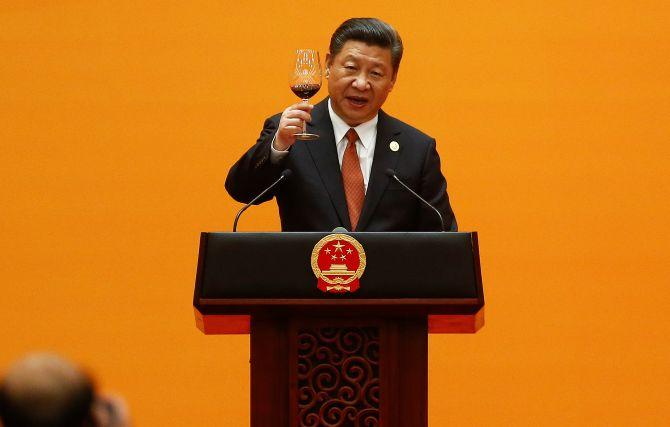 IMAGE: Xi Jinping raises a toast during the welcoming banquet for the Belt and Road Forum at the Great Hall of the People in Beijing, May 14, 2017. Photograph: Damir Sagolj/Reuters
More importantly, to impress the domestic audience and re-emphasise the theme of 'rejuvenation' of the 'great Chinese nation', Xi will visit the Hongkong Special Administrative Region in July on the occasion of the 20th anniversary of its return to Chinese sovereignty.
Equally important is the 90th anniversary of the founding of the PLA on August 1.
PLA Lieutenant General Rong Guiqing, deputy commander and chief of staff of the western theatre command, disclosed on March 15, that there would be massive celebrations for PLA Day.
'It will be an event, not merely a military parade,' General Rong said, and comparable to the troop inspection carried out by Deng Xiaoping in 1981!
Xi Jinping will inspect the troops and could be expected to announce some important appointments or decisions.
Among the more important instances of Xi's confidence and authority are the appointment of Cai Qi, a long-time protégé, as Party Secretary of Beijing.
Another pointer is Guangdong Party Secretary Hu Chunhua's high-profile declaration of political loyalty before the Provincial Party Congress on May 22.
He mentioned Xi Jinping 26 times in his nearly 100-minute speech, referring to him seven times as the 'party's core'!
Despite the efforts to deny Xi Jinping free sway in appointing cadres to the Chinese Communist Party Central Committee, it appears likely that Xi will succeed in appointing a number of his loyalists.
Crucial, however, will be whether he succeeds in elevating his loyalists to the Politburo and the Politburo Standing Committee which presently appears likely.
Jayadeva Ranade, former Additional Secretary in the Cabinet Secretariat, Government of India, is presently President of the Centre for China Analysis and Strategy.