Yediyurappa is made of sterner stuff and is not going to yield so easily.
Aditi Phadnis reports.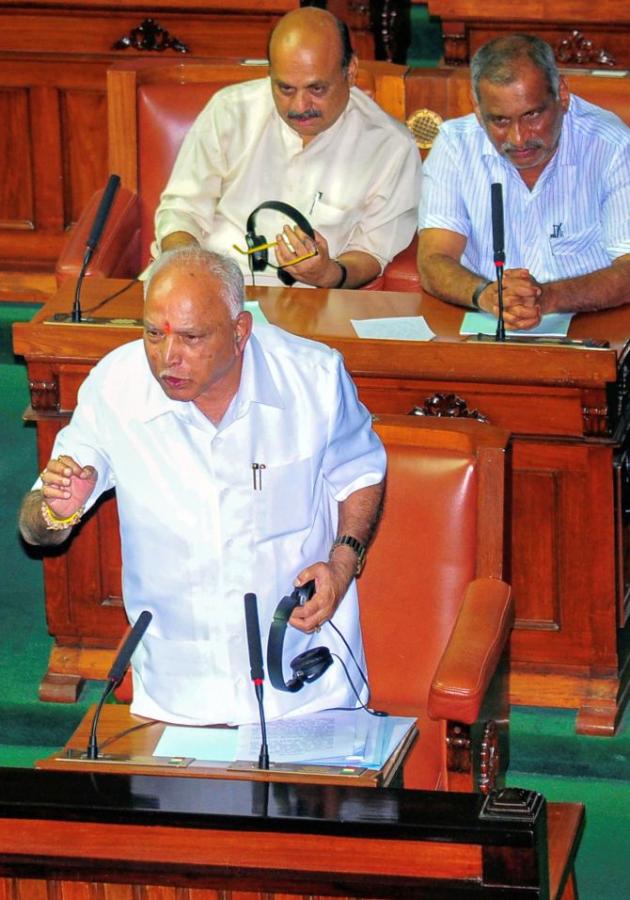 In the Indira Gandhi era, leaders like Janardhana Poojary were thrust upon Karnataka because the central leadership did not want strong state leaders.
Today, the Bharatiya Janata Party is going through the same syndrome, said a veteran BJP leader from Karnataka calmly, without heat.
The comment came as a stoic Karnataka Chief Minister B S Yediyurappa, posed for pictures along with the two candidates for the Rajya Sabha as they filed their nomination papers: Neither was recommended by the party's state unit not out of any malice or factional considerations, but simply because neither Ashok Gasti nor Eranna Kadadi struck the state leadership as being influential or charismatic.
They were front of-the-mind recall for just one person: B L Santhosh, national organising secretary who has deep roots in the BJP in Karnataka where he has served.
The perceived diminution of the state leadership is nothing new for Karnataka.
Veterans recall how Rajiv Gandhi sacked Veerendra Patil who was fighting for life after a stroke via a letter dictated at the Bangalore airport: A move that cost the Congress in the state for years to come.
The Congress suffered its most humiliating defeat ever in the 1994 elections.
Its seat tally collapsed from 179 to just 36 and it faced a 17 per cent loss of vote share, which was shared predominantly by the BJP and the Janata Dal.
The BJP's vote share increased from 4 per cent to 16.99 per cent and Janata Dal's from 27.08 per cent to 33.54 per cent.
In some ways, that led to the rise of the Lingayat leadership in the BJP.
Yediyurappa is a prime beneficiary.
No one in the party disagrees that of all BJP leaders, it is only Yediyurappa who has a pan-Karnataka presence.
But there are critics aplenty.
In 2016, when he was made the party's Karnataka unit president, he had to manage enormous friction within his party.
K S Eshwarappa, from the Kuruba (shepherd) caste, went to great lengths to mobilise his caste, offering it as a social coalition to fight the might of both Lingayats (Yediyurappa) and Vokkaligas (H D Deve Gowda).
Sadananda Gowda, a Vokkaliga, and Jagadish Shettar, a fellow Lingayat, had many complaints.
They found a sympathetic ear in B L Santhosh, the coordinator between the Rashtriya Swayamsewak Sangh and the BJP in the state.
Then came the 2018 assembly election.
The BJP won 105 MLAs; the Congress 78; the Janata Dal-Secular 37 in a House of 224.
The JD-S and the Congress cobbled together a precarious coalition which broke down with some elbow grease by the BJP.
From being a runner up -- though he thought he had come first in the race -- Yediyurappa assumed what he felt was his rightful place with quiet satisfaction: He became chief minister.
Around the same time, B L Santhosh was moved to Delhi and national politics and Yediyurappa supporters heaved a sigh of relief.
"But north Indian politics is complicated, and I would see Santhosh returning to Bangalore as often as he could, even for small functions. His heart was clearly in Karnataka," says a BJP veteran.
The Santhosh effect was evident in the choice of candidates for more than a handful of Lok Sabha seats in the last election.
And old-timers noted with raised eyebrows, the organising secretary's presence on the dais along with the party president -- something that had never happened when leaders like Kushabhau Thakre or Sunder Singh Bhandari or even K N Govindacharya occupied that position.
Most BJP veterans translate this to mean that a political position would not be anathema.
And why should it be? The first RSS pracharak to become chief minister was Narendra Modi; He was followed by M L Khattar.
Being 'lent' by the RSS to the BJP meant one taboo had been broken and politics was no longer a dirty word for an individual trained to think the RSS is limited to being a socio-cultural organisation.
But Yediyurappa is made of sterner stuff and is not going to yield so easily.
He may be under the influence of his family and various business cabals, but he also ensured the party won 25 of the 28 seats in the general election; in by-elections in December, his candidates won 12 of the 15 seats.
Elections to seven vacancies in the legislative council are also due on June 29.
Let's see what happens then.