Karnataka, by reposing its faith in BSY, remains a Hindutva stronghold, reports R Rajagopalan.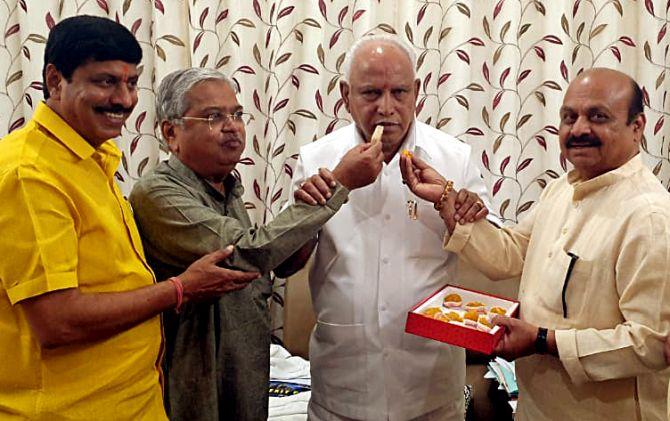 Coming on the heels of the mishandling of the Maharashtra post-poll scenario by Devendra Fadnavis and ahead of the crucial Jharkhand assembly election, the Karnataka by-election win is a big boost for the Bharatiya Janata Party.
The BJP, which needed to win at least six of the 15 seats for which by-elections were held to remain in power, won an impressive 12 seats.
The Congress, which hoped to dent the BJP's numbers, ended up with just two. The third cog in the wheel, the Janata Dal-Secular, drew a blank.
Dinesh Gundu Rao has resigned as the state Congress chief. Siddharamaiah has quit as leader of the Congress legislature party.
More than the Congress, the major political casualty is H D Deve Gowda's Janata Dal-S.
More than anyone else, this is Chief Minister Bookanakere Siddalingappa Yediyurappa's triumph for the septuagenarian fought a do-or-die battle for survival in office.
Perhaps for the first time since he took charge following a coup of sorts against the JD-S-Congress coalition in July, Yediyurappa broke into a big smile as the election trends started trickling in on Monday.
Aware of the risk to his government, Yediyurappa, the BJP's only pan-Karnataka leader, campaigned aggressively and extensively in all the 15 seats that went to the polls.
Ignoring protests and warnings from BJP leaders, Yediyurappa fielded 13 of the 15 disqualified MLAs in the by-elections.
Cleverly avoiding national issues, he made local issues the main factor. In an emotional appeal to voters, he said this was his last innings as CM and they had to vote for him, not the candidates.
In the six Lingayat-dominated seats he played the caste card, asking voters not to ditch their tallest caste leader in his last stint as CM.
Yediyurappa's promise of making all disqualified MLAs cabinet ministers in his government seems to have also worked in the BJP's favour.
The Congress campaign, on the other hand, was led by Siddaramaiah and Dinesh Gundu Rao, with other leaders staying away from campaigning.
According to candidates the party lacked a strategy though its leaders claim that the BJP's victory is a 'win for money power over morality'.
JD-S leader H D Kumaraswamy was hoping for a fractured mandate so that his party could play a role, but with the BJP reaching the majority mark on its own, the party could implode soon.
Karnataka, by reposing its faith in Yediyurappa, remains a Hindutva stronghold.
---
R Rajagopalan is a senior political correspondent in New Delhi. He can be contacted at news@rediff.co.in.