The poet and professor's 'life breath is now in the hands of those sworn to uphold his Constitutional right to life.'
'Will they be true to their oath?', asks Jyoti Punwani.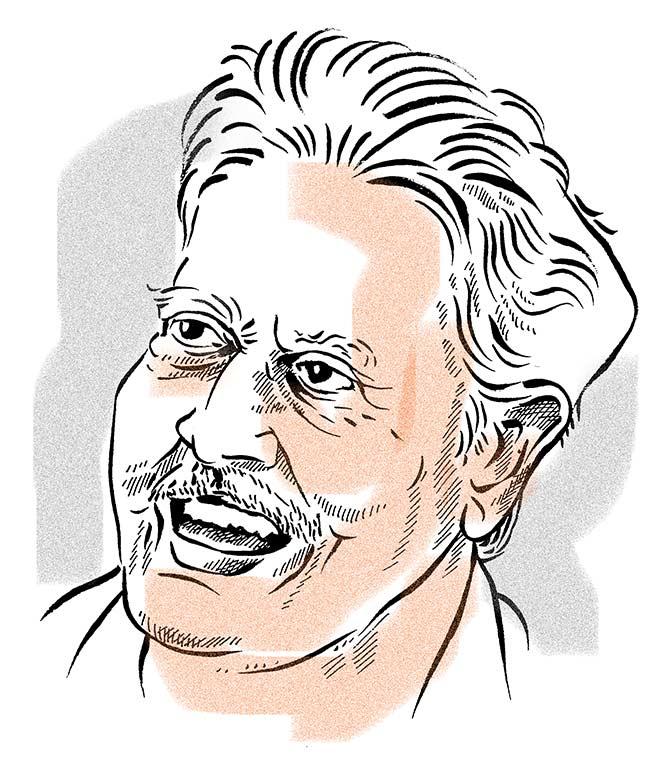 Your verdict, My Lord
Your verdict, my lord
Is against the Change
Against the red of the East
And you want me to sign it
But if you can, my lord
So stop the Wheel
So blot the Red
I shall then, my lord
Sign the undertaking
And publish my regret
--July 16, 1977
WORDS
Words, smothered in the folds of the self,
Must be stirred awake,
Made to amble and watch
See if wings can bear aloft
The crippled limbs
And soar into the sky
Like the first showers after the drought
To my parched ears, my own words,
Not any other's, remain strange
Like the marvel of the sky
Discovering its lost monsoon
I long to sprout on a soil
In the vibrations of a sonorous world
-- March 1988
Imagine the writer of these verses struggling to complete a sentence in a phone call to his family.
So powerful were his poems that the government actually blamed them for actual incidents of revolt that took place.
Professor of literature for 40 years, pioneer of modern Telugu poetry, one of the founders of Virasam (Revolutionary Writers Association in then Andhra Pradesh), Varavara Rao once addressed a rally of 1.2 million people.
His presence at a public meeting would attract thousands, lured by the mix of literature and politics that marked his speeches.
It is not age that has transformed the 79-year-old poet into the incoherent man who called his wife from Taloja Jail near Mumbai on Saturday, July 11. So disoriented was his speech that his family as well as intellectuals like Romila Thapar have demanded that he be immediately moved to a proper hospital.
Nor is it the 20 months of imprisonment that has affected his brain.
Since the age of 33, VV, as he is popularly called, has been in and out of jail. He has undergone a total of nine years' imprisonment including solitary confinement for as many as 25 cases; charged with sedition, murder, extortion, possession of arms, even distribution of bombs.
Two cases, the Secunderabad Conspiracy Case and the Ramnagar Conspiracy Case, dragged on for 15 and 17 years respectively.
Rao was not only discharged or acquitted in all 25, but retained his teaching job all through.
Jailed during the Emergency under the Maintenance of Internal Security Act, Varavara Rao faced stringent restrictions on meeting his family and access to newspapers, which many other political prisoners didn't. But never during his many stints in jail, did he stop writing.
In fact, a third of his poems was written behind bars.
One of his poems published while in jail (Postal Mortem) caught the eye of Arun Shourie, then the editor of the Indian Express, who asked him to write a column on life seen through the eyes of prisoners.
The 13 'Letters from Prison' that were published as a fortnightly column in the Indian Express and the Express group's Telugu newspaper Andhra Prabha from December 1988 to April 1989, later became a book Captive Imagination (Penguin).
But this current stint of imprisonment is nothing like this veteran of jails has faced before.
VV was behind bars between 1973 and 1989, and then again from 2005-2006. These years spanned the period when the Naxalite movement was at its peak in Andhra Pradesh, and then when it was finally crushed by eliminating suspected Naxalites in fake encounters.
Ironically, in those lawless times, Varavara Rao, despite making no secret of his belief in revolution, was given facilities in jail that he has been denied in his current incarceration in Maharashtra. He could even occasionally get bail on merits.
And he could directly address the judge and get him to agree with him.
One such occasion described in Captive Imagination was after he read the news that two of his co-accused who had evaded arrest, had been gunned down in fake encounters.
The next day, Varavara Rao told the judge: 'We have names, yet you address us as A (accused)-1, A-2 and so on. A-1 and A-2 were two human beings and they have been "encountered". Even if you ignore the duty to learn about them as human beings, doesn't this court still have a need, a responsibility, to know why they are not present as accused in a case that is still being tried?' The judge was moved, Rao recalled.
The second time was when he got the judge and the public prosecutor to agree that the court pay its respects to the memory of poet Cherabanda Raju, a co-accused in the Secunderabad Conspiracy Case.
Among the 46 accused in this case, six were prominent Virasam writers whose writings it was alleged, had 'directly' inspirED the violent acts of Naxalites. In jail, Cherabanda Raju fell ill with cancer and died before the 15-year trial ended.
Would such conversations be possible today between those accused of sedition and the judges trying their case?
There are judges whose names remain imprinted in a nation's consciousness.
Justice H R Khanna, who upheld the Right to Life and Liberty even during the Emergency when all Fundamental Rights were deemed to have been scrapped, is one.
Another is Justice B N Srikrishna, whose inquiry report indicting then Shiv Sena chief Bal Thackeray for the second phase of the Mumbai 1992-1993 riots was submitted when Thackeray was the remote control of the Maharashtra government.
Then Supreme Court Justices Jasti Chelameshwar, Ranjan Gogoi, Kurian Joseph and Madan Lokur, who created history by calling a press conference to warn about the dangerous slide of the apex court, will forever be remembered, even if one of them later betrayed the cause.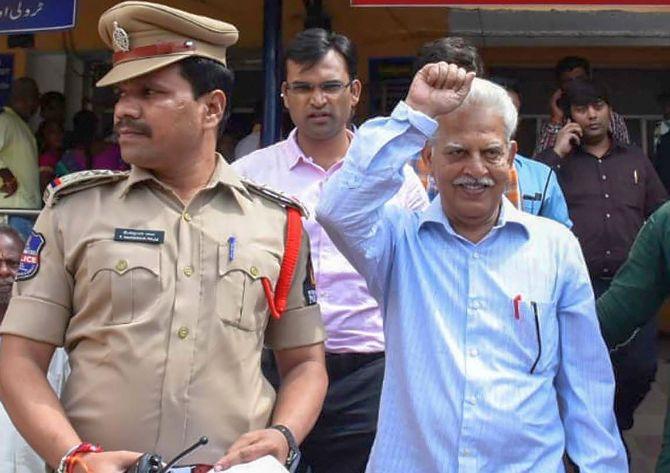 Alas, where the Bhima Koregaon case is concerned, the judiciary, from the Supreme Court downwards, has only made a mark through its refusal to uphold the fundamental rights of the accused.
But it is the refusal of bail at a time that COVID-19 is spreading inside jails that will be remembered forever as a new low for the judiciary. So far Sudha Bharadwaj, Shoma Sen, Varavara Rao and Gautam Navlakha, all of them at high risk for COVID-19, have been denied bail.
Will we be able to forget the reasoning of NIA Special Judge S E Kothalikar that 'the mere fact that (Shoma Sen) is suffering from some diseases' cannot be a ground for release on interim bail?
The judge rejected Varavara Rao's bail even after knowing that the 79-year-old poet and professor had been hospitalised once, after he fainted in jail, and that the NIA had not informed his family.
The Bhima Koregaon accused have a standing few other accused have. It is not just intellectuals like Romila Thapar and Prabhat Patnaik, known to stick their necks out for inconvenient causes, who have appealed to the powers that be to release them.
In April, having learnt of Varavara Rao's deteriorating health, 40 poets wrote to Prime Minister Narendra Damodardas Modi to release him. The first signatory was Gulzar.
On June 20, 14 MPs wrote to Maharashtra Chief Minister Uddhav Balasaheb Thackeray to shift Varavara Rao to a hospital.
Expecting the PM to respond is the height of naivete. But what can one say about the deafness of the Maharashtra government?
Here's what Sharad Pawar, seen as the man holding the Maharashtra government together, told a press conference in Pune in December: 'The arrest of the activists is infringement and calls for the suspension of Pune police chief K Venkatesham and other officers involved in the probe.'
'We will be asking the Maharashtra Chief Minister Uddhav Thackeray to form an SIT to investigate the Elgaar Parishad case properly. It is wrong to imprison the activists on the charge of sedition,' Pawar stated.
'Voicing extreme views is allowed in a democracy. The action of the Pune police is wrong and vengeful. It is a misuse of power by the police commissioner and some of the officers,' he added.
'They had attacked the basic freedom of people and one cannot be a mute spectator to all this. The arrests are highly inappropriate. The activists having mere literature on Maoist ideology does not mean they were involved in such activities,' Pawar asserted.
There is yet another government whose silence needs to be questioned.
From the time the movement for a separate Telangana began in 1969, till the state was formed in 2014, Varavara Rao was at the forefront of the movement.
Telangana Chief Minister Kalvakuntla Chandrashekhar Rao and his cabinet colleagues know him well as does Union Minister of State for Home Gangapuram Kishan Reddy. Yet, not one of them has responded to pleas to intervene.
What if my life breath goes out
After lighting a thousand lamps like me?
I am the radiance of this Age
I am electric power
Born out of this operation generator
I am
The Revolution
Varavara Rao was 25 when he wrote this. His life breath is now in the hands of those sworn to uphold his Constitutional right to life. Will they be true to their oath?