'A Russia-Iran-China-Pakistan geopolitical grouping is evolving at this point of time.'
'Given that the grouping is in its nascent stages, will this week's terrorist attack in Mirjaveh affect it?' asks Aveek Sen.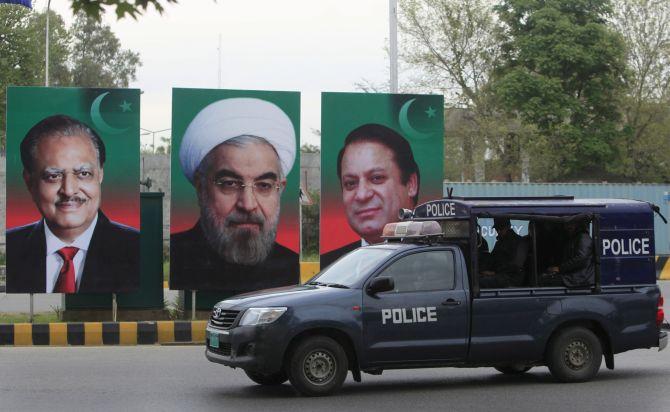 Iran's IRNA news agency reported on Wednesday, April 26, that nine Iranian border guards were 'martyred' fighting terrorists while patrolling in its Mirjaveh region bordering Pakistan.
Mirjaveh is located 75 km from Zahedan, the provincial capital of Iran's southeastern province of Sistan Baluchestan.
A statement released by the police information dissemination centre stated, 'Iranian border guards were killed by a number of terrorists in the zero border point from inside Pakistan's soil.'
'Since the terrorists have been ambushed in Pakistan's zero border point and the attack was carried out from this border, the government of Pakistan should be accountable for the incident,' it added.
Ali Movahedi Rad, the public prosecutor in Zahedan, said the terrorists escaped into Pakistan territory after attacking the border guards. The border guards and the Islamic Revolutionary Guard Corps are in the region to investigate the case, Rad added.
Iran's Foreign Minister Javad Zarif expressed sorrow over the martyrdom of the border guards and said, 'Iran's diplomatic apparatus is not going to spare any efforts to follow the issue by using all available diplomatic channels to punish the sinister terrorists.'
Iran's Press TV reported that 'border guards have been killed in clashes with outlaws in southeastern Iran. The so-called Jaish ul-Adl terror group claimed responsibility for the attack in a statement.'
Iran's Sistan Baluchestan province is a sparsely populated tribal region. Drug smugglers and Jaish ul Adl terrorists operate in close coordination in the area.
The Jaish ul Adl and its predecessor terror group Jundullah have often been the cause of tensions between Iran and Pakistan.
Iran has on various occasions accused foreign powers -- including Pakistan, Saudi Arabia, Israel, the US and the UK -- of meddling and using proxies to create unrest and forment trouble in Sistan Baluchistan.
Iran has on a regular basis shelled Jaish ul Adl hideouts inside Pakistan. But Iran-Pakistan relations, though ridden with tensions, have not reached the scale of conflict that India-Pakistan relations have.
Competition coupled with cooperation in the geopolitical arena can best describe Iran-Pakistan relations.
Meanwhile, General Raheel Sharif, Pakistan's former army chief, has left for Riyadh to assume command of a 41-nation military alliance.
'In what appears to be a veiled reference to the Saudi-led military alliance, without naming any specific country, Iran's President Rouhani made some remarks in a meeting with the speaker of Pakistan's national assembly Sardar Ayaz Sadiq on an official visit to Tehran on Monday, April 24,' Pakistan's Dawn newspaper reported, quoting Iran's IRNA news agency.
Countries 'supporting terrorist groups' such as the Taliban, Al Qaeda and Islamic State 'financially and logistically for a long time cannot claim to be combating them,' President Rouhani added.
According to the Dawn report, 'Iran suspects that under the garb of fighting terrorism the military alliance will intervene in Iraq and Syria and Saudi Arabia will also push the alliance into Yemen.'
'Pakistan says the coalition is focused on combating terrorism and it is neither for nor against any country,' Dawn added.
There also have been recent reports that Pakistan is deploying a brigade of its troops to assist Saudi Arabia on its southern borders.
While Iran is not significantly involved in Yemen beyond the rhetoric in its media against Saudi Arabia (the level of Iran's support to the Houthis in Yemen is hotly debated, but no concrete links have established any significant support), if the Arab coalition gets involved in Syria or Iraq, it will be in direct opposition to Iran.
Iran and Russia back the Bashar al-Assad government in Syria. In Iraq, Iran backs various militias fighting in alliance with the Iraqi government against ISIS. The so-called 'rebel militant groups' in Syria are backed by various Arab players.
'The Islamic Republic of Iran and Pakistan as two brotherly and neighbourly States enjoy ample of commonalities,' President Rouhani told Speaker Sadiq. He reiterated that over the past 70 years, Iran had always stood by the Pakistani nation.
Rouhani called for all-out efforts to boost and consolidate mutual cooperation to achieve $5 billion of trade between the two countries (bilateral trade had been hit by the sanctions against Iran).
Iran, the Iranian leader said, was ready to meet Pakistan's demands in the energy sector, adding that a pipeline transferring Iran's gas to Pakistan (the Peace Pipeline) had come close to the Pakistan border.
Pakistan, Sadiq said, required Iran's energy, mainly its gas, and expressed willingness to help finalise the Peace Pipeline project.
A Russia-Iran-China-Pakistan geopolitical grouping is evolving at this point of time.
The Russia-China-Pakistan trilateral meeting last year on the future of Afghanistan that did not involve the Afghan government had drawn severe criticism, including from the Afghan and Indian governments.
Given that the grouping is in its nascent stages, it remains to be seen if incidents like this week's terrorist attack in Mirjaveh affect it.
Or will the classic realpolitik game of competition coupled by cooperation continue to be played?
Aveek Sen is an independent researcher working on cyber security and the geopolitics of India's neighbourhood, focusing on Pakistan, Afghanistan, Iran and Bangladesh.
IMAGE: Portraits of Pakistan's President Mamnoon Hussain, Iranian President Hassan Rouhani and Pakistan's Prime Minister Nawaz Sharif displayed during Rouhani's visit to Islamabad, March 2016. Photograph: Faisal Mahmood/Reuters