Nothing would suit the BJP better than to let Rajinikanth be chief minister and pretend to abide by his spiritual path while quietly consolidating its vote bank, observes Amulya Ganguli.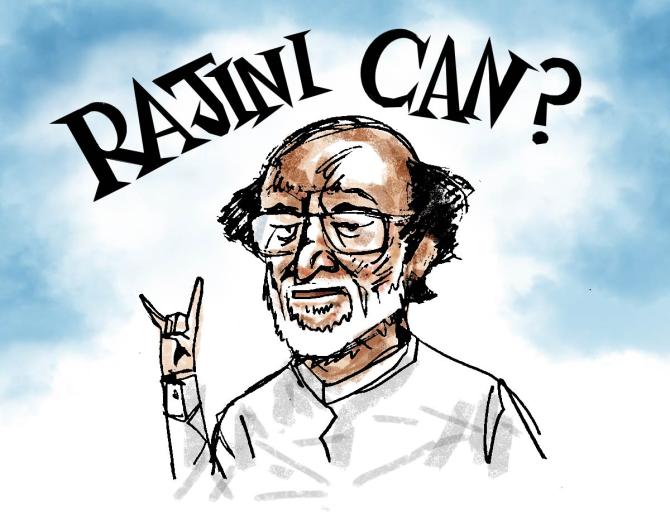 All political careers end in failure, said the British politician Enoch Powell.
During the next 12 months or so, India is likely to see a similar fate overtake the Tamil film icon, Rajinikanth.
Like other political novices before him, Rajinikanth is entering the 'cesspool' of a profession, in the opinion of another trier, Amitabh Bachchan, with high hopes born of naivete and over-confidence.
Hence, his conviction that he has it in him to cleanse his new field of endeavour of the accumulated dirt and squalour of many years.
Surprisingly, this assessment may be shared for some time by a fair number of hoi polloi.
The last politician who made a similar promise is Delhi Chief Minister Arvind Kejriwal, who was also believed by not a few as someone who will usher in a new era.
It is a safe bet that their disillusionment about a failed hero will again be experienced during the coming year by those who put their trust in Rajinikanth's assurances.
Just as every adolescent thinks that he can change the world, the new entrants into politics also believe that it is child's play to establish a secular, spiritual polity, as Rajinikanth has pledged.
These starry-eyed dreamers seem to have no idea of the ambitions and compulsions which dominate politics (like any other profession), which require compromises, betrayal and ruthlessness, leaving little room for principles in an arena where power is all.
For Rajinikanth, the task of wielding the broom -- the Aam Aadmi Party's poll symbol of a jhadu underlines that effort -- will be all the more difficult because he is beginning with the utopian concept of introducing spiritualism in politics.
What is more, his 'natural affinity' with the BJP, as the right-wing ideologue, Swaminathan Gurumurthy, has said, will test to the limit his perceptions about both secularism and the introduction in politics of a mystical, otherworldly notion.
It is possible that like large numbers of the Hindu middle class, Rajinikanth has taken at face value the BJP's sabka saath mantra which cuts across the communal divide.
But since the ground reality of the saffron outfit's differentiation between the Bajrang Balis and Alis, to use Yogi Adityanath's classification of Hindus and Muslims, pays no heed to secularism, it should not take long for even a gullible neophyte to realise the harsh truth about a prospective partner.
Arguably, the emphasis on spiritualism in Rajinikanth's political catechism is intended to upstage the atheistic DMK, which is expected to be his main challenger.
But given his reputation as a 'closet Sanghi', as the Congress has alleged, he is also likely to be judged by how he pursues his pious dogma in a time of 'love jihad' rather than only with reference to the anti-religious, anti-Hindi and anti-north Indian Dravidian opponent.
As for the BJP, its choice of an ally who can give the party a piggyback ride into Tamil politics has become more complicated with Rajnikanth's entry.
Up until now, its choice was simple -- go along with the AIADMK, which is the DMK's main opponent even if the former is now a shadow of its earlier self after Jayalalithaa's death.
But a weak ally is better than no ally at all, especially in an alien territory where the BJP is desperately trying to find a foothold.
But the difficulty is that the AIADMK doesn't have a 'face' which can bring in the votes, and neither has the BJP.
Rajinikanth fills that void.
In fact, his foray into politics is undoubtedly guided by the realization that after the departures of Jayalalitha and M Karunanidhi, the state needs someone to rally around.
And who else is better suited than a former superstar even if he is past his prime?
Although the prospect may be appealing to Rajinikanth, it places the BJP in a quandary.
Will it dump the AIADMK, with whom it has entered into an alliance rather hurriedly, as BJP MP Subramanian Swamy has said, and try to convert Rajinikanth into a second Niitish Kumar?
The BJP is quite adept at fooling a somewhat 'iffy partner into an alliance as it has done with the Bihar chief minister although the latter does not want to summarily evict the 'termites', which is the BJP's term for Bangladeshi immigrants.
Nothing would suit the BJP better than to let Rajinikanth be the chief minister and pretend to abide by his spiritual path while quietly consolidating its vote bank of the Bajrang Balis.
By the time the Thalaiva wakes up, it will be too late.
Amulya Ganguli is a writer on current affairs.
Feature Presentation: Aslam Hunani/Rediff.com