The Art of Living case will go down as a test for environment activism in the country, notes M Rajaque Rahman.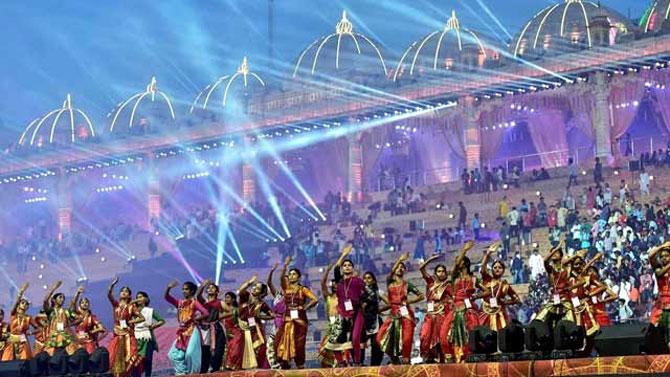 IMAGE: Artists rehearse on the eve of the World Culture Festival in New Delhi, March 2016. Photograph: PTI Photo
Amidst the cynicism that nothing happens unless some noise is made, civil activism is finding a valuable place in our social fabric. But what's disturbing is the trend of it being hijacked by raucous, destructive groups with strong public relations skills.
This seems to be happening in the case involving spiritual guru Sri Sri Ravi Shankar's Art of Living and the National Green Tribunal in which the organisation has been blamed for damaging the Yamuna floodplains during its World Culture Festival held last year.
Under the guise of environmental activism, some activists have been running a campaign of calumny despite evidence that proves there is no case. Thriving on a nexus between professional litigators, lawyers and biased experts, they have made it a mission to silence the facts and figures.
They are running their mischievous campaign on the basis of a couple of reports by an NGT-appointed expert committee whose impartiality is being questioned on many counts.
Interestingly, the reports actually reaffirm the Art of Living's 'no-damage' claim as they carry little or no scientific evidence to establish the alleged damage.
On the contrary, the Art of Living has put out credible scientific evidence.
Take the main allegation of drastically tampering with water bodies and wetlands. Satellite images of the site taken between 2000 and 2016 clearly establish that the site had no water body or wetland. A Survey of India map of Delhi dated 1986 also confirms the site had no wetland.
An elaborate national wetland atlas published in 2011 by ISRO's Space Applications Centre doesn't identify even a single wetland of the smallest possible size at the event site.
In addition, Spot Images on Google show the site as levelled and ploughed agricultural land where vegetables are found to be grown since 2005.
Interestingly, there is also a Delhi high court injunction allowing some farmers to continue farming at the site where the Art of Living festival was to be hosted.
Then came the bogus claim of compacting the floodplains, which is scientifically not possible.
Independent scientific assessments clearly establish the soil type of the event site to be sandy.
According to principles of soil mechanics, over 90% of compaction of sand takes place in less than two minutes of its deposition.
This implies that whatever compaction the committee is talking about is something that had already taken place.
Add to it the stance that the 'floodplain lost all its natural vegetation.'
How can an event that covered only 25 hectares destroy a 9,300-hectare floodplain?
On top of it, three members of the current committee -- Professor Brij Gopal, Professor C R Babu and Professor A K Gosain -- had in 2013 concluded that flowing water and land ecosystems of the Yamuna are extinct and the floodplain biodiversity has been lost.
This means that the Art of Living is being accused of 'completely' destroying something which was already extinct in 2013 itself.
Even for Sri Sri, this would be a hard miracle to pull off.
Thus, the committee has abdicated its credibility by coming up with recommendations that lack scientific scrutiny.
After just a visual inspection that lasted less than an hour, it came up with a figure of Rs 120 crore as compensation cost for the likely damages.
Dealing a big blow to its credibility, a letter written by its chairman surfaced stating that the figure 'was a mere suggestion' that 'inadvertently got recommended' and was not based on any scientific assessment.
Another member and NEERI expert Nitin K Labhsetwar has also disowned the recommendations, saying 'some of these (claims of damage and cost) are still debatable and I may not fully agree.'
Taking their arguments to heights of ridiculousness, the committee is claiming that the perceived damage is 'invisible.'
If it is invisible, how does the committee visualise and quantify the damage and even calculate the cost of restoring something which is invisible!
Another recommendation of the committee that ought to make the blood boil for any conscious and responsible citizen is the offer to empanel its members as experts in the 10-year restoration project they have envisaged, for which Rs 13 crores has been earmarked as salaries. A clear case of match-fixing?
The Art of Living case will go down as a test for environment activism in the country. The nation expects the NGT will gather enough courage to call the bluff of the committee and go by the merits of the case.
M Rajaque Rahman, a former journalist, currently writes on subjects of social importance.