Would it serve India's interest to go to war with China over the Maldives, asks Aditi Phadnis.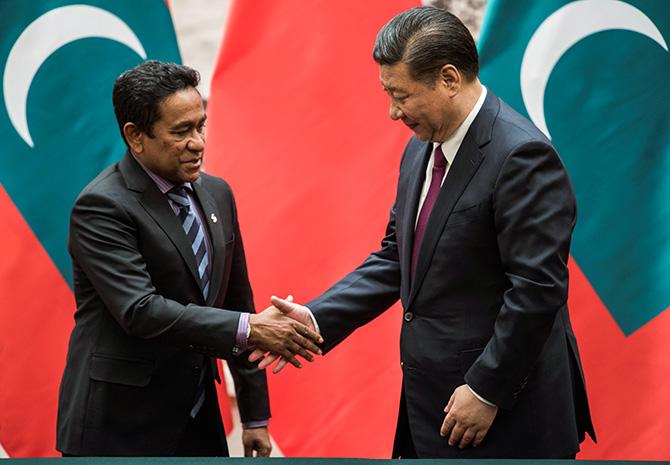 IMAGE: Maldives President Abdulla Yameen greets Chinese President Xi Jinping at the Great Hall of the People in Beijing, December 7, 2017. Photograph: Fred Dufour/Pool/Reuters
The Opposition alliance led by the Maldivian Democratic Party (MDP) swept the election and all observers saw this as the forerunner of the presidential election due later in 2018.
This would have been just another election, but it was fiercely contested and postponed four times since it became due in January 2017, by the ruling alliance led by President Abdulla Yameen of the Progressive Party of Maldives (PPM).
For the ruling alliance the defeat was both a surprise and a shock -- because Fathimath Ibrahim, Abdulla's wife, was looking at a victory in the local election to launch herself as the presidential candidate in the elections due November 2018.
Most observers predicted in June, a more comprehensive crackdown on the Opposition, the press and bribery by the ruling alliance to win over members of the Opposition.
Worse, an even more fragile government structure with President Yameen needing foreign powers to help shore up his regime. Many of those predictions have come true.
The Maldives was a single-party State till 2008. The executive was in charge of the civil service, the security forces, the judiciary and had control over parliament through a 'constitutionally appointed' group of MPs.
The country was ruled for 30 years by Maumoon Abdul Gayoom.
This was challenged by Mohamed Nasheed who became president of the Maldives in 2008 after forming his Maldivian Democratic Party in exile, contesting the 2008 presidential elections and winning 54 per cent of the votes.
A new constitution was formulated, but in 2012, Nasheed was overthrown with the help of security forces and put under home detention.
In 2013, fresh presidential elections were held and Gayoom's half-brother, Abdulla Yameen, became president through what Nasheed supporters say was a rigged election, because he managed to break several of Nasheed's alliance partners with offers of office and concessions.
What added edge to the drama was that for several hours after, Nasheed sought 'refuge' in the Indian high commission, making India a factor in the internal politics of the Maldives.
He was in prison for nine months, was tried and found guilty of terrorism and given a 13-year jail sentence. He then sought to go to the UK for surgery where he sought and got the status of a refugee.
He is currently operating out of Sri Lanka. If he returns to Male he will be arrested to serve the rest of his sentence.
Not surprisingly, this caused a vacuum in the MDP's top leadership. Meanwhile Yameen continued to consolidate his gains, putting behind bars, many political rivals and neutralising others.
For instance, former vice-president Ahmed Adeeb, was convicted in June 2016, of plotting to kill the president by planting a bomb on his yacht.
Yameen simultaneously attempted to broad-base the foreign policy of the Maldives, hoping foreign powers would help secure his own position.
Chinese President Xi Jinping's September 2014 visit to the Maldives was his first visit to South Asia, indicating to the balance of power dimension with India.
Xi was accompanied by a 100-member business delegation and mooted idea of a Maritime Silk Road connectivity between China and the Maldives.
As this required land, the Maldives constitution, (which previously prohibited foreign ownership of any part of Maldivian territory, but allowed leasing of land for up to 99 years) was amended to allow foreigners who invest more than $1 billion, to purchase land within the project site -- with the only condition that at least 70 per cent of the area of the completed project must be reclaimed land.
The number of Chinese tourists to the Maldives has increased from about from 120,000 Chinese tourists in 2010 to 359,000 in 2015.
Maldives Tourist Promotion Board says 'about half a million' tourists from China visited the country in 2016 alone.
Other agreements signed between the Maldives and China have seriously worried India.
The latest is the Maldivian offer to China to develop its main airport as part of its iHaven project. This is a key scheme in Yameen's economic programme.
It has six main goals, including developing an airport, a harbor, bunkering services, real estate, shopping malls, and resorts.
Yameen's visit to India in 2016 saw New Delhi endorsing him, rectifying its pro-Nasheed tilt. Prime Minister Narendra D Modi and Yameen signed a defence agreement.
Barely a year previously, India had almost openly sided with the Nasheed administration, going so far as to lobby with the Commonwealth Ministerial Group to sanction the Maldives for overthrowing Nasheed in a 'coup'. (Yameen responded by quitting the Commonwealth altogether).
What happens now?
India has frozen the Maldives out after reminding it of its India First commitment. But it has not acted on Nasheed's desperate plea of military intervention either.
Amid a groundswell of demands from the chatterati for military intervention, all Indians must ask themselves whether it would serve national interest to go to war with China over the Maldives.